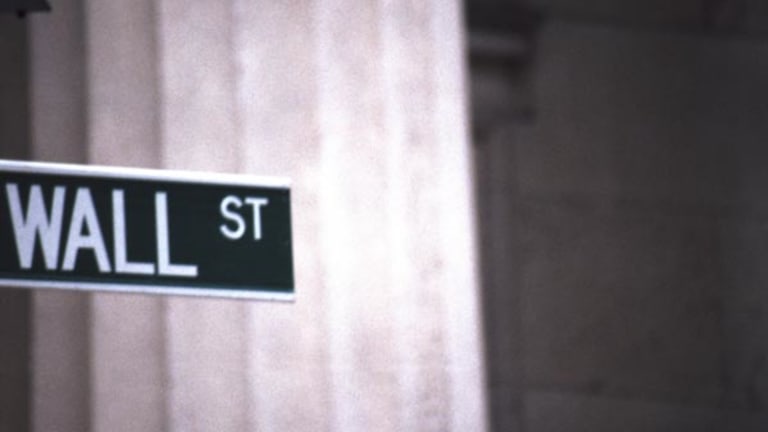 Stocks Scrap to a Mixed Close
After plunging on the jobs report, the Dow manages to come almost all the way back.
Updated from 4:06 p.m. EST
Blue-chips ended just above breakeven at the close of Friday's session, as investors grappled with a weak jobs report from the Labor Department and news that North Korea was pulling out of the Nuclear Nonproliferation Treaty.
The
Dow Jones Industrial Average gained 8.77 points, or 0.1%, at 8784.95, while the
Nasdaq Composite gained 9.29 points, or 0.7% at 1447.75. The
S&P 500
was unchanged at 927.57. The Dow and S&P 500 ended the week with a 2.1% gain, while the Nasdaq rose 4.4%.
The U.S. economy surrendered 101,000 jobs in December, in stark contrast to economists' expectation of a 20,000-job gain. The Labor Department said the unemployment rate came in at 6%, matching economists' forecasts. The average workweek slipped to 34.1 hours from 34.2 the previous month.
"The most important news has been the employment report. From my point of view, that was the biggest surprise we've seen in that number for a long time," said Hugh Johnson, chief investment officer at First Albany. "When you ask yourself, 'Is there any sign in that number that the economy is recovering in the fourth quarter?' The answer is certainly no."
North Korea was another drag on the market, after the country heightened its standoff with Washington, and announced it is backing out of the Nuclear Nonproliferation Treaty because of alleged U.S. aggression.
But Johnson said the fact that investors took the report and North Korea news in stride bodes well for the economic outlook, showing their confidence that growth will return soon. "This is subtle, but important. Investors just don't care about the fourth quarter. They're looking at the first quarter and beyond," he said. "Based on company comments and crunching my numbers on the index of leading economic indications, the economy is weak and earnings poor, but it looks like good things are happening and the recovery is underway."
Tech stocks got a boost late in the session when Lehman Brothers chip analyst Dan Niles said he expected earnings at both
Intel
(INTC) - Get Intel Corporation (INTC) Report
and
AMD
(AMD) - Get Advanced Micro Devices, Inc. Report
to come in at the high end of existing guidance despite soft sales in December. Blue-chip Intel rose 2.1% to $17.42, while AMD rose 7.2% to $7.41, which helped lift the Philly Chipmakers to a 2.4% gain.
Also notable:
Applied Materials
(AMAT) - Get Applied Materials, Inc. Report
, which gained 4.4% to $15.70 after USB Piper Jaffray upped 2003 earnings estimates on the company. According to the brokerage, the chip equipment maker has seen a significant improvement in April orders and
Micron's
(MU) - Get Micron Technology, Inc. (MU) Report
move into 300-millimeter wafers bodes well for Applied Materials, which makes the equipment needed to produce them.
Meanwhile,
Delta Air Lines
(DAL) - Get Delta Air Lines, Inc. Report
said it will take a $125 million charge in the fourth quarter and $50 million charge in the first quarter to account for about 4,000 previously announced job cuts.
J.C. Penney
(JCP) - Get J. C. Penney Company, Inc. Report
announced it would cut 2,000 jobs and will take a $40 million charge in 2003 as part of its restructuring. Delta fell 4.2% to $13.15, while J.C. Penney dropped 4% to $23.60.
On the oil front, CIBC World Markets said the recent sell-off of oil stocks has gone too far, and the brokerage upgraded
Royal Dutch Shell
(RD)
to sector outperform from sector perform and
ChevronTexaco
(CVX) - Get Chevron Corporation Report
to sector perform from sector underperform. Nonetheless, Royal Dutch lost 0.5% to $45.28, while ChevronTexaco slipped 0.7% to $68.61. Crude oil dipped 31 cents to $31.68 a barrel, as the threat of war in Iraq keeps oil prices high.
Allegheny Energy
(AYE)
jumped 18.6% to $10.09 on news it was nearing an agreement with creditors that could help it avoid bankruptcy. Elsewhere in the space,
Williams
(WMB) - Get Williams Companies, Inc. Report
rose 5.3% to $3.37.
U.S. Steel
(X) - Get United States Steel Corporation Report
gained 7.3% to $14.70 after Prudential upgraded the company to buy from hold with a new price target of $30, up from $13. According to the bullish brokerage report, the company's recent acquisition of
National Steel
will help it perform well, even in a down market.
AT&T Broadband
, recently snapped up by
Comcast
(CMCSA) - Get Comcast Corporation Class A Report
, will begin buying gear in early 2003, according to a research report from CIBC World Markets. This should benefit cable equipment companies like
C-Cor.Net
(CCBL)
,
Harmonic
(HLIT) - Get Harmonic Inc. Report
and
Commscope
(CTV) - Get Qwest Corp 6 7/8 % Notes 2014-1.10.54 Sr Report
. C-Cor and Harmonic were big winners, up 20.1% and 26.3%, respectively. Commscope rose 1.3%.
Schering-Plough
(SGP)
warned that weak sales of its over-the-counter allergy drug Claritin would cause it to miss fourth-quarter earnings estimates. Shares fell 0.4% to $22.96.
In the financial services sector,
Lehman Brothers
(LEH)
revised its fourth-quarter and 2002 earnings in order to reflect an $80 million charge for settling the investigation into Wall Street analysts' conflicts of interest. Elsewhere in the space,
FleetBoston Financial
undefined
slashed its fourth-quarter outlook. Lehman gained 1.7% to $59.36, while Fleet dropped 0.4% to $27.40.
The U.S. Justice Department formally filed suit against
Tenet Healthcare
(THC) - Get Tenet Healthcare Corporation Report
for allegedly submitting fraudulent claims to Medicare in order to boost revenue. Tenet dropped 0.6% to $16.85.
Healthcare stocks took a hit after UBS Warburg downgraded the sector.
Community Health Systems
(CYH) - Get Community Health Systems, Inc. Report
and
Lifepoint Hospitals
(LPNT)
were downgraded to buy from strong buy, while
Triad Hospitals
(TRI) - Get Thomson Reuters Corporation Report
was dropped to reduce from buy. Community Health dropped 7.7%, Lifepoint fell 9.4% and Triad dropped 9.7%
In retail,
Nautica
(NAUT)
posted fourth-quarter earnings that beat the Street by a penny, as revenue rose a modest 3%. Elsewhere, Credit Suisse First Boston upgraded apparel seller
Abercrombie & Fitch
(ANF) - Get Abercrombie & Fitch Co. Class A Report
to outperform from neutral. Nautica rose 5.1% to $11.86, while Abercrombie gained 1.4% to $26.39, adding to Thursday's better-than-10% gain.
Online real estate agency
Homestore
(HOMS)
was a big gainer, jumping 40.4% to $1.32, after agreeing to pay
AOL Time Warner
(AOL)
$7.5 million to settle a marketing contract dispute. AOL gained 3.8% to $14.88.
Seagate
(STX) - Get Seagate Technology PLC Report
posted a quarterly profit of 43 cents a share on revenue of $1.7 billion. Analysts had been expecting 24 cents on sales of $1.5 billion. Nonetheless, Seagate fell 11.9% to $11.10.
Treasuries were volatile, with the 10-year Treasury up 11/32 to yield 4.04%. The 30-year bond was up 11/32 to yield 5.05% after sliding nearly two points Thursday. The dollar hit a three-year low against the euro.
On Thursday, the Dow gained 180 points, or 2.1%, to 8776, while the Nasdaq rose 37 points, or 2.7%, to 1438. The S&P 500 added 17 points, or 1.9%, to 927.
Overseas markets were mixed, with London's FTSE 100 ending up 1% to 3974 and Germany's Xetra DAX finishing just under breakeven at 3037. Japan's Nikkei 225 fell 0.3% to end at 8470, while the Hang Seng closed up 0.5% at 9721.