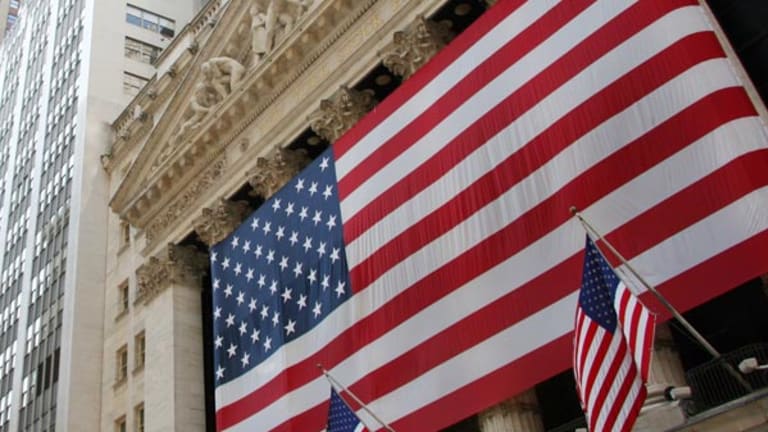 Stocks Rocket Higher to Close With Biggest Gains Since 2011
Asian stocks open higher on Thursday after a huge rally in the U.S. gave the market its best day in four years.
NEW YORK (TheStreet) -- Asian stocks open higher on Thursday following a huge rally in U.S. stocks that gave the market its best day in four years.
Japan's Nikkei 225 index, China's Shanghai Composite and Hong Kong's Hang Seng were all up more than 2% in early trading.

Unlike Tuesday when markets fell back sharply in the final hour, Wednesday's U.S. rally gained steam and had its best close since November 2011. 
The S&P 500 was up 3.9%, the Dow Jones Industrial Average climbed 4% or 620 points, and the Nasdaq jumped 4.2%. The Dow and S&P 500 remained in correction territory. The Volatility Index, commonly referred to as the "fear index," slid 17% to 29.87, but remained above the 25-level reached on Monday for the first time since 2012.
Investors had their plates full on Wednesday. Stocks initially snapped back after Tuesday's slump, but then managed to hold those gains even as a European selloff, more stimulus from China, and more rate hike talk from officials at the Federal Reserve kept economists on their toes. 
While Wednesday's gains managed to snap a six-day losing streak for benchmark indexes, the downward momentum mightn't be over just yet. 
"There's a moderate-sized storm brewing that will keep the market in check here over the next 60 to 90 days," Federated Investors vice president and portfolio manager Matthew Kaufler told TheStreet. "We've probably absorbed the worst of the volatility in terms of magnitude but I don't know that we're done with the volatility. I think the correction phase will continue, just at a lower amplitude than before."
Global markets have suffered days of selloffs on fears over China's economic future. The People's Bank of China made another move to revive its economy on Wednesday after announcing plans to inject 140 billion yuan ($21.80 billion) into its financial system. The stimulus will take the form of a short-term liquidity adjustment (SLO) operation, a measure introduced in 2013 to calm fluctuations in liquidity.
China's stock market was gripped with volatility, ending down 1.3% after whipping between gains and losses as big as 4%. A day earlier, the People's Bank of China cut interest rates, another attempt to revive its flagging economy.
European markets closed sharply lower. Germany's DAX fell 1.3%, France's CAC 40 slipped 2.8%, and the FTSE 100 in London slid 1.3%.
Fed watchers had something to chew over after New York Fed President William Dudley indicated that a decision on a rate hike in September rate "seems less compelling." Dudley gave a disclaimer, though, cautioning that his view could change before the Fed meets in September.
"From my perspective, at this moment, the decision to begin the normalization process at the September FOMC meeting seems less compelling to me than it was a few weeks ago," Dudley said during a press conference on Wednesday morning.
The Fed will meet on Sept. 16-17 to discuss monetary policy. Investors believe there is a 24% chance of a rate hike in September, according to the CME Group Fed futures funds.
U.S. durable goods orders posted a surprise increase of 2% in July, driven by strong demand for machinery, computers and electronics, and autos. Orders for core capital goods, a proxy for business investment, jumped 2.2%, its biggest increase in 13 months. Economists had expected the headline number to decrease 0.6%.
High-momentum tech stocks were again on the move on Wednesday after big losses suffered earlier in the week. Apple (AAPL) - Get Apple Inc. (AAPL) Report , Netflix (NFLX) - Get Netflix, Inc. (NFLX) Report , Google (GOOGL) - Get Alphabet Inc. Class A Report , Facebook (FB) - Get Facebook, Inc. Class A Report , and Amazon (AMZN) - Get Amazon.com, Inc. Report  all closed higher. The Technology SPDR ETF (XLK) - Get Technology Select Sector SPDR Fund Report jumped 5%. 
Schlumberger (SLB) - Get Schlumberger NV Report slumped more than 3% after announcing it will acquire oilfield equipment company Cameron International (CAM) in a cash-and-stock deal worth $14.8 billion. The deal values Cameron at a 56% premium to its closing price on Tuesday.
In earnings news, Express (EXPR) - Get Express, Inc. Report added more than 19% after a better-than-expected second quarter. The retailer earned 25 cents a share, 9 cents above forecasts, while sales of $535.58 million jumped 11.3% from a year earlier.
Abercrombie & Fitch (ANF) - Get Abercrombie & Fitch Co. Class A Report jumped nearly 10% after swinging to a surprise quarterly profit. The company earned 12 cents a share, far better than an expected loss of 4 cents a share. The retailer reported same-store sales down 4%, narrower than a forecast 4% drop.