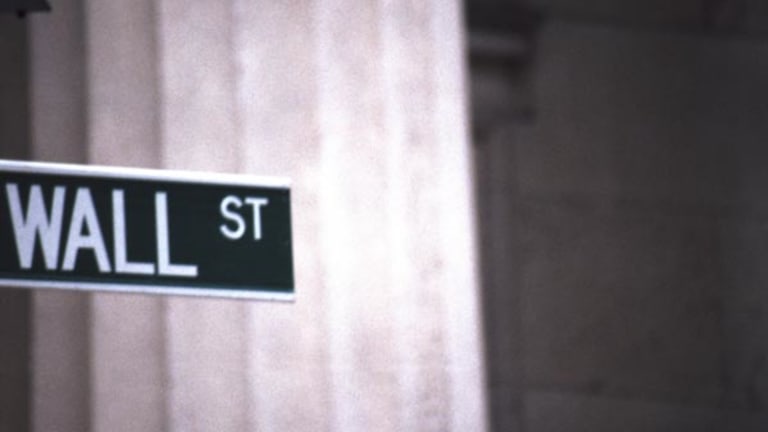 Stocks Rocked as Financial Worries Persist
The Dow is down 3% in the final hour of trading even as the Federal Reserve hints at a rate cut.
Updated from 2:04 p.m. EDT
Stocks were registering heavy losses Tuesday afternoon as
Chairman Ben Bernanke pointed to increased downside risk for the U.S. economy and hinted that his agency may reduce its target interest rate.
The
Dow Jones Industrial Average
was recently down 317 points to 9637, and the
was losing 37 points to 1019. The
Nasdaq
lost 73 points to 1789.
Addressing the National Association for Business Economics in Washington, D.C., Bernanke said that the outlook for inflation has for the moment improved while growth potential has diminished, and said the bank would need to reconsider its current policy, a hint that his agency may soon cut its target interest rate.
Earlier, the Fed announced creation of a new lending facility to buy
from businesses and said it expects the new lending program to remove the stoppage in the credit markets.
The Fed's decision to begin buying commercial paper is "a radical change in the nature of the Fed," said Dirk Van Dijk, director of research at Zacks Equity Research. He said that the Fed is now essentially making unsecured loans to corporations. "The commercial paper market was the most constipated of all the financial markets," said Van Dijk. Getting commercial paper moving makes some sense, he said, although the actual impact of the Fed's move remains to be seen.
Lending among banks was stagnant or worsening. Three-month Libor, the rate banks charge one another for large, short-term loans, was at 4.32%, remaining at levels last seen in January. The rate for overnight interbank dollar loans skyrocketed to 3.94% from 2.25%.
"Under all this, the real economy is headed south in a very big way. That is in itself going to put a lot more pressure on these banks," said Van Dijk. He said he foresees 200,000 to 250,000 jobs lost in October, a worse loss than the discouraging 159,000 decline in September payrolls. "It's going to be quite bad."
Dysfunctional credit markets were also prompting speculation that the
and other central banks would coordinate rate cuts to jump-start lending.
"I think at this point it's needed," said Van Dijk. "Actually, if you look at the effective fed funds, it's trading well below the target rate," he said. A reduction in the U.S. target interest rate, therefore, would be a recognition of reality rather than a policy shift, he said.
"Interbank overnight cash rates are spread so far above central bank rates that any interest rate cut will only deliver psychological icing rather than substantial cake," wrote Carl Weinberg, chief economist at High Frequency Economics, in an email. However, Weinberg said that credit-market psychology was repaired somewhat by coordinated interest-rate cuts in October 1987, October 1998 and September 2001. He said he's looking out for coordinated rate cuts in the very near future.
After the close Monday,
(BAC) - Get Free Report
announced it would cut its dividend and raise $10 billion in fresh capital as it reported quarterly earnings ahead of schedule.
Meanwhile,
Citigroup
(C) - Get Free Report
and
Wells Fargo
(WFC) - Get Free Report
agreed to take a two-day breather from their legal fight over who would get to acquire
(WB) - Get Free Report
.
Tuesday afternoon,
Morgan Stanley
(MS) - Get Free Report
said that it has remained on track to secure a $9 billion investment from Japanese bank
Mitsubishi UFG
undefined
. After declining more than 30%, shares were recently down 19%.
In the technology sector,
chipmaker Advanced Micro Devices
(AMD) - Get Free Report
announced a plan to spin off its manufacturing operations.
Automaker
Adam Opel
, a segment of
General Motors
(GM) - Get Free Report
, said it would cease production at its Eisenach, Germany plant, according to the
AP
.
The Federal Open Market Committee released minutes from its Sept. 16 meeting, when it elected to leave the fed funds rate unchanged at 2%. In the meeting, the Fed acknowledged deceleration in the economy in the form of higher unemployment, weak consumer spending and sharp declines in residential investment.
The Fed minutes also indicated the central bank had in mid-September seen balance between the risk of inflation and that of poor growth. Such a view may have disappointed investors who were hoping the Fed was primarily concerned with the possibility of a recession.
In commodities, crude oil was gaining $2.53 to $90.34 a barrel. Gold was gaining $1.10 to $883.10 an ounce.
Longer-dated U.S. Treasury securities were lower. The 10-year was down 17/32 to yield 3.52%, and the 30-year was slipping 31/32 to yield 4.02%. The dollar was edging higher vs. the yen, but softening against the euro and pound.
Abroad, European markets were mixed.
likewise finished mixed following a rate cut from Australia's central bank.