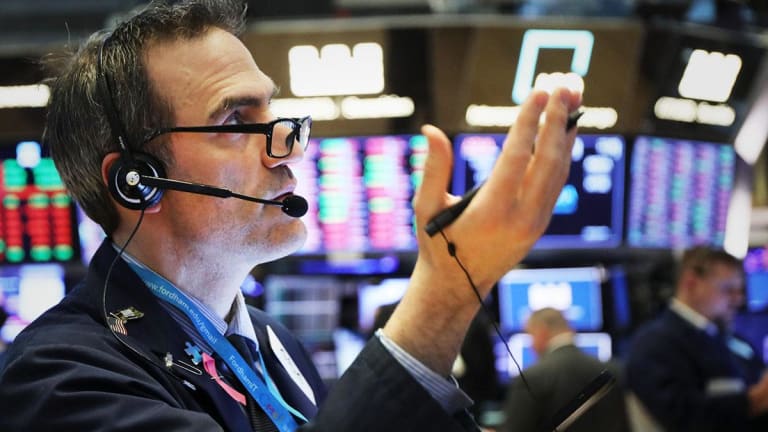 Stocks End Higher on Target and Lowe's Earnings; Yield Curve Concerns Persist
A brief yield curve inversion did not distract investors from strong earnings from retail giants Target and Lowe's.
Here Are 3 Hot Things to Know About Stocks Right Now
Stocks finished up Wednesday, boosted by strong earnings reports from Target (TGT) - Get Free Report and Lowe's (LOW) - Get Free Report   and despite a brief late afternoon yield curve inversion.
Target surged after the big-box retailer reported second-quarter earnings handily ahead of analysts' estimates and raised its full-year guidance. Target is Real Money's Stock of the Day.
Lowe's shares climbed after the home-improvement retailer reported second-quarter earnings that beat Wall Street forecasts.
Wall Street Overview
Stocks finished solidly up Wednesday as late afternoon concerns about the bond market did not detract from  strong earnings from retail giants Target (TGT) - Get Free Report and Lowe's (LOW) - Get Free Report   .
The Dow Jones Industrial Average ended up 240 points, or about 0.93%, to 26,202.73, the S&P 500 climbed 0.82% and the Nasdaq advanced 0.90%.
Late in the afternoon, the yield curve inverted for the first time since August 15. Yield curve inversions, where the interest rate on 10-year treasuries falls below the rate on 2-year notes, are often viewed as a warning sign of a recession.
Nike (NKE) - Get Free Report was the Dow's top gainer, followed by Boeing (BA) - Get Free Report and Cisco (CSCO) - Get Free Report .
Minutes from the Federal Open Market Committee's July 30-31 meeting -- where the central bank cut short-term rates for the first time in a decade -- showed that the Fed sees some weakening in the U.S. economy.
"While there had been some improvement in economic conditions over the intermeeting period and the overall outlook remained favorable, significant risks and uncertainties attending the outlook remained," the FOMC wrote in its minutes. "In particular, sluggish U.S. business fixed investment spending and manufacturing output had lingered, suggesting that risks and uncertainties associated with weak global economic growth and in international trade were weighing on the domestic economy."
But the minutes added that "strong labor markets and rising incomes continued to support the outlook for consumer spending, [while] modest growth in prices and wages suggested that inflation pressures remained muted."
All in all, the FOMC wrote that in voting 8-2 to cut rates on July 31, the group's majority "sought to better position the overall stance of policy to help counter the effects on the outlook of weak global growth and trade policy uncertainty, insure against any further downside risks from those sources, and promote a faster return of inflation to the committee's symmetric 2% objective than would otherwise be the case."
Markets showed little immediate reaction to Wednesday's release, with the Dow only gaining about nine points shortly after the data hit the tape.
"With hopes for Fed stimulus as the biggest driver of stocks' buoyancy in the face of trade tensions and weakening global growth, today's relatively dovish Fed minutes were about in line with investors' high expectations," said Alec Young, managing director of global markets research at FTSE Russell. "However, given the rally over the last week, a lot of dovishness is already priced in, so some 'sell the news' profit-taking shouldn't be a surprise."
Mike Loewengart, vice president of investment strategy at E*Trade, said there was "no surprise that the dominant consideration is the fallout from the ongoing trade war and its effects on inflation, growth, and productivity." 
"It doesn't look like the Fed is bent on a prolonged rate cut campaign," he added, "and let's not forget we had two dissenting Fed officials during the last cut, which was a first for Powell. And the market certainly seems to be interpreting it this way: Rate-sensitive sectors like financials bumped up and while the housing sector has shown some strength recently that performance could come into question."
Fed Chairman Jerome Powell is scheduled to speak Friday at the annual gathering in Jackson Hole, Wyo. The theme of his speech will be "Challenges for Monetary Policy."
President Donald Trump has relentlessly criticized Powell and the Fed for setting interest rates too high. On Wednesday, Trump said via Twitter that the U.S. is "doing great with China and other Trade Deals" but the Federal Reserve isn't helping.
"The only problem we have is Jay Powell and the Fed," Trump said. "He's like a golfer who can't putt, has no touch. Big U.S. growth if he does the right thing, BIG CUT - but don't count on him! So far he has called it wrong, and only let us down...."
Jeffrey Halley, a senior market analyst at Oanda, said recent U.S. data "simply does not support the need for an aggressive easing cycle."
"Despite the U.S.-China trade tensions making their presence felt in European and Asian data prints, this has simply not happened with the United States to any significant degree," Halley said.
Target (TGT) - Get Free Report surged 20.6% to $103.13 after the big-box retailer reported second-quarter earnings that handily beat analysts' estimates and raised its full-year guidance. Target is Real Money's Stock of the Day.
Lowe's (LOW) - Get Free Report shares took off, climbing 10.4% to $108. after the home improvement retailer reported second-quarter earnings that beat analysts' forecasts.
Chinese online retailing giant Alibaba Group Holding (BABA) - Get Free Report  postponed a planned listing of up to $15 billion in Hong Kong that was scheduled for late August, Reuters reported. The shares were off 1.1% to $175.19.
Shares of Analog Devices (ADI) - Get Free Report were down 1.5% to $108.59 after the chipmaker beat Wall Street's third-quarter sales and earnings beat analysts' forecasts.
The American Petroleum Institute reported a crude-oil-inventory draw of 3.45 million barrels for the week ended Aug. 15, compared with analyst expectations of a 1.89-million barrel draw.
Brent crude contracts were up 29 cents and selling at $60.32 per barrel, while West Texas Intermediate contracts, which are more tightly linked to U.S. gas prices, were 35 cents lower at $55.78 per barrel.
On the economic front, total sales of single-family homes, townhouses, condos and co-ops rose to an annualized rate of 5.42 million in July, up 2.5% from June on a seasonally adjusted basis, the National Association of Realtors said.
The figure was on par with economists' average projection for 5.4 million, based on a survey by data provider FactSet.
Cisco is a holding in Jim Cramer's Action Alerts PLUS member club. Want to be alerted before Jim Cramer buys or sells CSCO? Save 57% With Our Labor Day Sale. Join Jim Cramer's Action Alerts PLUS investment club to become a smarter investor! Click here to sign up!