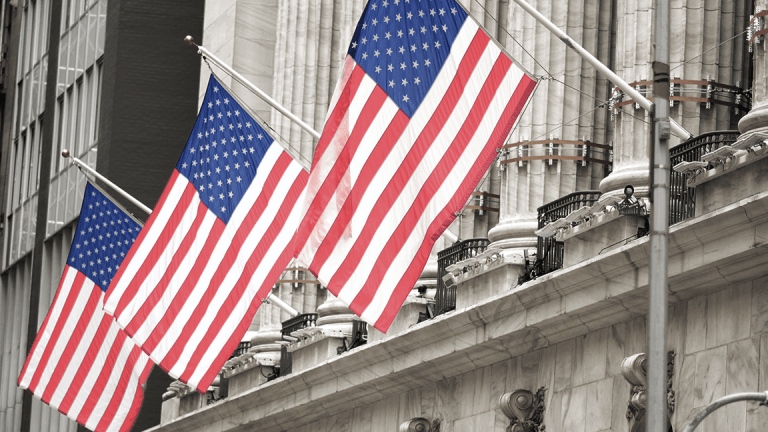 Stocks Post Solid Gains as Turkey Crisis Stabilizes
Stocks end Tuesday with solid gains as concerns over Turkey's currency crisis ease.
Here Are 3 Hot Things to Know About Stocks Right Now
The S&P 500 I:GSPC  rose for the first time in five sessions on Tuesday
Home Depot Inc. (HD) - Get Report  edged lower after beating earnings estimates and raising full-year sales guidance.
Tesla Inc.'s (TSLA) - Get Report board has formed a special committee to evaluate a potential take-private deal.
Wall Street Overview
Stocks on Wall Street posted solid gains on Tuesday, Aug. 14, amid a stabilization in Turkey's currency crisis.
The Dow Jones Industrial Average I:DJI  rose 112 points, or 0.5%, to 25,300, the S&P 500 I:GSPC  rose 0.6% and the Nasdaq I:IXIC  gained 0.7%.
Turkey's lira, which has been at the center of a one-week currency crisis that has rippled through financial markets all over the world, gained around 3% against the U.S. dollar in overnight trading. Indications were that moves by Turkey's central bank to stem the lira's decline likely will hold the currency in place while President Recep Tayyip Erdogan negotiates the potential release of the American evangelical pastor Andrew Brunson, whom Ankara has accused of being involved in a failed 2016 coup.
Home Depot Inc. (HD) - Get Report reported second-quarter earnings of $3.05 a share, beating forecasts of $2.85, and the home-improvement giant raised its full-year forecast for revenue and same-store sales. The stock slipped 0.01% on Tuesday.
What Jim Cramer is thinking off the Home Depot numbers. 
Tesla Inc. (TSLA) - Get Report CEO Elon Musk said he's working with Silver Lake Partners Capital LLC and Goldman Sachs Group Inc. (GS) - Get Report as advisers on his plans to take the electric car company private.
Musk tweeted on Monday night:
A source familiar with the matter told Reuters that said Silver Lake was offering its assistance to Musk in his exploration of a deal without compensation, and hadn't been hired as a financial adviser in an official capacity.
On Tuesday, Tesla's board said it formed a special committee to evaluate the potential take-private deal. Shares fell 2.5%.
Coca-Cola Co.  (KO) - Get Report said Tuesday it will take a stake in surging sports drink brand BodyArmor. The purchase price was not disclosed.
Coca-Cola said the deal is structured in a way that allows it to increase its ownership percentage in the future. Coke shares rose 0.1%.
Billionaire activist investor Carl Icahn said he no longer plans to solicit votes from Cigna Corp. (CI) - Get Report shareholders against the health insurer's $54 billion deal to buy Express Scripts Holding Co. (ESRX) after two proxy-advisory firms recommended shareholders support the deal.
Cigna shares rose 2%, while Express Scripts was up 2.4%.
Advance Auto Parts Inc. (AAP) - Get Report rose 7.8% after second-quarter sales and earnings beat analysts' forecasts.
Tapestry Inc. (TPR) - Get Report , which owns the Coach and Kate Spade brands, jumped 12% on Tuesday its fiscal fourth-quarter earnings and sales topped analysts' expectations.
Tapestry CEO Victor Luis told TheStreet's Executive Editor Brian Sozzi he remains bullish on the year ahead.