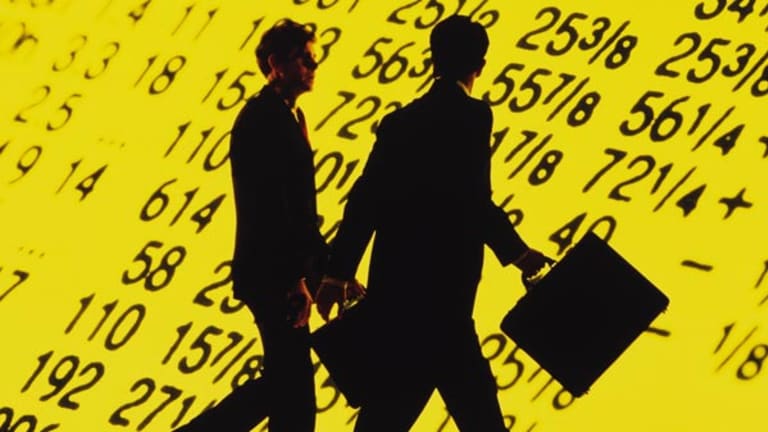 Stocks Rise Three Days in Row
Stocks rise on manufacturing data after investors brush off an unexpected rise in jobless claims. Gregg Greenberg reviews the day in The Real Story.
Stocks rise on manufacturing data after investors brush off an unexpected rise in jobless claims. Gregg Greenberg reviews the day in The Real Story.
Updated with stock prices
NEW YORK (
) -- A better-than-anticipated reading on the Philadelphia Fed index helped stocks lock in a third consecutive day of gains as investors brushed off another unexpected rise in weekly jobless claims.
The
Dow Jones Industrial Average
climbed 70.89, or 0.8%, to 9350.05, while the
S&P 500
tacked on 10.91 points, or 1.1%, to 1007.37. The
Nasdaq Composite
edged up 19.98 points, or 1%, to 1989.22.
were out in front, with the KBW bank index adding 2.9%.
UBS
(UBS) - Get Report
and
Citi
(C) - Get Report
rose 9.7% and 8.5%, respectively.
Among the day's other movers,
Google
(GOOG) - Get Report
added 3.7% to $460.41 after Goldman Sachs
to the conviction buy list.
Gains accelerated after the Philadelphia Fed reported an unexpected rise in its manufacturing index. The regional index rose to a positive 4.2 in August, improved from negative 7.5 in July, and vs. expectations for negative 2.
"
Data continues to show that the manufacturing base is contracting less, and even in some cases starting to expand," says Richard Sparks, senior securities analyst at Schaeffer's Investment Research. "It's going to be one of the important factors in pulling us out of this recession and getting GDP growth positive, getting people back to work."
It's going to take time, says Sparks, but, "It's one more data point that the economy seems to be getting back on its feet and starting to grow, ever so slightly at this point." Click below to hear what Sparks has to say about manufacturing, unemployment and consumer trends, as well as what areas he likes in this market.
Earlier in the day, the Labor Department said the number of first-time jobless claims
for the second straight week to a seasonally adjusted 576,000 last week, from a revised figure of 561,000. Wall Street economists expected a drop to 550,000.
The four-week average of initial claims, which smooths out fluctuations, also rose for the second straight week to 570,000. However, the number of people remaining on the benefit rolls dropped by 2,000 to 6.24 million.
"It wasn't as good as people would have liked, but I think you can at least continue to build the story that the claims have stabilized," says Bill Stone, chief investment strategist, PNC Wealth Management. "We all know the employment picture is likely to be one of the later things to get better -- more attention is being paid to what you need to do to get it better."
It's become consensus that we're either out of the recession or going to be this quarter, says Stone. "I think now, what's on investors' minds -- the reason we're seeing more volatility -- is do we see the follow through?Does inventory rebuild in Q3 give way to maybe some gains in employment and the consumer stepping in?"
Investors are wrestling with these questions around the world. China's Shanghai Composite Index rebounded early Tuesday, adding 4.5%, its biggest gain since March, after a 4.3% decline the day prior. Markets around the world followed the index higher.
In Europe, London's FTSE 100 and Frankfurt's Dax climbed 1.4% and 1.5%, respectively. Japan's Nikkei and Hong Kong's Hang Seng added 1.8% and 1.9%, respectively, during their session.
Perhaps adding some fuel to the bulls early Thursday, multiple reports say the Obama administration next week will revise its estimate of the 2009
down by $262 billion, to $1.58 trillion, with help from the elimination of a $250 billion contingency fund set up in case additional aid was needed to prop up financial institutions.
Meanwhile, the Obama administration announced the popular "cash for clunkers" program will end on Monday,
CNBC
reported.
In other news,
Rio Tinto
(RTP) - Get Report
, the world's third-largest mining company, reported a 65% decline in
, citing the drop in metal and mineral prices.
Commodities were mixed, with crude oil futures gaining 12 cents to $72.54 a barrel a day after a $3 build. Gold fell $3.10, to $941.70.
Longer-dated Treasuries were rising in price, falling in yield. The 10-year was up 7/32 to yield 3.43%, while the 30-year gained 30/32, yielding 4.24%.
-- Written by Elizabeth Trotta in New York.
Copyright 2009 TheStreet.com Inc. All rights reserved. This material may not be published, broadcast, rewritten, or redistributed. AP contributed to this report.