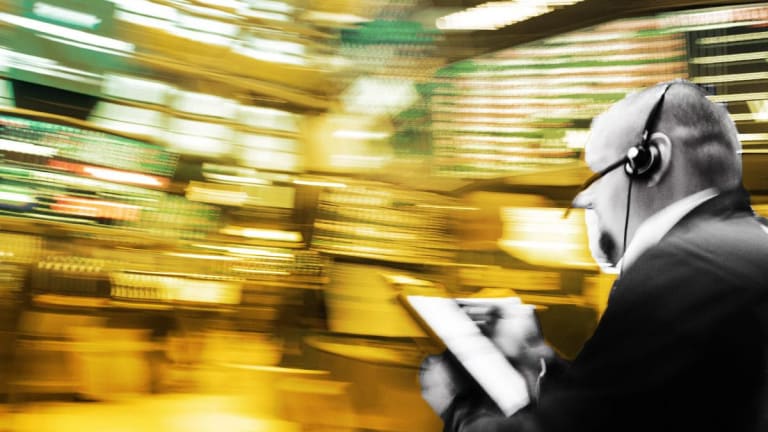 Dow Posts Biggest Gain Since March on 'Just Below' Neutral Comment From Powell
The Dow saw its best day since March as Wall Street cheered a speech from Federal Reserve Chairman Jerome Powell.
Here Are 3 Hot Things to Know About Stocks Right Now
The Dow Jones Industrial Average saw its biggest gains since March on Wednesday, trading higher for a third straight session, after Federal Reserve Chairman Jerome Powell said interest rates are "just below" neutral for the economy.
Tiffany & Co. (TIF) - Get Tiffany & Co. Report sank 12% after the luxury jewelry retailer cut its growth outlook for full-year same-store sales.
Salesforce.com Inc. (CRM) - Get salesforce.com, inc. Report rose 9% after solid third-quarter earnings and sales guidance.
Wall Street Overview
Stocks rose sharply on Wednesday, Nov. 28, after Federal Reserve Chairman Jerome Powell said interest rates were "just below the broad range of estimates of the level that would be neutral for the economy."
Powell spoke Wednesday at the Economic Club in New York.
The Fed chief also said the stock market's recent selloff doesn't pose major risks to the financial system, in a sign that the declines won't be enough to persuade the central bank to abandon its push to raise interest rates.
"It is important to distinguish between market volatility and events that threaten financial stability," Powell said. "Large, sustained declines in equity prices can put downward pressure on spending and confidence. From the financial stability perspective, however, today we do not see dangerous excesses in the stock market."
Prior to Powell's appearance, Donald Trump criticized him and the Fed in an interview with the Washington Post in which he accused the central bank of pushing U.S. stocks lower and triggering a decision by General Motors Co. (GM) - Get General Motors Company (GM) Report to shutter five plants in North America and two additional plants outside of North America, and cut 15% of its salaried workforce.
Trump told the Post in an interview that he wasn't "even a little bit happy with my selection" of Powell to head the Federal Reserve, adding that the Fed's current stance on interest rates was "way off base." Trump's remarks followed a similar interview with The Wall Street Journal in which he accused the central bank of being a "bigger problem than China."
Stocks also got a lift from reports of a possible breakthrough in U.S.-China trade talks ahead of this weekend's G-20 summit in Argentina.
White House economic adviser Larry Kudlow told reporters that Donald Trump and China's Xi Jinping would meet for dinner at the summit on Saturday, Dec. 1. While he cautioned that China's president "has an opportunity to change the tone and the substance of these talks," he nonetheless suggested that "President Trump has indicated he is open" to making a deal to resolve ongoing trade tensions and possibly halt new tariffs on China-made goods.
China's ambassador to the United States, Cui Tiankai, told Reuters that an all-out trade war between the world's two biggest economies was "unimaginable" and hoped the weekend talks could result in a way forward.
The Dow Jones Industrial Average rose 618 points, or 2.5% to end at 25,366. It was the index's best day since March 26, when it rose 669.40, or 2.84%.
The S&P 500 rose 2.3% while the Nasdaq gained 2.95% on strength in big tech names.
Gross domestic product in the third quarter rose 3.5% on an annual basis, unchanged from the Commerce Department's previous estimate in October. GDP in the U.S. grew at a 4.2% pace in the second quarter.
Salesforce.com Inc. (CRM) - Get salesforce.com, inc. Report , the cloud software company, posted third-quarter adjusted earnings of 61 cents a share, beating forecasts by 11 cents, and it issued solid sales guidance. 
Revenue in the quarter was $3.39 billion, up from $2.7 billion a year earlier and topped estimates of $3.37 billion. The company's closely watched billings proxy -- defined as revenue plus the sequential change in Salesforce's unearned revenue balance -- came in at $2.89 billion, up 28% and above consensus of $2.68 billion.
The stock jumped 10% on Wednesday.
Salesforce said it expects 2020 revenue as high as $16 billion, putting it on track to meet its 2022 target range of $21 billion to $23 billion.
"While the bottom line is a bit lighter than what analysts were forecasting, we think investors should not be fooled," wrote Jim Cramer and the Action Alerts PLUS team, which holds shares of Salesforce in its portfolio. "Overall, this was a great quarter for the company with solid beats across the board. Not only did the company outpace the customer relationship management market again, but it also continues to gain share."
Tiffany & Co. (TIF) - Get Tiffany & Co. Report fell 12% after it reported third-quarter earnings of 77 cents a share, which met analysts' expectations, but sales of $1.01 billion that came in below forecasts. Same-store sales were up 2%, but they, too, missed forecasts. It was the stock's worst percentage decline in nearly four years.
The luxury jewelry retailer also cut its growth outlook for full-year same-store sales to the "mid-single-digit" percentage range from previous guidance of an increase in the "mid-to-high-single-digit" range.
J.M. Smucker Co. (SJM) - Get J.M. Smucker Company (SJM) Report reported fiscal second-quarter profit and sales that missed Wall Street's expectations and the consumer foods company cut its fiscal-year outlook. The stock fell 7%.
Sporting goods retailer Dick's Sporting Goods Inc. (DKS) - Get Dick's Sporting Goods, Inc. Report  earned 39 cents a share in its third quarter, beating estimates of 26 cents. Net sales of $1.86 billion missed forecasts of $1.88 billion, while same-store sales in the quarter fell 3.9%, narrower than analysts' predictions that called for a drop of 4%.
Dick's raised its guidance range for 2018 to $3.15 to $3.25 a share from prior guidance of $3.02 to $3.20.
The stock rose 2%.