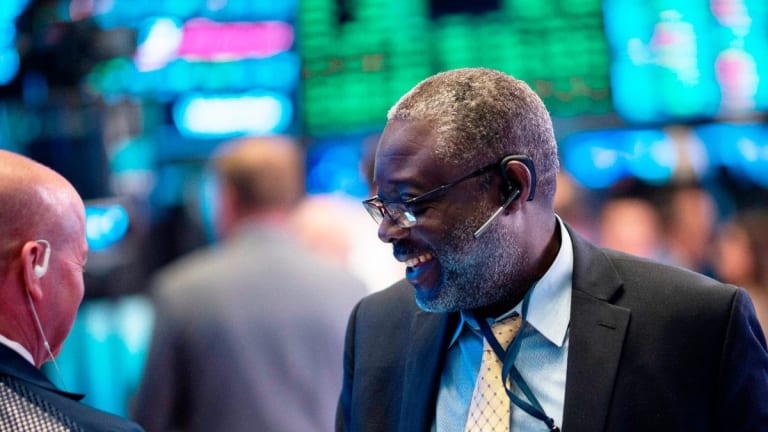 Stocks Post Solid Gains on Thaw in U.S.-China Trade War; Apple Surges
Stocks finish higher Tuesday as investors brush off recession signs amid word of possible progress in U.S.-China trade talks.
Here Are 3 Hot Things to Know About Stocks Right Now
The Dow Jones Industrial Average finished sharply higher Tuesday as investors brushed off signals of a recession and unrest in Hong Kong to focus on a possible thaw in the U.S.-China trade war.
Tilray (TLRY) climbed as the medical marijuana company prepares to release second-quarter earnings after the market closes on Tuesday. Tilray is Real Money's Stock of the Day.
Wall Street Overview
Stocks ended sharply higher Tuesday, snapping a two-day losing streak, after the U.S. removed some items from its list of new China tariffs in signs of a possible thaw in the ongoing trade war between the world's two largest economies.  
The Dow Jones Industrial Average, which ended Monday down 391 points, finished up 372 points, or 1.44%, at 26,279. The S&P 500 rose 1.48% and the Nasdaq was up 1.95%.
News of discussions between U.S. and China trade officials sent Apple (AAPL) shares higher, with the tech giant jumping 4.2% to $208.97. Intel (INTC) and Cisco (CSCO) were also big tech winners.
Caterpillar (CAT)  advanced, climbing 2% to $119.04. Caterpillar reported that its total machines sales were up 4% year over year in the three months ended July, with engines rising 6%.
President Donald Trump told reporters that he was delaying the tariffs out of concerns about the Christmas shopping season.
"The big question is, how does the Chinese government read this move?" said Putri Pascualy, managing director for PAAMCO Prisma. "It can't be lost on them that they could influence U.S. equity market through the yuan. If they see the tariff delay as concession from the U.S. government, this may give them more leverage in the trade negotiations."
The Office of the U.S. Trade Representative said that it will delay applying additional tariffs on China-made goods until December, just minutes after China said it held talks by phone with officials in Washington. Some products were being removed from the tariff list based on health, safety, national security and other factors.
The USTR said it will delay tariffs on several items in the basket of $300 billion in consumer goods that are made in China and sold in the United States, which were set to rise to 10% on Sept. 1, until at least December 15. Cell phones, video game consoles, certain toys and footwear will get the short-term exemption, the USTR said.
Liu He, China's vice premier, spoke with Robert Lighthizer, the United States trade representative, and Steven Mnuchin, the Treasury secretary, on Tuesday, and the three agreed to speak again in two weeks.
"The decision from the U.S. to delay tariffs on some products until December 15 and agree to hold further discussions by phone provides some comfort to market participants that both sides are willing to engage despite last week's flare-up in the ongoing trade dispute," said Charlie Ripley, senior investment strategist for Allianz Investment Management. "At this juncture any commitment towards further progress will likely be viewed as a positive step and today's market reaction certainly reflects that."
Apple relies on China for about a fifth of its revenue and much of its global supply chain. The iPhone maker warned in June that tariffs would have an impact on all of its major products made in China and Trump said that Apple would not be granted waivers or relief for Mac Pro parts made in China.
Likewise, Caterpillar warned last month that sales in its Asia-Pacific unit nosedived 22% from a year ago, largely on weak demand in China.
Retailers were also feeling the love, with shares of Nike (NKE) , Walmart (WMT)  and Home Depot (HD) all posting gains. Shares of Fitbit (FIT) were also up.
The trade war recently heated up when Trump said on Aug. 1 that the U.S. on Sept. 1 would levy 10% tariffs on an additional $300 billion of Chinese imports in a bid to push Beijing to reduce its huge trade imbalance with the U.S. The threat from Trump prompted China to halt purchases of U.S. agricultural products.
"This is symptomatic of the chaos at the top of the American government," said Ted Bauman, a senior research analyst and economist at Banyan Hill Publishing. "The standard operating procedure seems to be that the president makes a unilateral decision, tweets it to the world, and then expects his staff and cabinet departments to carry it out. But in the case of the 10% tariffs, it looks like the adults in the room have gained the upper hand. Presumably, that's because even from the perspective of political self-interest, Trump's tariffs threat was suicidal."
The threat, Bauman said, caused chaos in the stock market, a drop in business confidence and investment, "and every forecast says the global economy is on the verge of a downturn."
"The difficult question is what to do now," he said. "For investment managers, do you recommend that your clients take profits, assuming another tweet can undo all of this? Or do you hang in there and hope that there won't be any more tweets? It's impossible to know ... So all we can do is hold on and hope for the best."
Meanwhile, the yield spread between 2-year and 10-year yields fell to 3 basis points in early Tuesday trading, the lowest since June 2007, after data from the Commerce Department showed July core consumer prices rose faster than expected.
The benchmark 10-year Treasury yield was up 0.043 to 1.683% recently.
"The inflation figures were positive," said David Madden, a market analyst at CMC Markets UK. "It is encouraging to see that demand is on the rise and keep in mind, rates were cut at the end of July, so we might see the CPI rate tick higher in the coming months. James Bullard of the Fed, recently said he wants to play the wait-and-see game before casting his next vote, so a rate cut next month is not a done deal."
In Hong Kong, pro-democracy protesters surged into Hong Kong's international airport for a second day and continued to disrupt flights. Protesters clashed with police at the airport on Tuesday evening, but CNN reported that police were starting to retreat.
CBS (CBS) and Viacom (VIAB)  have finalized their merger agreement, in which Viacom shareholders will receive 0.59625 CBS shares for each share they own. CBS was up 1.4% to $48.71, while Viacom was up 2.4% to $29.21.
Shares of Tilray (TLRY)  rose 8.4% to $46.02 as the medical marijuana company prepares to release second-quarter earnings after the market closes on Tuesday. Tilray is Real Money's Stock of the Day.
JD.com (JD) surged 12.9% to $30.66 after the China-focused retailer beat Wall Street's second-quarter revenue estimates.
Gold jumped to a fresh six-year high in overnight trading and was recently going for $1,514.30 an ounce.
In the energy sector, Brent crude contracts for October delivery, the global benchmark, were up $2.68 to $61.25 a barrel, while West Texas Intermediate contracts for September, which are more tightly linked to U.S. gas prices, were up $2.08 at $57.01 a barrel.
Viacom, Home Depot, Caterpillar and Apple are holdings in Jim Cramer's Action Alerts PLUS member club. Want to be alerted before Jim Cramer buys or sells these stocks? Learn more now.