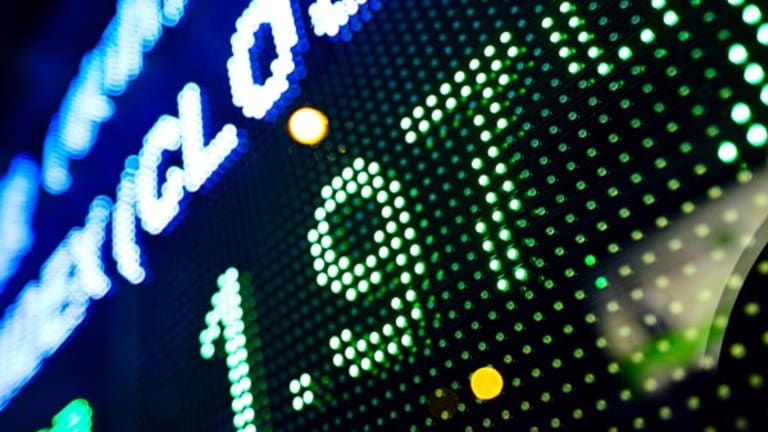 Stocks Rise on Lehman Buyout Hopes
The Dow, S&P 500 and Nasdaq start higher Friday after a report that the U.S. investment bank might get a bid from overseas. Investors also await remarks from the Fed chairman.
Updated from 9:57 a.m. EDT
Stocks were climbing Friday as traders cheered a report that an overseas buyer could have its eye on stumbling New York investment bank
Lehman Brothers
undefined
, one of the companies at the center of investors' continuing angst about the credit markets.
The
Dow Jones Industrial Average
was rising 181 points to 11,612, and the
was adding 11 points to 1289. The
Nasdaq
was gaining 23 points to 2403.
The primary driver behind the upward move was a
Reuters
report that the Korea Development Bank considered a bid for at least part of Lehman, which has recently been victimized by reports that it's struggling to raise capital and that its subprime exposure may prove crippling.
According to the report, the government-controlled Korean bank didn't reach an agreement with Lehman because it was worried about the U.S. firm's health. Still, a spokesman indicated that KDB would keep its options open. Shares of Lehman were advancing nearly 15% to $15.74.
Art Hogan, chief market strategist at Jefferies, said a takeover of Lehman is entirely possible. "Pick a number, say $20 a share," he said. "Say, 'What can I sell the Neuberger business for, and what can I get for free?'" He said that although Lehman still may have more skeletons in its closet, "To a certain extent you don't have to have a glowing endorsement. You've just got to make a deal."
On the other hand, talk is cheap, said Michael Church, portfolio manager at Church Capital Management. "I'd like to see some action there." He said he wasn't surprised to see that the market was happy about the possibility of a Lehman acquisition. "Putting Lehman out of its misery is probably a good thing at this point."
Sector indices were bolstered by the news, led by gains of at least 2% in the KBW Bank index and the Amex Securities Broker/Dealer index. The NYSE Financial Sector index was better by 1.4%.
Meanwhile,
Federal Reserve
Chairman Ben Bernanke, spoke at Jackson Hole, Wyo., about the credit crunch. Bernanke said that although the markets have improved somewhat, the crisis is not over and is now manifest in a slowing economy and increasing unemployment.
" In the format from which he was speaking, you don't get any groundbreaking news," said Hogan. But today was different, he said. "For the first time, we got to hear Bernanke say inflation will ease."
Hogan said that Bernanke's view on inflation surprised the market, but the rise in equities was disproportionate to the news. He cited low trading volume as reason for the exaggerated response.
On Thursday, blue-chip stocks showed modest gains while tech stocks fell, as the dollar took a pummeling and the price of crude oil spiked by more than $5. The financial sector remained a point of concern after Citigroup lowered earnings estimates on several key firms.
During the new session, oil was down $2.88 to $118.30 a barrel, and the dollar was rallying against its major foreign competitors.
U.S. Treasury prices were declining. The 10-year was down 12/32, yielding 3.87%, and the 30-year was losing 14/32 in price to yield 4.49%. Gold was shedding $8.80 at $830.20 an ounce.
As for corporate news,
The Wall Street Journal
reported that aircraft maker
Boeing
(BA)
may end its effort to secure a $40 billion air tanker project from the Air Force if the government gives it six months to issue a new proposal. Boeing had previously challenged the Air Force's decision to award the contract to Airbus parent
EADS
and
Northrop Grumman
(NOC)
.
Meanwhile,
General Motors
(GM)
is preparing to initiate discussions leading to a potential sale of its Hummer brand. Hummer sales have been suffering as rising fuel costs have left consumers choosing more fuel-efficient alternatives.
In the pharmaceutical arena,
Abbott Labs
(ABT)
said it would be eliminating 1,000 jobs to increase efficiencies in its diagnostic business.
The
Journal
also reported that telecom firm
Verizon
(VZ)
and Internet search provider
Google
(GOOG)
are forming a pact to have Google provide search services on Verizon devices and share in advertising revenue.
In earnings news, bulk shipper
DryShips
(DRYS)
announced a rising second-quarter profit thanks to the sale of three of its boats. Adjusting for those one-time gains, profits came in higher than last year but fell short of analyst estimates.
Specialty clothiers
Ann Taylor
(ANN)
and
Perry Ellis
(PERY)
also reported quarterly results. Ann Taylor showed a profit that declined year over year but beat analyst estimates. Perry Ellis, meanwhile, swung to a loss and lowered its 2009 earnings forecast.
Overseas, European stocks were enjoying gains, while Asia was more subdued. The FTSE in London and Frankfurt's Dax were both up, while Japan's Nikkei and the Hang Seng in Hong Kong were lower.