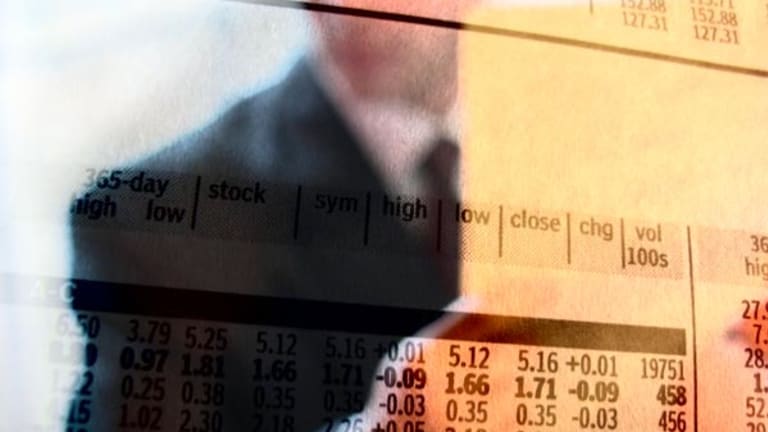 Stocks Rise on Big Picture Outlook
Stocks move higher after manufacturing data show an upside surprise, but consumer prices increase.
(Updated with stock prices.)
Stocks extended gains Wednesday following better-than-expected manufacturing data and a second day of positive vibes from
Federal Reserve
Chairman Ben Bernanke's remarks.
The
Dow Jones Industrial Average
was up 108.3 points, or 1.1%, to 9791.71, while the
S&P 500
ticked up 16.13 points, or 1.5%, to 1068.76. The
Nasdaq Composite
advanced 30.51 points, or 1.5%, to 2133.15.
Industrials and financials led the Dow, with
Alcoa
(AA) - Get Report
and
General Electric
(GE) - Get Report
adding 3.4% and 6.3%, respectively, and
Bank of America
(BAC) - Get Report
and
American Express
(AXP) - Get Report
rising 2.7% and 3.4%, respectively.
Those moves came as data showed
and capacity utilization both increased more than expected in August. Production ramped up by 0.8%, two-tenths of a percentage point better than expected, while capacity utilization rose to 69.9%, vs. expectations for 69%. Both measures also were upwardly revised for July.
Stock Wrap: The Real Story, September 16
var config = new Array(); config<BRACKET>"videoId"</BRACKET> = 40472708001; config<BRACKET>"playerTag"</BRACKET> = "TSCM Embedded Video Player"; config<BRACKET>"autoStart"</BRACKET> = false; config<BRACKET>"preloadBackColor"</BRACKET> = "#FFFFFF"; config<BRACKET>"useOverlayMenu"</BRACKET> = "false"; config<BRACKET>"width"</BRACKET> = 265; config<BRACKET>"height"</BRACKET> = 255; config<BRACKET>"playerId"</BRACKET> = 1243645856; createExperience(config, 8);
"I think the markets have moved ahead, they've been phenomenally good at sniffing out the fact that the recovery was in progress," says Bill Stone, chief investment strategist at PNC Wealth Management. "This data was just the proof that perhaps so far the market's been right."
Click below to hear my entire conversation with Stone, including more on production, inflation, quadruple witching and the economic recovery.
"This is a time when discipline has failed people," wrote Jim Cramer in a column on
. "It is when the market is most electric and exciting and people just figure, 'What the heck? I will hold on to that
Caterpillar
(CAT) - Get Report
or
Deere
(DE) - Get Report
or
Chesapeake
(CHK) - Get Report
or
Devon
(DVN) - Get Report
... and why not? It hasn't hurt me.'"
Stocks hit new highs for the year Tuesday as the Fed chief said that the recession is likely over "from a technical perspective" but that it's still going to feel like a very weak economy for some time.
(How far can a "technical" recovery take the market? Let us know what you think in our comments section below.)
It didn't hurt that famed billionaire investor Warren Buffett told a conference in Carlsbad, Calif., that the economy is responding to government measures and he is currently buying equities.
Meanwhile, the Department of Labor said the
, the most widely cited gauge of inflation, increased by 0.4%, or 0.1% excluding food and energy. Economists were expecting an 0.3% increase overall, and an 0.1% uptick in the core rate.
Crude oil futures rose $1.58, to $72.51, and gold surged $13.90 to $1,020.20 as the dollar weakened.
In other news, flash-graphic application developer
Adobe
(ADBE) - Get Report
said late Tuesday it would acquire
Omniture
(OMTR)
for $1.8 billion in cash in an effort to expand beyond Web software to site management and traffic analytics. Adobe shares fell 6.4% to $33.35, while Omniture surged 26.3% to $21.88.
Elsewhere, one year to the day that
Lehman Brothers
filed for bankruptcy, it accused
Barclays
(BCS) - Get Report
of getting a windfall profit of $8.2 billion more than it should have received when it bought excess assets of the failed investment bank a year ago.
Lehman said in a court filing Tuesday that it wants Barclays to be forced to give back some of the money it took as part of the deal, including $5 billion it said was given as extra collateral.
Stocks overseas rose. In Asia, the Nikkei in Japan added 0.5%, and the Hang Seng in Hong Kong climbed 2.6%. In Europe, London's FTSE 100 advanced 1.6%, while the DAX in Frankfurt tacked on 1.3%.