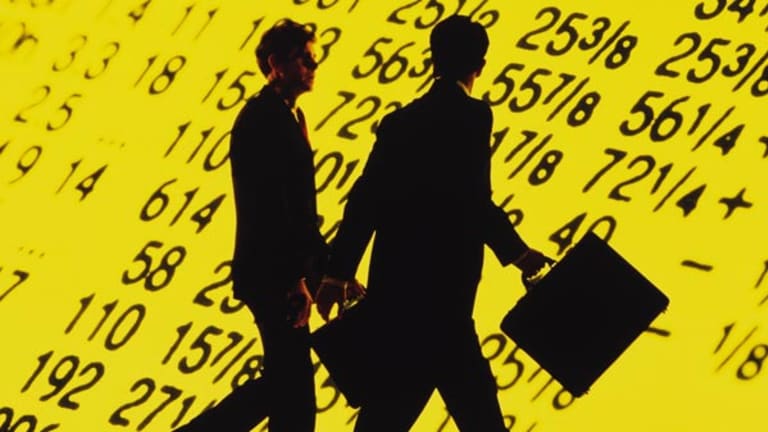 Stocks Rise on Bargain-Hunting
The Dow finishes 2.3% higher, while the Nasdaq gains 2.8%.
Updated from 4:07 p.m. EST
After ending last week on a down note, U.S. equities closed higher Monday as bargain-hunters took note of a bullish equity reallocation at Lehman Brothers.
The
Dow Jones Industrial Average
gained 193.83 points, or 2.3%, to 8627.54. The
Nasdaq
rose 37.99 points, or 2.8%, to 1400.41 and the
added 20.94 points, or 2.4% to 910.42.
Stocks are coming off a second consecutive losing week, with the dollar's decline and concerns about the prospects for war in Iraq blamed for sending the Dow down 2.4% and the Nasdaq down 4.2%.
"Obviously there are many people out there who are looking for the Santa Claus rally after two weeks of depressed prices, hoping it's the start of the year-end rally," said Joseph Kalinowski, chief investment officer at Ehrenkrantz King Nussbaum. "But I'm bracing for a softer retail season, considering how key promotions and markdowns are right now. Margins are getting crushed."
Indeed,
Wal-Mart
(WMT) - Get Free Report
said its sales last week were at the low end of the range it provided for December. The discount giant still expects overall same-store sales to rise 3% to 5% for the month. Despite the bad news, Wal-Mart gained 2.8% to $51.94 -- a good indication of the bullishness of Monday's session.
Unlike Wal-Mart,
Best Buy
(BBY) - Get Free Report
couldn't shake off the bad news on Monday. Its stock fell 1.6% to $25.40 after SWS Securities questioned the company's ability to meet earnings targets because consumers are buying low-margin items instead of the big-ticket revenue boosters. SWS lowered its fourth-quarter earnings target to 96 cents a share, nine cents below Wall Street's consensus.
As a result of the retail weakness, Kalinowski, who tracks corporate earnings, said the market faces some pitfalls ahead. "I guess I'm against the grain here. I'm not thinking year-end rally. I still think the fourth quarter is way too optimistic and we'll see another wave of corporate confessions," said Kalinowski. "The heaviest is yet to come and the bad news will go through the holidays."
Another underpinning for the Monday rally was a move by Lehman Brothers to raise its recommended allocation to U.S. stocks to 50% from 39% and drop its European exposure to 24% from 35%. The brokerage cited diverging regional valuations. Also,
Hewlett-Packard
(HPQ) - Get Free Report
was put on Merrill Lynch's Focus One list, gaining 2.4% to $18.95 as a result, pushing the blue-chips higher.
On the political front, President Bush appointed Thomas Kean, former governor of New Jersey, to head of the commission investigating the Sept. 11 attacks. Also, Al Gore made waves over the weekend by announcing he won't run for the presidency in 2004.
Monday's rally not only reverses recent losses, it also represents a return to form for the homebuilding sector.
Centex
(CTX)
rose 5% to $50.31,
Beazer Homes
(BZH) - Get Free Report
rose 4.6% to $62.34 and
Lennar
(LEN) - Get Free Report
rose 5.4% to $52.89.
The impact of the Nasdaq 100's annual reshuffling will be felt this week, as index fund managers alter their portfolios before the changes become official on Friday's close. Managers will be buying retail, media and health care, and dumping tech. Left off next year's 100 are a cadre of former highfliers, such as
Applied Micro Circuits
(AMCC)
,
Imclone
(IMCL)
,
i2 Technologies
( ITWO),
Protein Design Labs
(PDLI) - Get Free Report
,
PMC Sierra
(PMCS)
,
Sepracor
( SEPR) and
Vitesse Semiconductor
(VTSS)
.
The battered power sector got more bad news on Monday morning after concerns grew that a debt crisis could grip the U.S. power market in the coming year, possibly stretching into 2004. The concerns, which stem from a Fitch Ratings report due Tuesday, helped push some of the industry's biggest players lower.
Reliant Resources
(RRI)
lost 0.7% to $2.73, while
Dynegy
(DYN)
dropped 1% to $1.04.
Mirant
( MIR) fell 5.9% to $1.75,
Aquila
( ILA) dropped 3.2% to $1.81 and
Calpine
(CPN)
lost 1.2% to $3.44.
Surgical care provider
HealthSouth
(HRC) - Get Free Report
took its 2003 guidance down once again, saying it expects to earn 55 cents to 57 cents a share on revenue of $4.23 billion to $4.32 billion. The current Thomson Financial/First Call earnings consensus is 61 cents a share. Shares fell 0.7% to $4.08 as a result.
Wyeth
( WYE) was a battleground stock on Monday, with a pair of conflicting reports from analysts. Before Monday's open, Raymond James cut its estimate and downgraded the company to market perform from strong buy, saying the possibility of earnings disappointments aren't priced into the stock. But J.P. Morgan responded with research saying Wyeth is actually less risky than the valuation would imply. Wyeth lost 1% to $38.
CSX
(CSX) - Get Free Report
rose 4.7% to $29.15 after Morgan Stanley upgraded the company to overweight from equal weight after a recent meeting with company management helped soothe fears that CSX will have another shortfall like the one in its third quarter. Saying that CSX's cost-cutting efforts are likely to help profits over the next few quarters, Morgan set a new price target of $34.
Dow Chemical
(DOW) - Get Free Report
was downgraded to underperform from market perform at Sanford Bernstein, which also dropped its price target to $25. According to Bernstein, Dow's recent firing of its CEO will do nothing to add to its earnings situation, and with a pension problem looming ahead in 2004, advises investors to avoid the company. The stock gained 4.5% to $30.36, despite the news.
Salomon Smith Barney cut its rating on the oil service industry, dropping the sector to market weight from overweight based on valuation concerns and geopolitical risk. Salomon cut 2003 estimates on a dozen companies, but the industry largely shook off the bad news. The
Philadelphia Stock Exchange Oil Service Index
gained 3.1%, with bellwether
Halliburton
(HAL) - Get Free Report
up 2.5% to $20.25.
Interwoven
( IWOV) got a big pop, rising 12.4% to $2.73, after boutique research firm Fulcrum Global Research released a report saying the company could be an acquisition target. According to Fulcrum, IBM's acquisition of Rational Software opens the door for the possibility that Big Blue will buy Interwoven as well. After highlighting the potential upsides the deal could have to IBM's business, Fulcrum said a deal could add $5 to $6 a share to Interwoven. IBM gained 2% to $81.62.
Lehman Brothers initiated coverage of the video game sector on Monday, telling investors that a cyclical downturn should begin in 2003 and that valuations should reflect this new reality. The broker started
Take-Two Interactive
(TTWO) - Get Free Report
, maker of the controversial Grand Theft Auto series, with an equal-weight rating.
Activision
(ATVI) - Get Free Report
and
THQ
(THQI)
were started at underweight. Take-Two rose 6.5% to $24.88, while Activision gained 1.3% to $15.65 and THQ rose 1.7% to $14.58.
Online travel, a conspicuous hot spot in the wake of the dot-com collapse, continued its upside move on Monday after Credit Suisse First Boston raised its price target on
Expedia
(EXPE) - Get Free Report
and
Hotels.com
( ROOM). CSFB upped Expedia's target to $90 from $75, citing the company's dominant position, while also raising Hotels.com to $70 from $60. Both stocks moved higher, with Expedia up 3.9% to $70.01 and Hotels.com up 5.1% to $62.49.
Overseas markets were mixed. London's FTSE 100 gained 2.7% to 3984, while Germany's Xetra DAX rose 4.2% to 3205. In Asia, Japan's Nikkei fell 0.8% to 8451, while Hong Kong's Hang Seng dropped 0.7% to 9656. European shares got a boost from news that
Credit Agricole
agreed to buy the 82% of
Credit Lyonnais
it doesn't already own for about $16 billion.
Treasuries were sinking as the equities rallied, with the 10-year note down 17/32 to yield 4.13%.