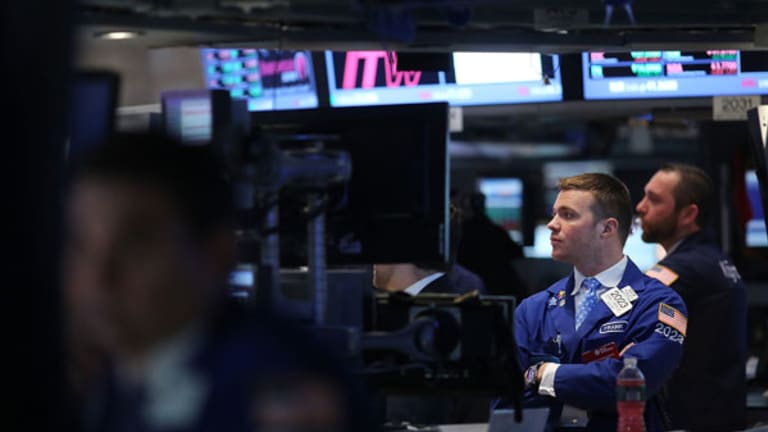 Markets Gain as Strong Earnings Outweigh Weaker Consumer Sentiment
Markets rise Friday after upside earnings reports from Amazon and UPS beat offset weaker consumer sentiment data.
NEW YORK(TheStreet) -- Markets on Friday finished a choppy week in positive territory after Amazon  (AMZN) , the world's largest online retailer, and shipping leader United Parcel Service  (UPS) , posted earnings that bolstered the outlook for the U.S. economic recovery.
Meanwhile, a drop in consumer confidence fed speculation the Federal Reserve will delay curbing its equity-supportive stimulus program.
The S&P 500 closed up 0.4% to 1,759.77 while the Dow Jones Industrial Average also added 0.4% to 15,570.28. The Nasdaq rose 0.37% to 3,943.36. For the week, the S&P 500 and Dow increased 0.88% and 1.1%, respectively. The Nasdaq booked a 13-year closing high and climbed 0.74% for the week.
"We were worried about this week's employment report; we were worried about about last week's debt ceiling," Erik Davidson, deputy chief investment officer at Wells Fargo Private Bank, said in a phone interview from San Francisco. "And at least in this little bubble of time that we have, those worries are behind us, [but] when you run out of things to worry about that's when you probably need to start worrying."
U.S. consumer sentiment fell to its lowest level since the end of last year during October, as consumers worried the debt ceiling and partial federal government shutdown, data on Friday showed.
The Thomson Reuters/University of Michigan's final reading on the index on consumer sentiment fell to 73.2 in October from 77.5 in September - the lowest final reading since December 2012.
"Big cap tech stocks have been some of the weakest performers this year but now we see them playing catch-up with some decent earnings," Paul Karos, senior portfolio manager at Whitebox Mutual Funds said in a phone interview. Karos helps oversee $2.5 billion in total assets at Whitebox.
Shares of UPS, the world's largest package-delivery company, were also higher, rising 0.20 percent to $94.68. UPS, widely seen as an economic bellwether, said net income more than doubled due to more U.S. shipments at higher rates. The Atlanta-based company earned $1.10 billion or $1.16 a share for the third quarter. Consensus expectations were for $1.15 a share.
Amazon  (AMZN)  reported third-quarter results on Thursday that beat Wall Street estimates. The world's largest online retailer posted a quarterly loss of 9 cents a share on revenue of $17.09 billion, delivering 24% year-over-year growth. Analysts expected Amazon to lose 9 cents a share on revenue of $16.76 billion. Its shares led the S&P 500, gaining 9.4% to $363.39 on Friday.
Eastman Chemical (EMN) was one of the worst performers in the S&P after CEO Jim Rogers on a Friday earnings call cut full year 2013 guidance to $6.30 to $6.40 a share from $6.40 to $6.50 due to rising costs in raw materials and energy for the company's adhesives and plasticizers segment. Eastman Chemical lost 5.2% to $77.94 a share.
Procter & Gamble  (PG) , the world's largest household-products maker, met Wall Street expectations due to growth overseas, cost cutting and a lower tax rate. The company said it earned $3.03 billion, or $1.04 a share in the first quarter ending September 30. Sales rose 2.2 percent to $21.21 billion, beating expectations for $21.04 billion. But disappointing performance in some of its businesses saw its shares fall 0.76% on Friday to $80.
DuPont  (DD) , the biggest U.S. chemical maker by market value, rose 0.9% to close at $61.90. The company is aiming to spin off its performance-chemicals unit to boost shareholder value and focus on higher margin businesses.
Twitter said in a filing on Thursday that its initial public offering will be priced at between $17 and $20 a share, after announcing earlier in October the micro-blogging site will list its shares on the New York Stock Exchange.
Gold futures for December lost $2.20 to settle at $1,352.50, while the December oil contract gained 74 cents to close at $97.85. The 10-year Treasury note was gaining 5/32 to dilute the yield to 2.507%, while the U.S. dollar index slid 0.03% to $79.19.
-- Written Jane Searle and Joe Deaux in New York