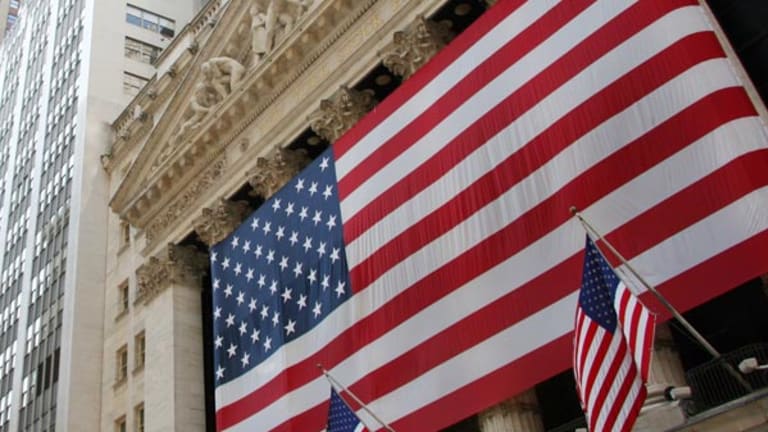 Stocks Rise; Intel Beats Street
Stocks made marginal gains Tuesday as investors got a promising read on the tech sector. Gregg Greenberg has The Real Story.
NEW YORK (
) -- Stocks produced modest gains Tuesday, just before investors got a promising read on the tech sector with a first-quarter earnings report from
Intel
(INTC) - Get Intel Corporation Report
after the closing bell.
The
Dow Jones Industrial Average
finished above the
11,000-mark for the second day in a row after trading near the line for much of the day.
The Dow went higher by 13 points, or 0.1%, to 11,019. The
S&P 500
added a point at 1197, whilethe
Nasdaq
went ahead by 8 points, or 0.3%, at 2466.
After the close, Intel said it earned 43 cents a share on $10.3 billion in revenue during the first quarter. The chip maker handily beat Wall Street projections from Thomson Reuters calling for a profit of 38 cents a share and a top line of $9.81 billion. Intel offered promising second-quarter guidance in its assessment, both in sales and margins, pushing shares over 3% higher in extended hours trading.
Alcoa
(AA) - Get Alcoa Corporation Report
kicked off earnings season late Monday with first-quarter earnings that met analysts' estimates but with sales that fell short. The stock traded 1.6% lower to finish at $14.34.
Greece saw strong demand for its short-term debt auction, the first offering since eurozone ministers pledged 30 billion euros in aid to the country. Greece sold 1.56 billion euros ($2.12 billion) of short-term bills in an overbought auction.
Overseas, Hong Kong's Hang Seng fell 0.2%, and Japan's Nikkei lost 0.8%. The FTSE in London and the DAX in Frankfurt each fell 0.3%.
>>The Economy
>>Company News
>>Commodities and the Dollar
>>Treasuries
The Economy
In macroeconomic news, the Labor Department said import prices increased 0.7% in March, rising from a decline of 0.2% in February. Excluding oil, import prices were 0.2% higher.
Prices of exports, meanwhile, also rose 0.7% in March, after slipping 0.4% in February. Excluding agriculture, export prices grew by 0.6%.
The Commerce Department said the
trade deficit widened to $39.7 billion in February, compared with January's deficit of $36.95 billion. Economists had expected the U.S. trade gap to widen to $39 billion in February.
Evaluating what the report could mean for first-quarter gross domestic product, PNC chief economist Stuart Hoffman said, "It now looks likely that the March report will show that the first-quarter average real trade gap for goods is wider than the fourth quarter of 2009, resulting in a small drag to headline real GDP growth."
"This does not alter our view that the first quarter of 2010 will show a continuation of the moderate or 'half-speed' recovery," he added. "All signs point to gains in consumer spending and an ongoing inventory shift, toward net inventory accumulation, that will keep real GDP growth for the first quarter of 2010 solid, most likely north of 3%."
The American Petroleum Industry said late Tuesday that crude stockpiles grew by 1.41 million barrels last week. Analysts polled by Platts projected that inventories rose by 1.6 million barrels in the week ending April 9. Traders will receive the government's read on supply levels Wednesday at 10:30 a.m. EST when the Energy Information Administration offers their weekly figures.
>>Overview
>>Company News
>>Commodities and the Dollar
>>Treasuries
Company News
Joining Intel after the bell, railroad operator
CSX
(CSX) - Get CSX Corporation Report
said profit climbed 20% and sales increased 11% in the first quarter compared to the year-ago period, topping Street estimates on both fronts.
Shares of
Ambac Financial Group
( ABK) were the most heavily traded on the
New York Stock Exchange
, followed by
Citigroup
(C) - Get Citigroup Inc. Report
and
Fannie Mae
( FNM).
On the Dow,
Home Depot
(HD) - Get Home Depot, Inc. Report
,
General Electric
(GE) - Get General Electric Company Report
and
Kraft Foods
( KFT) led advancers. Alcoa, meanwhile, was the Dow's worst performer, followed by
Boeing
(BA) - Get Boeing Company Report
and
Caterpillar
(CAT) - Get Caterpillar Inc. Report
.
The Dow saw volume of 179 million shares, compared with an average of 200 million. The NYSE had a listed volume of 5.4 billion.
Consumer Reports
warned consumers not to buy the 2010
Lexus GX 460 SUV, citing a possible roll-over risk. Shares of
Toyota
(TM) - Get Toyota Motor Corp. Report
, the parent company of Lexus, weakened 0.7% to $79.03.
Kinder Morgan Energy Partners
(KMP)
shares lost 1.1% after it agreed to buy a 50% stake in
Petrohawk Energy's
(HK)
natural gas gathering and treating business in the Haynesville Shale. Petrohawk's stock added 2.5%, to $23.18.
Shares of
Talbots
(TLB)
gained 4.9% after the women's apparel retailer swung to a profit in the fourth quarter. Sales, however, fell 4% to $315.9 million and same-store sales declined 7.2%.
Infosys
(INFY) - Get Infosys Ltd. Report
shares rose 2.6% to $63.05 on news that fourth-quarter earnings grew 8.7% year over year and sales rose 15.6%.
>>Overview
>>The Economy
>>Commodities and the Dollar
>>Treasuries
Commodities and the Dollar
The May crude oil contract shed 29 cents to settle at $84.05 a barrel even after the International Energy Agency said
oil demand for 2010 would be 30,000 barrels a day higher than previously estimated.
The June
gold contract, meanwhile, shed $8.80 to settle at $1,153.40 an ounce.
The
dollar was trading lower against a basket of currencies, with the dollar index down by nearly 0.1%.
>>Overview
>>The Economy
>>Company News
>>Treasuries
Treasuries
The benchmark 10-year Treasury strengthened 5/32, diluting the yield to 3.820%.
The two-year note fell 1/32, lifting the yield to 1.052%. The 30-year bond rose 7/32, dropping the yield to 4.681%.
--Written by Melinda Peer and Sung Moss in New York
.
>>Overview
>>The Economy
>>Company News
>>Commodities and the Dollar