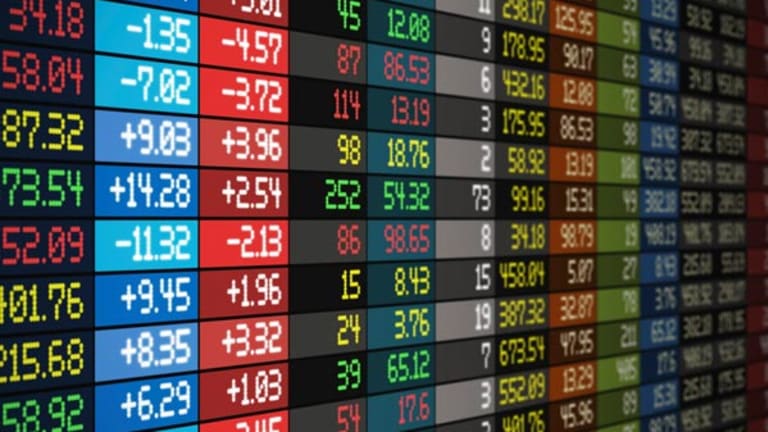 Stocks Rise From Depths
They bounce after the S&P 500 touches its lowest point of the year.
They bounce after the S&P 500 touches its lowest point of the year.
Updated from 4:04 p.m. EDT
Stocks rose Wednesday after the
S&P 500
fell to its lowest point of the year and then bounced smartly. An easing of selling pressure in energy and commodity stocks helped erase the early losses.
The S&P 500 gained 1.99 points, or 0.16%, to 1258.56, buoyed by a 8.3% rally in
General Motors
(GM) - Get Report
and a 3.1% jump in
Microsoft
(MSFT) - Get Report
. The index jumped more than 13 points in the session's last two hours after falling to 1245.34, its lowest point of the year. The
Dow Jones Industrial Average
gained 18.97 points, or 0.17%, to 11,117.32.
"The S&P 500 went negative for the year, saying a lot about market sentiment," says James Park, managing director with Rodman & Renshaw. The index turned around near the close as buyers materialized in sectors like energy and metals.
Phelps Dodge
( PD), the copper miner, ended down 1.1% at $82.18 after falling 5% to $79.16 in early trading.
Alcoa
(AA) - Get Report
reversed heavy losses and rose 0.6% to $31.02.
The
Nasdaq Composite
, which had fallen in 11 of the past 12 sessions entering Wednesday, drew strength from Microsoft and the blue chips and rose 10.41 points, or 0.48%, to 2169.17.
"The selling looks to have spent itself for now," said Edgar Peters, chief financial officer with Pan Agora. "There's been enough negative sentiment for days, so any sellers have probably sold. Whether there is another bounce to move us higher from here is unclear."
About 2.03 billion shares changed hands on the
New York Stock Exchange
, with decliners outpacing advancers by a 10-to-7 margin. Volume on the Nasdaq was 2.64 billion shares, with decliners beating advancers 8 to 7.
Paul Nolte, director of investments with Hinsdale Associates, says the market is now trading off of basic materials and energy stocks. "Those sectors are indicating global economies are slowing down, so now we're rethinking our thesis for the year," he says.
Metals and energy prices fell. Gold lost $36.20 to close at $637.50 an ounce, and copper dropped 26 cents to $3.62 a pound. July crude fell nearly 3%, dropping $1.90 to close at $69.86 a barrel. Gasoline fell 9 cents to $2.02 a gallon.
The sharp decline in gold futures pressured the Amex Gold Bugs index, which closed down 3.9%. Elsewhere, the Philadelphia Oil Service Sector index was off 1.5%, and the Amex Oil index ended down 0.9%.
"The precious metals and oil markets seem to be unwinding," Nolte added. "Investors were enamored with those and jumped on the bandwagon, and now they seem to be caught on the wrong side."
To view Kara Wetzel's video take on today's market, click here
.
"We shouldn't expect a sustainable bounce for a while," said Dave Briggs, head of equity trading with Federated Investors. "Every rally we've been having is being sold into. The last four days have helped us stabilize, however, and the rate of descent has slowed. But cash flow into the market has also slowed, adding to the pressure."
The brightest spot for the Dow was GM, whose shares were upgraded by Merrill Lynch to buy from neutral. The firm cited a higher-than-expected acceptance rate among workers for the company's employee buyout program. GM shares finished up $2.03 to $26.51.
For a second day in three,
Microsoft
(MSFT) - Get Report
also was an upside leader, adding 71 cents to $23.50. Optimism about the Vista operating system appeared to be driving the improvement.
Wednesday's economic news was a mixed bag. Bulls, who have recently sought signs of an economic slowdown that could prompt the Fed to pause rate hikes, were cheered early by a Commerce Department report showing a 4.8% plunge in durable goods orders last month. But the optimism was leavened 90 minutes later when another report showed new-home sales unexpectedly rose by 4.9% to an annualized rate of 1.20 million in April.
Ian Shepherdson, chief economist with High Frequency Economics, says that any "real weakening in the economy won't start here," and that "the risk is housing, not industry."
"There were downward revisions to each of the previous five months, so the overall housing market picture is weaker than the consensus implied, despite the April overshoot," added Shepherdson. "In short, these data stink."
On Thursday, the Commerce Department will release its first revision to the first-quarter gross domestic product report, and is expected to add a full percentage point to the growth rate. The report's inflation gauge, the implicit price deflator to the personal consumption expenditure index, is expected to hold steady at 3.3%.
"There is just so much confusion in the marketplace," said Al Goldman, chief market strategist with A.G. Edwards. "The fundamentals are confusing to investors, making it hard to tell which way the Federal Reserve will go."
Gains have been the exception rather than the rule for stocks lately. Since peaking prior to the Fed's last rate announcement on May 10, the Dow has fallen more than 600 points, or 5.5%, while the S&P 500 has shed nearly 70 points, or 5.5%. The Nasdaq is down 185 points, or 8.6%, from its recent peak on May 5.
The 10-year Treasury bond, which saw its yield fall as low as 4.98% earlier, was down 4/32 in price to yield 5.04%. The dollar rose against the euro and the yen.
Meanwhile, a report from the World Health Organization suggested an outbreak of bird flu in Indonesia among seven family members could be the first recorded instance of human-to-human communication of the disease. All seven have died from the disease.
The news was lifting the stocks of companies involved in trying to find a vaccine for the avian flu.
Generex Biotechnology
(GNBT)
rose by 10.3%,
BioCryst Pharmaceuticals
(BCRX) - Get Report
surged 9.8%,
Novavax
(NVAX) - Get Report
gained 6.4%, and
Peregrine Pharmaceuticals
(PPHM)
added 7.1%.
Merrill Lynch defended aluminum stocks, saying concerns about cheap supply emanating from China are overdone. The brokerage reiterated buy ratings on Alcoa and
Alcan
(AL) - Get Report
, both of which are down 18% since the last Fed meeting.
Two closely watched initial stock offerings priced Tuesday night. In the U.S., Internet telephone provider
Vonage
(VG) - Get Report
sold 31.3 million shares at $17 apiece, in the middle of its expected range. The deal raised $531 million. Shares closed at $14.85 as traders debated the valuation of the stock.
In Hong Kong, the Bank of China went public in the biggest IPO this decade, selling 25.6 billion shares at roughly 38 cents each to $9.7 billion. The deal, which is China's biggest initial offering ever, got sold despite the recent volatility in Asian markets. It follows a $9.2 billion offering by China Construction Bank last October.
Medtronic
(MDT) - Get Report
said fourth-quarter earnings more than tripled to $747 million, or 62 cents a share, matching estimates. The company saw strong sales of its implantable cardiac defibrillators in the most recent quarter. Medtronic was higher by $2.22, or 4.6%, to $50.17.
After the bell Tuesday,
Computer Sciences
(CSC)
posted fiscal fourth-quarter earnings of $199.4 million, or $1.05 a share, down more than 50% from a year ago. Excluding items, the company earned $1.16 a share, beating the Thomson First Call consensus by 3 cents. However, weak guidance sent shares down 28 cents, or 0.5%, to close at $54.41.
McClatchy
(MNI) - Get Report
announced a deal Tuesday to sell its Philadelphia newspapers to an investment group led by a local advertising executive. The price for
The Philadelphia Inquirer
and the
Philadelphia Daily News
is $515 million in cash. McClatchy was lower by a penny to $46.14.
Sara Lee
( SLE) set a timetable for the spinoff of its branded apparel units, an initiative it outlined last year. The company sees the transactions for Hanesbrands Inc. occurring between June and September. Shares tacked on a penny to $17.08.
Qualcomm
(QCOM) - Get Report
said Wednesday that is has filed a suit against
Nokia
(NOK) - Get Report
for patent infringement. Qualcomm shares rose 21 cents, or 0.5%, to $45.59, while Nokia dipped 5 cents, or 0.2%, to $21.25.
Overseas shares were mostly lower Wednesday, with London's FTSE 100 losing 1.6% to 5587 and Germany's Xetra DAX falling 1.6% to 5587. In Asia, Japan's Nikkei bounced from recent weakness, surging 2% to 15,907. Hong Kong's Hang Seng fell 0.3% to 15,822.