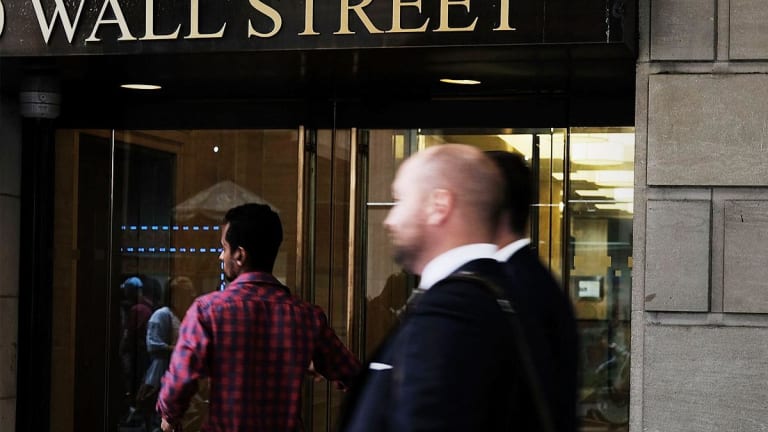 Strong Jobs Report Pushes Dow to Record Close; Rate Spike Clips Rally
Stocks pulled back sharply from earlier gains Wednesday as interest rates on the benchmark 10-year treasury spiked to multi-year highs.
Here Are 3 Hot Things to Know About Stocks Right Now
The Dow Jones Industrial Average rose to a record intraday high on Wednesday before pulling back. The blue-chip index has closed higher for four consecutive sessions. 
The U.S. private sector added 230,000 jobs in September, according to Automatic Data Processing Inc., beating estimates.
Make Money on Closed-End Mutual Funds. TheStreet's Robert Powell hosts an all-star panel of experts who explain everything you need to know on closed-end mutual funds, an often-overlooked investment class. Click here to register and watch for free.
Wall Street Overview
Stocks ended modestly higher on Wednesday, Oct. 3 after a surge in 10-year treasury yields sparked a retreat from earlier highs. Yields on the benchmark note surged as high as 3.17% before trimming their gains. The Dow Jones Industrial Average managed another record close, after earlier reaching an all-time intraday high of 26,951.81 on a strong jobs report. Ivestors also  kept an eye on developments in Italy's budget crisis and the fate of the newly revamped trade agreement among the U.S., Canada and Mexico.
Federal Reserve Chairman Jerome Powell told the National Association for Business Economics on Tuesday, Oct. 2, that the domestic outlook was "remarkably positive" thanks in part to the "historically rare" combination of low unemployment and tepid inflation.
"This forecast is not too good to be true," Powell insisted, but is rather a "testament to the fact that we remain in extraordinary times. These developments amount to a better world for households and businesses which no longer experience or even fear the scourge of high and volatile inflation."
The Dow Jones Industrial Average rose 54.45 points, or 0.2%, to 26,828.39. The S&P 500 rose 0.07%, while the Nasdaq was up 0.3%, down from earlier gains.  Intel Corp. (INTC) ,  Caterpillar Inc. (CAT)  and Boeing Co. (BA) rose the most on the Dow.
The Dow ended Tuesday an an all-time closing high of 26,773.94.
The U.S. private sector added 230,000 jobs in September, according to Automatic Data Processing Inc. Economists expected private-sector payrolls to rise by 179,000.
The ADP employment data are a precursor to the official U.S. nonfarm payrolls report, which will be released on Friday, Oct. 5.
Some directors of Tesla Inc. (TSLA) have proposed that James Murdoch, a director at the electric vehicle company and CEO of Twenty-First Century Fox Inc. (FOXA) , should succeed Elon Musk as chairman, The New York Times reported, citing people involved in the board's deliberations.
Murdoch hasn't volunteered for the post nor has he discussed it with any other director. Another person close to the selection process told the Times the board hadn't yet engaged in any "serious" discussions of who should be chairman.
Tesla shares fell 2%.
General Motors Co. (GM) rose 2% after Honda Motor Co. (HMC)  said it would invest $2 billion over the next 12 years to fund and develop a purpose-built autonomous vehicle for Cruise, GM's autonomous vehicle arm. Honda will also make a $750 million equity investment in Cruise, bringing the total commitment to $2.75 billion.
J.C. Penney Co. (JCP) named Jill Soltau as CEO and a director, effective Oct. 15. Soltau most recently served as president and CEO of Joann Stores. The stock was up 5%. 
Lennar Corp. (LEN)  slipped after the homebuilder posted fiscal third-quarter earnings of $1.37 a share, above analysts' forecasts of $1.18. Revenue in the quarter was $5.67 billion, which beat estimates of $5.61 billion. Deliveries jumped 66% to 12,613 homes. Shares fell 1.4%
Shares of Tempur Sealy International Inc. (TPX) rose 11% on a Reuters report that rival mattress maker Mattress Firm Inc. was preparing to file for bankruptcy protection as soon as this week.
Facebook Inc.'s (FB) Instagram suffered a worldwide outage on Wednesday but the photo-sharing app returned to service for most users. On Monday, Instagram announced Adam Mosseri would take over the top position at Instagram, a week after the resignations of the app's co-founders. Shares rose 1.6%.
Upwork Inc. (UPWK)  rose 40% to $21.08 in its trading debut Wednesday on the Nasdaq. The software company's initial public offering was priced at $15 a share
Watch more videos on TheStreet's Youtube Channel | Rather 'listen' to Jim Cramer? Check out his new Podcast on Soundcloud.
Want to Buy $1 Worth of Stock for 90 Cents or Less?Click here to register for a free online video in which TheStreet's retirement expert Robert Powell and an all-star panel. The webinar is sponsored by Nuveen.