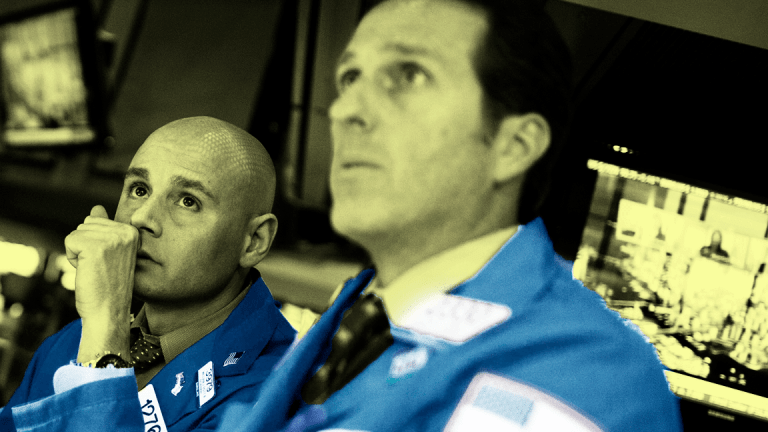 Dow Leads Major Indices With Triple-Digit Rally
Stocks rise sharply on Monday as investors react to a thaw in the trade war rhetoric between the U.S. and China.
Here Are 3 Hot Things to Know About Stocks Right Now
Wall Street Overview
Stocks rose sharply on Monday, May 21, as investors reacted to a thaw in the trade war rhetoric between the U.S. and China following a weekend summit in Washington.
Treasury Secretary Steven Mnuchin told Fox News on Sunday, May 20, that talks had led to a "hold" on the current trade dispute between the world's largest economies, even if no specific agreement had been reached over the multi-day talks in the U.S. capital.
"We are putting the trade war on hold. Right now, we have agreed to put the tariffs on hold while we try to execute the framework," Mnuchin said. China's state-run newspaper said that "despite all the pressure, China didn't 'fold,' as U.S. President Donald Trump observed. Instead, it stood firm and continually expressed its willingness to talk."
While U.S. indices closed Monday's session near session highs, the Russell 2000, which measures volatility, also set a new intraday high for the fourth straight session Monday.
The Dow Jones Industrial Average I:DJI closed the day up 1.2%, or 298 points, to 25,013, while the Nasdaq I:IXIC  rose 0.54%, or 40 points, to 7,394. The S&P 500 undefined  gained 0.74%, or 20 points, to 2,733.
General Electric Co. (GE) - Get General Electric Company Report and Wabtec Corp. (WAB) - Get Westinghouse Air Brake Technologies Corporation Report agreed to terms Monday on an $11.1 billion deal that will combine the transport operations of the two companies.
The deal, first reported by Reuters and later confirmed by both companies, will see GE receive $2.9 billion in cash from Westinghouse Air Brake Technologies Corp., also known as Wabtec, as the companies combine to create a transportation group with revenue of $8 billion. GE shareholders will hold around 50.1% of the combined company and will maintain the right to grow that ownership going forward.
The companies said the deal is expected to generate more than $6 billion in cumulative free cash flow between 2019 and 2022 but will generate a 15% cash earnings per share accretion in the first year after closing.
GE rose 1.94% on Monday; Wabtec was up 3.53%.
Tesla Inc.
rose 2.77% after CEO Elon Musk, in a series of tweets Saturday, May 19, unveiled plans for an upgrade to the electric carmaker's Model 3 series.
Musk announced two new dual-motor versions of the Model 3. One version of the car will have a top speed of 155 mph and lift its price to around $78,000.
Tesla shares also were supported by an analyst report which suggested the company's flagship Model 3 will be more profitable than most investors anticipate. Berenberg lifted its price target on Tesla to $500 a share, the highest of the major Wall Street firms that cover the company.
Micron Technology Inc. (MU) - Get Micron Technology, Inc. Report rose 3.9% after the chipmaker raised earnings and revenue guidance for its fiscal third quarter.
MB Financial Inc. (MBFI) - Get MB Financial, Inc. Report rose 12.9% after the bank reached a deal to be acquired by Fifth Third Bancorp (FITB) - Get Fifth Third Bancorp Report in a deal valued at $4.7 billion. Fifth Third Fell 7.9%.
LaSalle Hotel Properties (LHO) jumped 5.4% after the real estate investment trust reached an agreement to be acquired by Blackstone Group LP (BX) - Get Blackstone Inc. Report for $4.8 billion.
***
TheStreet presents on May 22: "How to Stomach Market Volatility." Hosted by Fisher Investments, the exclusive live webinar will give you the tools to successfully navigate market volatility and discuss why having a wealth manager is more critical than ever before. Quickly register for the event here.