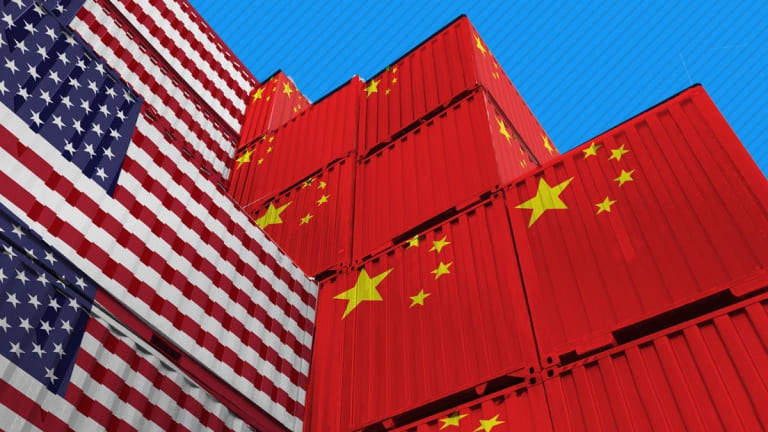 Stocks Rise Despite Trade War Worries; Biogen Shares Soar -- ICYMI
Here's what you need to know now for Friday, July 6.
U.S. equities rose on Friday, July 6, after a solid jobs report offset concerns of a trade war between the U.S. and China. The Dow Jones Industrial Average jumped 99 points to close at 24,456.48. The Nasdaq composite rose by 1.3% and the S&P 500 gained 0.8%.
The U.S. economy added 213,000 jobs in June, topping forecasts of 195,000. The unemployment rate rose to 4% from 3.8% as more people were enticed into the workforce. TheStreet's Martin Baccardax and Bradley Keoun note that the report "should do little to change the trajectory of the Federal Reserve's interest-rate increases since it reinforces officials' contention that the economy is growing at a 'balanced' pace."
Meanwhile, the time of talking about tariffs is over as the U.S. and China imposed tariffs against each other. The U.S. imposed a 25% tariff on $34 billion worth of Chinese goods, prompting China to issue retaliatory tariffs. China called it "the largest-scale trade war in economic history." President Donald Trump, however, has threatened to implement even greater tariffs, possibly as high as $500 billion.
Consumers could be the biggest losers in a trade war because the cost of tariffs on manufacturers and retailers could drive up prices for consumer goods, says TheStreet's Annie Gaus. Some trade groups are already warning that U.S. consumers could soon see higher prices on a wide range of tech goods that involve Chinese components.
Since we're talking winners and losers, Biogen Inc. (BIIB)  and Eisai Co. Ltd. (ESALY)  were the big winners of the day. Biogen's stock soared more than 19% after announcing positive results of Phase 2 of the study on their beta-amyloid antibody BAN2401, marking a key milestone in the quest to tackle Alzheimer's disease. Still, it's important to remember that this is only Phase 2.
This is an excerpt from "In Case You Missed It," a daily newsletter brought to you by TheStreet. Sign up here.