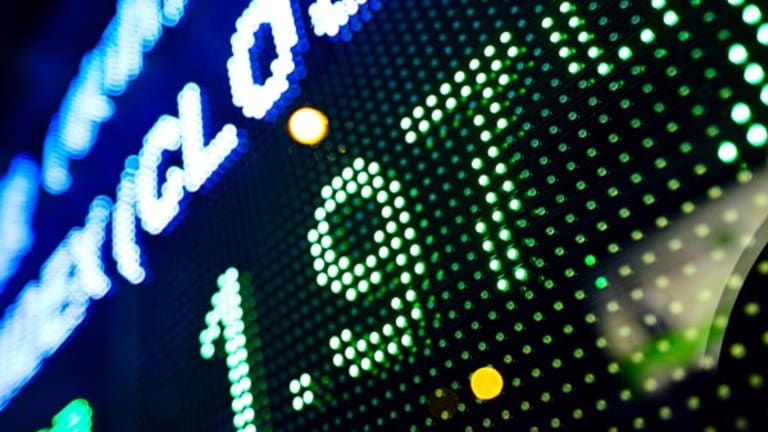 Stocks Rise Amid Slowing Manufacturing Activity
Stocks move off of session highs Tuesday as slowing manufacturing activity looks unlikely to be enough to stop the Federal Reserve from making its move in December.
Stocks moved off session highs Tuesday as slowing manufacturing activity looked as if it won't be enough to stop the Federal Reserve from raising interest rates in December. 
The S&P 500 was up 0.71%, the Dow Jones Industrial Average added 0.58%, and the Nasdaq rose 0.68%. The S&P 500 and Dow ended November with minimal monthly gains.
U.S. manufacturing activity slipped into a contraction in November. Manufacturing fell to a reading of 48.6 in November from 50.1 a month earlier, according to the ISM Manufacturing Index. Analysts had expected the measure to increase to 50.5.
The PMI Manufacturing Index fell to 52.8 from 54.1 in October, its lowest level in 25 months. However, that was slightly higher than an expected 52.6 reading. New orders and output growth slowed.
The decline "doesn't mean that the economy is headed for another collapse," Capital Economics' U.S. economist Steve Murphy wrote in a note. "Manufacturing is being pummeled by the stronger dollar and the weakness of global demand, but the other 88% of the economy continues to perform well. Accordingly, this won't prevent the Fed from raising interest rates at the mid-December FOMC meeting."
Chicago Fed President Charles Evans was a rare voice of dissent on the topic of a December rate hike. The majority of Fed members have telegraphed that a December hike was likely if the economy continued to improve as it has been. 
"I admit to some nervousness about our upcoming decision," he said in a speech in Michigan on Tuesday. "Before raising rates, I would prefer to have more confidence than I do today that inflation is indeed beginning to head higher."
Auto sales for November came in higher, though most automakers missed analysts' estimates. Ford's (F) - Get Report sales edged 0.4% higher to 187,794 vehicles in November, well below an expected 3.2% increase. The Detroit automaker said passenger car sales had dropped nearly 12%, which was offset by an 18.3% surge in truck sales.
General Motors (GM) - Get Report posted a 1.5% increase in auto sales, half of what analysts were expecting. Sales in November were driven by Chevrolet which saw a 5% increase in units moved. Chevrolet truck sales rose 10% last month.
Fiat Chrysler (FCAU) - Get Report said U.S. auto sales rose 3% in November, boosted by month-end deals over Black Friday. The automaker sold 175,974 vehicles, its best November in 15 years.
It will be a make-or-break kind of month with major events set to stir Wall Street. The U.S. jobs report for November will be released Friday, a key release that could influence how the Fed moves at its mid-December meeting. The Fed is largely expected to move off of crises-level rates at its meeting, hiking rates for the first time in nearly a decade. 
Despite a weaker Black Friday, Cyber Monday managed to post a record day of spending. Sales jumped 12% from a year earlier to top out at nearly $3 billion, according to Adobe. Retail stocks including Walmart (WMT) - Get Report and Costco (COST) - Get Report ended Monday lower on fears Cyber Monday would be a repeat performance of Thanksgiving and Black Friday in which total sales fell around 11%.
Hewlett Packard Enterprise (HPE) - Get Report jumped more than 6% after announcing an expanded partnership with Microsoft (MSFT) - Get Report . HP Enterprise will provide its hybrid cloud services to Microsoft, while Microsoft's Azure platform will be used by HP's customers. 
Morgan Stanley (MS) - Get Report climbed more than 2% on reports the company will lay off as many as a quarter of its fixed-income trading employees over the next two weeks. CEO James Gorman had described the bank's third quarter as its worst for fixed income revenue since he took the position half a decade ago.  
Giga-tronics
(GIGA)
soared more than 100% after signing an agreement with
Lockheed Martin
(LMT) - Get Report
to lease threat simulation software. The company expects to begin shipments to Lockheed Martin in six months. 
Infoblox (BLOX) jumped 22% after a better-than-expected quarter. The network software developer earned 13 cents a share in its first quarter, more than double analysts' estimates, while guiding for second-quarter earnings between 12 cents and 14 cents a share. Analysts had expected current-quarter profit of 7 cents a share. The company also authorized a $100 million share buyback program.
Mattress Firm (MFRM) was up more than 6% after agreeing to buy privately-held HMK Mattress, the owner of Sleepy's, for $780 million. The company said it expects to generate annual synergies of $40 million by the third year after the acquisition closes. The deal is expected to be finalized in the first half of 2016.
BHP Billiton (BHP) - Get Report and Vale (VALE) - Get Report moved higher after Brazil officially filed a $5.2 billion lawsuit against the miners for their involvement in a dam collapse in its southeast. Brazilian President Dilma Rousseff blamed the "irresponsible action of a company" and vowed for it to be "severely punished" in a speech at Paris' climate change summit. BHP Billiton had closed Monday lower on reports a lawsuit was looming.