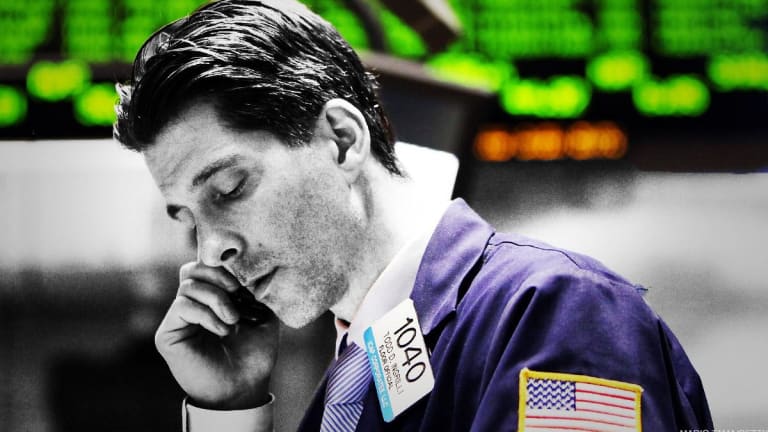 Stocks End Mixed as Wall Street Looks to G-20 Summit for U.S.-China Trade Talks
Stocks end little changed Monday as investors look to the upcoming G-20 summit for a breakthrough in talks between the world's two largest economies.
Here Are 3 Hot Things to Know About Stocks Right Now
Wall Street Overview
Stocks ended mixed Monday as investors looked to the upcoming G-20 summit in Osaka, Japan for a breakthrough in U.S.-China trade talks.
China's state-run Xinhua news agency confirmed for the first time Sunday that President Xi Jinping will attend the two-day summit, which begins Friday. Xi is expected to meet with President Donald Trump for the first time since trade talks broke down in early May and after the U.S. increased tariffs on China-made imports.
The Dow Jones Industrial Average rose 8 points, or 0.03%, to 26,727, the S&P 500 was off 0.17%, while the Nasdaq slipped 0.32%.
The three major Wall Street benchmarks just wrapped up their third consecutive week of gains, with the Dow advancing 2.41% last week, the S&P 500 rising 2.2%, and the Nasdaq adding 3%.
"We're starting the week hovering near record territory after the SPX broke through resistance to hit consecutive new highs amid an olive branch from the White House on trade, and [a] more accommodative posture from the Fed," said Chris Larkin, senior vice president for trading at E*Trade. "The big ticket items this week that could move the narrative forward on both these fronts: The G-20 could make or break our hopes for a trade deal, while the GDP read could give more clarity on the health of our economy, which will inform the Fed's perspective.
Trump renewed his criticism of the Federal Reserve and its chairman, Jerome Powell, in a series of Monday tweets that accused the central bank of acting like a "stubborn child" that "blew it" by not cutting rates last week.
Federal Reserve Bank of Dallas President Robert Kaplan wrote in an essay Monday it may be "too early to make a judgment" on whether or not the central bank should cut rates.
"I believe that we currently are in the neighborhood of a neutral setting for monetary policy -- that is, we are likely neither accommodative nor restrictive," Kaplan said.
Trump announced Monday that he was imposing new sanctions on Iran, stating "we will continue to increase pressure on Tehran."
The announcement had little or no impact on oil prices. Brent crude contracts for August delivery, the global benchmark, were down nearly 0.37% to $64.21 a barrel. West Texas Intermediate contracts for the same month, which are more tightly linked to U.S. gas prices, were up 0.71% to $57.84 a barrel.
Shares of Caesars Entertainment (CZR) - Get Caesars Entertainment Inc. Report  soared 14.5% to $11.44 after Eldorado Resorts (ERI) - Get Eldorado Resorts Inc Report agreed to buy Caesars in a $17.3 billion deal that will create the biggest U.S. gaming company. Eldorado Resorts slumped 10.6% to $45.77. Caesars is Real Money's Stock of the Day.
Bristol-Myers Squibb (BMY) - Get Bristol-Myers Squibb Company Report fell 7.4% to $45.69  after the company said the Federal Trade Commission was still looking into its proposed $74 billion takeover of cancer specialist Celgene (CELG) - Get Celgene Corporation Report and that it would sell that company's psoriasis to push the deal through. Shares of Celgene were down 5.2% to $93.79.
FedEx (FDX) - Get FedEx Corporation Report fell 2.7% to $160.91 after the company was forced to issue its second apology in as many months for failing to complete the shipping of a package linked to China's Huawei Technologies.
160.91-4.44 (-2.69%)
Restaurant chain Del Frisco's (DFRG) - Get Del Frisco's Restaurant Group, Inc. Report  jumped 17.8% to $7.93 after the company said it was being acquired by private-equity firm L Catterton for $650 million, or $8 a share.
In economic news, data firm FactSet estimated that the third-quarter outlook has changed from a slight gain of 0.2% to a slight decline of 0.3%, largely due to weakness from multinational corporations.