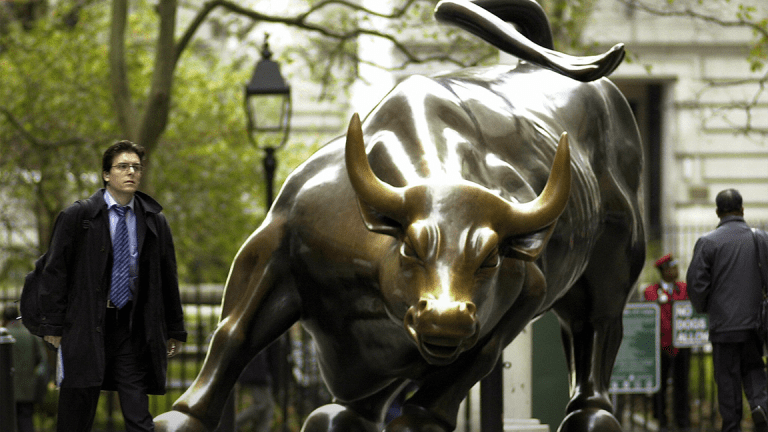 Stocks Rise on Softer U.S. Approach in China Trade War
Stocks rise Monday following tweets from Donald Trump that appeared to indicate the U.S. was softening its approach in its trade battle with China.
Here Are 3 Hot Things to Know About Stocks Right Now
Even with its gains on Monday, the Dow remains more than 2,600 points below its all-time high of 26,616 on Jan. 26.
The Dow's jump was led by Merck & Co. (MRK) - Get Merck & Company Inc. Report  , Intel Corp. (INTC) - Get Intel Corporation Report  , Cisco Systems Inc. (CSCO) - Get Cisco Systems Inc. Report and Microsoft Corp. (MSFT) - Get Microsoft Corporation Report
Shares of tech giants Apple Inc. (AAPL) - Get Apple Inc. Report , up 0.99%, and Alphabet Inc. (GOOGL) - Get Alphabet Inc. Report , up 1%, led the tech sector, which was a standout on Monday.
Wall Street Overview
Stocks rose Monday, April 9, following tweets from Donald Trump that appeared to indicate the U.S. was softening its approach in its trade battle with China.
In a tweet on Sunday, April 8, Trump said: "President Xi and I will always be friends, no matter what happens with our dispute on trade. China will take down its Trade Barriers because it is the right thing to do. Taxes will become Reciprocal & a deal will be made on Intellectual Property. Great future for both countries!"
The Dow Jones Industrial Average rose 46 points, or 0.19%. The S&P 500 gained 0.33% and the Nasdaq was up 0.51% as tech stocks were a standout Monday.
Leading the Dow higher Monday were Merck, Intel, Cisco and Microsoft.
Stocks were battered on Friday, April 6, tumbling as investors worried over the escalation of the trade battle between the U.S. and China. A weaker-than-expected U.S. jobs report for March also didn't help sentiment. The Dow on Friday fell 572.46 points, or 2.3%, to 23,932.76.
Boeing Co. (BA) - Get The Boeing Company Report  declined 1.1% on Monday even after the aerospace giant reached a $12 billion deal to sell 47 new Dreamliner jets to American Airlines Inc. (AAL) - Get American Airlines Group Inc. Report .
Merck & Co. said a Phase 3 trial of its cancer treatment Keytruda met the primary endpoint of overall survival as monotherapy for the first-line treatment of locally advanced or metastatic non-small cell lung cancer. The stock rose 7%.
Deutsche Bank AG
(DB) - Get Deutsche Bank AG Report
  rose 1% after Germany's largest lender shook up top management on Sunday, replacing CEO John Cryan after three straight years of losses totaling more than $10 billion and an ongoing erosion of market share in its once-dominant investment banking and trading unit.
Co-President Christian Sewing, who oversaw the Frankfurt-based company's private and commercial bank, will become CEO, while fellow Co-President Marcus Schenck will depart later this year, Deutsche Bank said in a statement. 
Novartis International AG (NVS) - Get Novartis AG Report said Monday it would buy AveXis Inc. (AVXS) in an $8.7 billion deal that will expand its gene therapy and neuroscience capabilities.
Novartis agreed to pay $218 per AveXis share, a more than 80% premium to AveXis' closing price on Friday of $115.91. AveXis shares soared 81% on Monday to $209.90.
Action Alerts PLUS holding Facebook (FB) - Get Meta Platforms Inc. Report on Monday began sending notices to the 87 million users (more than 70 million in the U.S.) who may have had their data shared with Cambridge Analytica.
In addition, all 2.2 billion Facebook users will receive a notice titled " Protecting Your Information" with a link to see what apps they use and what information they have shared with those apps, the Associated Press reported. If they want, users can shut off apps individually or turn off third-party access to their apps completely.
Facebook shares rose 0.46%. On Tuesday, April 10, Facebook CEO Mark Zuckerberg is scheduled to appear at congressional hearings over Cambridge Analytica's use of customer data. 
Shares of General Motors Co. (GM) - Get General Motors Company Report rose 0.42% after analysts at Morgan Stanley upgraded shares of the automaker to "overweight."
Retirement is coming. It's never too early -- or too late -- to plan, save and invest for the retirement you want and deserve. Let TheStreet's new premium subscription newsletter, Retirement Daily, give you the insider's edge on how to maximize and protect your most important investment, your retirement savings. Learn more about Retirement Daily and get a free trial subscription.
Watch all of Jim Cramer's full NYSE live shows right here: