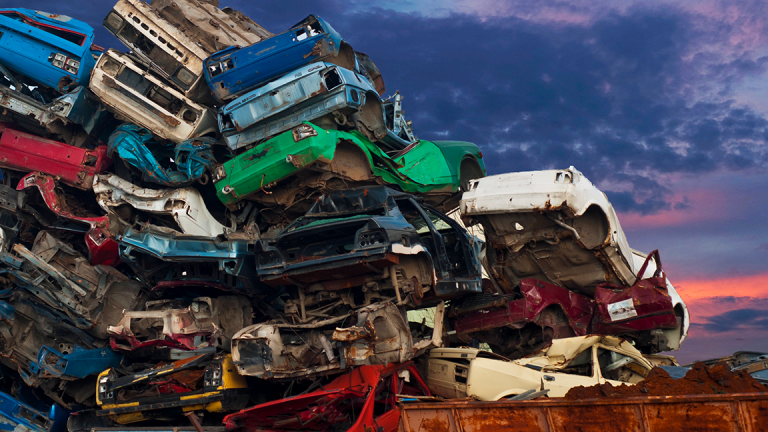 Stocks Tank Into Close, End Down More Than 100 Points After Fed Rate Hike
Stocks end down more than 100 points after Fed hikes rates, see more to come.
Stocks end down more than 100 points after Fed hikes rates, see more to come.
5 Things You Missed in the Markets Wednesday
Market Snapshot
That hurt. 
Stocks closed down 120 points on Wednesday after selling off into the close following an expected Fed hike (watch below for analysis).
The Dow Jones Industrial Average I:DJI closed at 25,201.20. The Nasdaq Composite I:IXIC fell 8 points to 7695.70, and the S&P 500 I:GSPC fell 11.22 points to 2775.63.
The Producer Price Index for May rose 0.5% in May, higher than estimates, with higher oil prices accounting for most of the increase, the Labor Department said Wednesday.
A federal judge's clearance of the $85.4 billion merger of AT&T Inc. (T) - Get Report and Time Warner Inc. (TWX) with no conditions is expected to encourage more vertical combinations among media and entertainment companies.
Comcast Corp. (CMCSA) - Get Report launched a $65 billion offer for assets of Twenty-First Century Fox (FOXA) - Get Report , a day after a judge cleared AT&T's.
AT&T shares fell 4.8% on Wednesday, while Time Warner rose 3.1%. Comcast rose slightly, and Fox was up 7.1%.
The Philadelphia media company offered $35 per share for Fox, which gained 1.15% to $44.15 after hours. Comcast stock dropped 1.6% to $31.80.
Comcast Chairman and CEO Brian Roberts wrote a letter to the Fox board on Wednesday, expressing his disappointment that Fox agreed to sell much of its film, television and international distribution assets to Disney last December.
Comcast is a holding in Jim Cramer's Action Alerts PLUS member club. 
The Seattle City Council on Tuesday repealed a tax on large companies such as Amazon.com Inc. (AMZN) - Get Report and Starbucks Corp. (SBUX) - Get Report after a backlash from businesses, a stark reversal from a month ago when the council unanimously approved the effort to combat a growing homelessness crisis.
Amazon Inc. (AMZN) - Get Report had sharply criticized the tax as misguided, and the online retailing giant even temporarily halted construction planning on a new high-rise building near its Seattle headquarters in protest.
The stock rose 0.4%.
Amazon is a holding in Jim Cramer's Action Alerts PLUS member club. 
Tesla Inc. (TSLA) - Get Report was up 0.6% after CEO Elon Musk said the electric vehicle maker would be cutting 9% of its workforce as it looks to keep its promise of not having to raise any more capital this year. The majority of the cuts would focus on salaried positions, Musk said.
It was later disclosed Elon Musk bought a fresh chunk of Tesla's stock. 
H&R Block Inc. (HRB) - Get Report tumbled 20% even after the tax preparation services provider posted fiscal first-quarter earnings that topped Wall Street's expectations and raised its dividend.