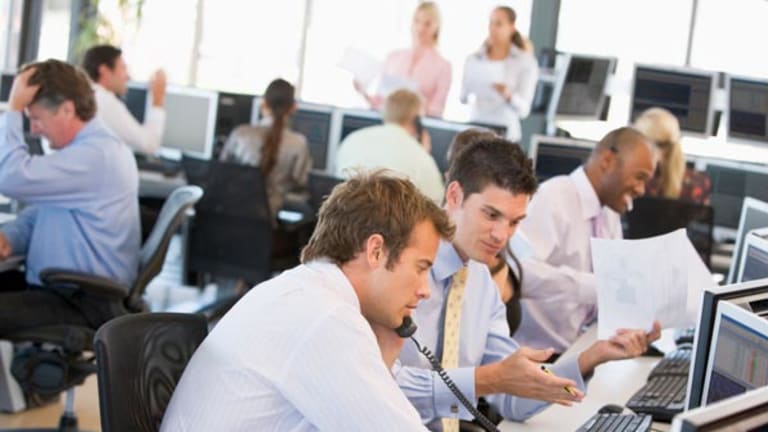 Stocks Rise and Stay There
Wall Street cheers deal news from companies such as Xerox and Abbott and an upgrade to Cisco.
(Updated with stock and commodity prices.)
NEW YORK (
) -- Wall Street cheered deal developments and a
Cisco
(CSCO) - Get Report
upgrade Monday, while upcoming economic data could pave the way for another volatile week.
The
Dow Jones Industrial Average
rose 124.17 points, or 1.3%, to 9789.36, while the
S&P 500
ticked up 18.6 points, or 1.8%, to 1062.98. The
Nasdaq Composite
advanced 39.82 points, or 1.9%, to 2130.74.
Among the day's movers, Cisco gained 4.5% to $23.63 after Barclays raised its rating for the stock to overweight.
Tech stocks also got a boost as
Xerox
(XRX) - Get Report
said it
Affiliated Computer Services
(ACS)
for $6.4 billion in cash and stock. Affiliated Computer Services surged 14% to $53.86, but Xerox shares slid 14.4% to $7.68.
Mixed economic data helped push the major averages as much as 2% lower last week, and the new week will likely bring volatility with fresh readings on consumers, manufacturing and unemployment.
"We're fully expecting to see daily 1% to 1.5% moves, depending on how the economic data come out -- again there is a lot of emotion built into especially the unemployment numbers on Friday as confirmation that the economy is getting better," says Paul Nolte, director of investments at Hinsdale Associates.
But it was deal developments that were moving stocks Monday. Among those making buzz,
Abbott Labs
(ABT) - Get Report
to buy the pharmaceuticals business of Belgium's
Solvay
for $6.6 billion in cash. Shares advanced 2.6% to $48.58.
"What it tell us is the credit market are coming back, and we know that the credit markets got us into this trouble," says Ryan Detrick, senior technical strategist at Schaeffer's Investment Research, "and now there are signs of life in M&A and IPOs, so those are very bullish things." Click below to hear more from Detrick on M&A, and what to expect from this week's economic data.
"I think that's the big driving factor: that we have companies that are willing to open up their pocket book whether it's domestic or international," agrees Nolte. "At least over the short term, it's a good thing, and then we have to see is it really going to be a benefit or is it going to be out of necessity -- we won't know that for a few quarters."
On a smaller scale,
Johnson & Johnson
(JNJ) - Get Report
has purchased 14.6 million shares, or 18%, of Dutch biotechnology company
Crucell
(CRXL)
, for 301.8 million euros ($441 million) under a partnership to develop flu vaccines. Johnson & Johnson shares added 1.1%to $61.27, while Crucell shares fell 6.6% to $22.13.
Meanwhile,
Kraft Foods
(KFT)
is preparing
a hostile bid for
Cadbury
(CBY)
, valuing the British confectionery business at about 11 billion pounds ($17.4 billion), U.K.'s
Observer
newspaper reported over the weekend. Shares fell 0.3% to $26.17.
Stocks overseas were mixed. In Europe, London's FTSE 100 and the DAX in Frankfurt rose 1.6% and 2.8%, respectively. But in Asia, the Nikkei in Japan fell 2.5%, and the Hang Seng in Hong Kong slid 2.1%.
added 82 cents, to $66.84 a barrel, while gold advanced $2.50, to $994.10 an ounce.
-- Written by Elizabeth Trotta in New York.