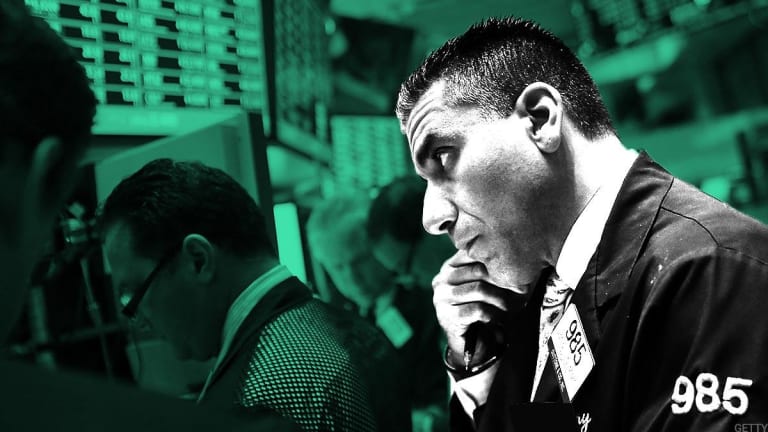 Dow, Stocks Shrug Off Trade War Escalation, End Higher
Stocks ended higher Tuesday as Wall Street shrugged off the latest escalation in President Trump's trade war with China.
Here Are 3 Hot Things to Know About Stocks Right Now
FedEx Corp. (FDX) - Get FedEx Corporation Report fell sharply to log its worst day in more than five years after adjusted earnings for its fiscal first quarter missed expectations by a wide margin.
The U.S. will levy 10% tariffs on $200 billion worth of China-made goods, with tariffs rising to 25% by the end of 2018. China retaliated, saying it would impose $60 billion of tariffs on U.S. goods.
Oracle Corp. (ORCL) - Get Oracle Corporation Report  ended slightly lower after cloud services revenue at the software giant came in below forecasts.
Wall Street Overview
Stocks rose on Tuesday, Sept. 18, even after the White House slapped a levy of 10% on $200 billion worth of China-made goods, and China retaliated by saying it would impose tariffs on $60 billion of U.S. goods.
President Trump said the new tariffs, slated to go into effect Sept. 24, were aimed at drawing China to the negotiating table. The tariffs will rise to 25% on January 1, if no progress has been made in trade talks. Trump also warned that tariffs on a further $267 billion of goods would be imposed if China retaliated. China said Tuesday its new tariffs also will go into effect on Sept. 24, and will target more than 5,000 U.S. products.  China is seen as likely to opt out of trade talks that were to resume later in September.
U.S. consumer technology stocks were given a reprieve in the latest round of tariffs on China, but the threat of a third phase of levies on a tech-heavy basket of products was keeping a significant cloud of uncertainty over the market's most-valuable sector. Apple Inc. (AAPL) - Get Apple Inc. Report  rose 0.2% on Tuesday while shares of Cisco Systems Inc. (CSCO) - Get Cisco Systems, Inc. Report  gained 0.8%.
The Dow Jones Industrial Average I:DJI  rose 185 points, or 0.7%, to 26,248, the S&P 500 undefined  was up 0.5% and the Nasdaq I:IXIC  gained 0.8%.
Oracle Corp. (ORCL) - Get Oracle Corporation Report  ended slightly lower Tuesday after the software giant's fiscal first-quarter earnings topped expectations but revenue for cloud services did not.
Adjusted earnings in the quarter were 71 cents a share, beating forecasts by 3 cents. Total revenue was $9.19 billion, and cloud revenue was $6.61 billion. Analysts had forecast revenue of $9.24 billion and cloud services revenue of $6.68 billion.
FedEx Corp. (FDX) - Get FedEx Corporation Report  reportied adjusted earnings in its fiscal first quarter of $3.46 a share, missing estimates of $3.80, while revenue of $17.1 billion beat expectations of $16.9 billion. FedEx said higher wages for workers dented profit. 
The shipping and logistics company said it expects adjusted earnings in fiscal 2019 of $15.85 to $16.45 a share, higher than prior guidance of adjusted earnings between $15.65 and $16.25. Shares fell 5.5%, their worst one-day slide since March 20, 2013, more than five years ago, when they fell 6.9%.
Start, and end, your trading day right with TheStreet's 'Daily Snapshot' on your favorite smart-speaker. Learn more about TheStreet's market coverage for your trusted smart-speaker here.
Tesla Inc. (TSLA) - Get Tesla Inc Report fell 3.3% after Bloomberg reported the Department of Justice was opening a fraud investigation into the company over CEO Elon Musk's "funding secured" tweet he made in early August. The report cited two people familiar with the probe. 
General Mills Inc. (GIS) - Get General Mills, Inc. Report posted fiscal first-quarter profit of 71 cents a share, 7 cents ahead of estimates. Sales of $4.09 billion missed estimates of $4.12 billion. The company said it was maintaining its guidance on full-year earnings. Shares fell 7.6%.
AutoZone Inc. (AZO) - Get AutoZone, Inc. Report  declined 2% after it reported fiscal fourth-quarter adjusted earnings of $18.54 a share, ahead of estimates of $17.99, but said total sales and a same-store sales increase of 2.2% during the period came in below estimates. 
Avon Products Inc. (AVP) - Get Avon Products, Inc. Report  rose 10.6% after Brazil's Natura Cosmeticos SA recently approached the company about a takeover, The Wall Street Journal reported, citing people familiar with the matter. The companies aren't in serious talks and Avon, which has received other expressions of interest, is focused on turning itself around and reviving its shares, one of the people said.
To be a profitable investor and build long-term wealth, you need the right information and techniques. Join TheStreet Oct. 13, 2018 for a special investing event for sophisticated and active traders. Register for "Invest Like the Pros: Jim Cramer's Boot Camp for Investors" here.