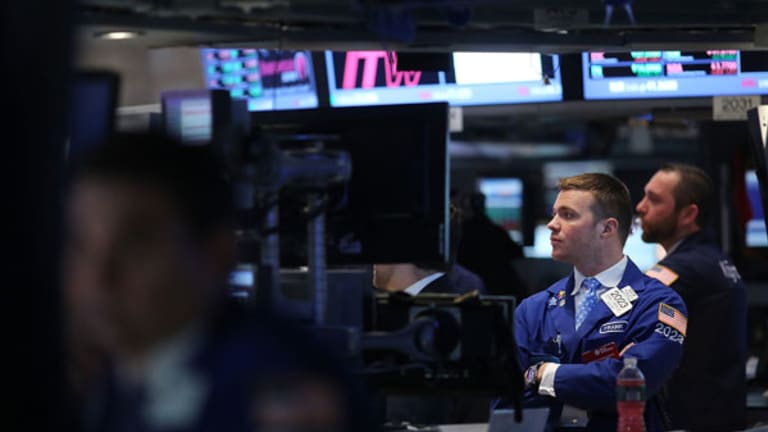 Stocks Drop on Concern Fed Support Waning for Stimulus
Major U.S. stock averages dropped Wednesday despite the Fed's decision to delay tapering.
NEW YORK (TheStreet) -- U.S. stocks declined Wednesday as the Federal Reserve opted to maintain its current $85 billion bond-buying program and keep interest rates at current low levels, citing an elevated jobless rate and a slowdown in the housing market's recovery.
Markets fell on concerns the Fed may still pullback on its stimulus program in December, or early next year. In a policy statement, the central bank said that overall all "the downside risks to the outlook for the economy and the labor market" .... have "diminished," indicating that the worst of the 2009 recession, which prompted the stimulus program has passed.
TheS&P 500closed down 0.49% to 1,763.30. TheDow Jones Industrial Averagelost 0.39% to 15,618.64, while theNasdaqdropped 0.55% to 3,930.62.
The Fed dropped language about concerns that financial market tightening could present a drag on economic growth.
"Folks are saying, 'OK, look, the Fed was uncomfortable with the 10-year [Treasury] rate when it was 2.75%, 2.8%, but [the central bank] is comfortable with it at 2.45%,'" Thomas Tzitzouris, head of fixed income research at Strategas Research Partners, said in a phone interview from Washington. "And we've been buying on the expectation that the Fed was not comfortable with the levels we were at, and so maybe its time to take some profit."
Electronic Arts  (EA) - Get Electronic Arts Inc. Report surged 7.8% to $26.00 after the video game publisher posted fiscal second-quarter earnings that raced past estimates by 20 cents at 33 cents a share on revenue that beat expectations as its portfolio of sports titles grew, boosting gains in digital revenue. Electronic Arts has hiked its full-year guidance on optimism that the company will deliver a "full slate of amazing games and services to players on current and next-generation consoles, mobile, and PC."
Sealed Air Corp  (SEE) - Get Sealed Air Corporation Report gained 6.4% to $30.35 after the consumer packaging company reported a swing to third-quarter profit and earnings per share that beat estimates by 6 cents at 39 cents a share as revenue increased 2.9% to $1.9 billion. During the quarter, the food care, product care and medical applications segments all posted sales gains.
Western Union  (WU) - Get Western Union Company (The) Report dropped 12.4% to $16.85 after the payment services company lowered its full year earnings outlook and said that it no longer expects operating profit growth amid an increase in compliance related expenses driven by an increasingly strict legal and regulatory environment. The company said that it expects expenses of this nature to increase to a range of about 3.5% to 4.5% of revenue in 2014 from 2.5% of revenue in 2013.
Teva Pharmaceuticals  (TEVA) - Get Teva Pharmaceutical Industries Limited American Depositary Shares Report surrendered 8.1% to $38.70 after it was revealed that CEO and President Dr. Jeremy Levin stepped down amid rumors of executive infighting. Executive VP and CFO Eyal Desheh will temporarily assume the positions until a successor has been found.
Private payrolls increased less than expected in October, according to payroll processor Automatic Data Processing, possibly reflecting some impact from the government shutdown and earlier reinforcing predictions that the Fed would refrain from immediate tapering as job creation has yet to pick up more pace. An increase of 130,000 was reported for October, which was below that 150,000 gain expected by economists, and after a downwardly revised 145,000 in September.
Further fueling views, before the announcement, that the Fed still has more room to persist with its current level of stimulus were subdued inflation numbers out Wednesday as indicated by theConsumer Price Index. An as expected headline level of 0.2% for September was reported.
The benchmark 10-year Treasury was down 8/32, lifting the yield to 2.541%.
--Written by Andrea Tse and Joe Deaux in New York