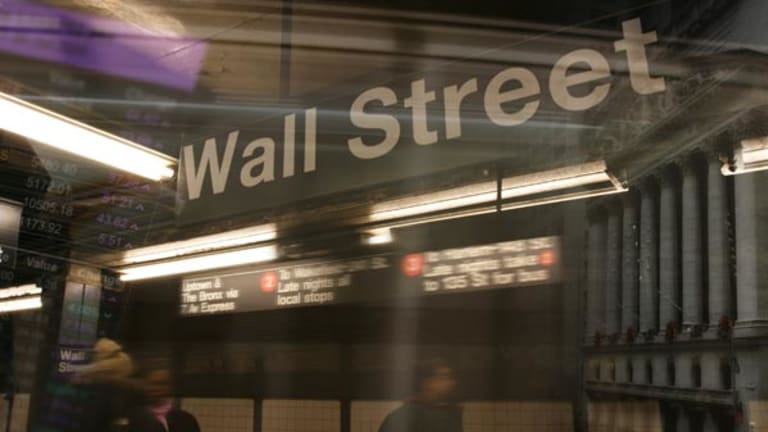 Stocks Rise Above
Intel's positive guidance helps sentiment as investors shrug off jobs data.
Updated from 4:05 p.m. EST
Stocks Friday closed higher on the day and the week, as investors welcomed
Intel's
(INTC) - Get Report
improved guidance and shrugged off a surprisingly weak November employment report and another record low for the dollar.
The
Dow Jones Industrial Average
rose about 7.09 points to 10,592.21, the highest close for the Dow since March 5. The
S&P 500
was up 0.84 points to 1191.17 -- a new 40-month high. Both the Dow and the S&P 500 have gained in six of the past seven weeks. The
Nasdaq
closed 4.39 points higher at 2147.96, having briefly topped its January 2004 high of 2153.83 for the second day in a row. The Nasdaq gained for its seventh week out of eight. All three indices closed well off session highs in posting their second consecutive weekly gains.
Volume on the
NYSE
was 1.56 billion, with advancers beating decliners 5-to-3. Volume on the Nasdaq was 2.41 billion, with decliners beating advancers 8-to-7.
"It's a great battle of which is going to have a bigger effect, Intel's news or the lackluster nonfarm payroll number," said Arthur Hogan, chief market analyst at Jefferies. "My guess is that, at the end of the day, we'll reflect more on the positive, and that we'll shrug off the negative implications and rally for the close."
In other markets, the Treasury's 10-year note originally rallied on the employment news, gaining 1 6/32 in price to yield 4.26%. The dollar turned weaker against the Japanese yen and the euro, having touched a new record low of 1.3459 against the European currency.
The government reported nonfarm payrolls grew 112,000 in November. Economists expected payroll growth of 200,000 in November after the economy created a revised 303,000 new jobs in October. The strength or weakness of the nonfarm payroll reports is seen as a crucial factor in the
Fed's
next decision on interest rates Dec. 14.
Oil prices closed 71 cents lower at $42.54, dropping a total of $6.90, or 14%, this week. The Philadelphia Stock Exchange Oil index gained 1.8% after falling the previous two days.
The tech sector got a major boost from Intel, which raised its fourth-quarter revenue outlook late Thursday. The chip giant now expects revenue of $9.3 billion to $9.5 billion, vs. a previous forecast of $8.6 billion to $9.2 billion. Intel shares finished up $1.20, or 5.3%, to $23.91. Intel's forecast helped the Philadelphia Semiconductor index rise 1.5%.
Applied Materials'
(AMAT) - Get Report
shares gained as well, partly because of Intel's update. Applied Materials gained 39 cents, or 2.2%, to $17.89.
In other corporate news,
IBM
(IBM) - Get Report
is reportedly ready to sell its PC unit.
The New York Times
reports the sale could fetch between $1 billion and $2 billion and that
Lenovo Group
, China's leading PC company, is among the interested buyers. Shares rose up $1.32, or 1.4%, to $97.08.
Retailers took another hit Friday after a round of downgrades, the most notable being
Target
(TGT) - Get Report
. Shares fell 70 cents, or 1.3%, to $51.70 after Citigroup Smith Barney analyst Deborah Weinswig downgraded the company to hold.
Ann Taylor
(ANN)
shares slid again after Deutsche Bank downgraded the company to hold from buy, citing concerns over the next few months. Ann Taylor ended down 6 cents, or 0.3%, to $20.45.
Hovnanian Enterprises
(HOV) - Get Report
said net contracts for November fell 16.2% from a year ago to 991, raising questions about the long-anticipated slowdown in the housing sector. The company attributed the decline to a lower number of selling weekends during the month. Shares were up 80 cents, or 2%, to $41.20.
Oracle's
(ORCL) - Get Report
shares gained slightly Friday even after Wachovia Securities downgraded the software company to market perform from outperform. Wachovia said the stock had outperformed in the past three months on news of the hostile takeover of
PeopleSoft
(PSFT)
, adding that if Oracle prevails, then business will be stronger after integrating the two companies. The broker warned that uncertainty could weigh on the stock should Oracle not acquire PeopleSoft. Oracle finished up 8 cents, or 0.6%, to $13.03.
Motorola
(MOT)
completed its spinoff of
Freescale Semiconductor
(FSL)
late Thursday. Motorola distributed its remaining equity interest in the company through a tax-free share exchange. Motorola rose 25 cents, or 1.4%, to $17.85.
Overseas, Japan's Nikkei closed 0.9% higher at 11,074, while Hong Kong's Hang Seng lost about 0.3% to 14,211. Elsewhere, European markets finished slightly lower, with London's FTSE down 0.1% at 4747 and Germany's Xetra DAX down 0.2% at 4208.