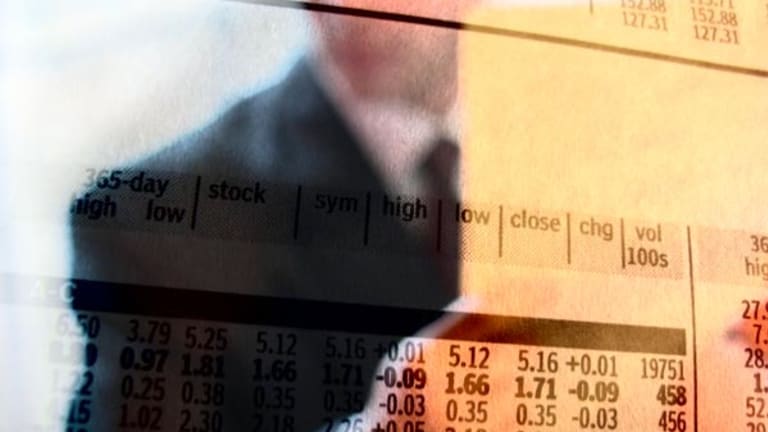 Stocks Ripped as Smaller Fix by Fed Feared
The Dow sheds 1.2% and the Nasdaq falls 1.7% as the latest economic data are considered.
Updated from 4:05 p.m. EDT
Stocks took a beating Thursday, as mixed economic data set the stage for profit-taking after the recent market run-up.
The
Dow Jones Industrial Average
finished down 114.27 points, or 1.3%, at 9179.53. The
Nasdaq
lost 28.49 points, or 1.7%, to 1648.65, while the
S&P 500
shed 15.39 points, or 1.5%, to 994.70.
"The short-term weakness was due to slightly stronger numbers, which led people to
wonder whether the fed will cut by only 25 basis points, instead of 50," said Robert Pavlik, portfolio manager at Oaktree Asset Management. "Traders were also taking advantage of the recent strength to lock in profits."
After some zigzagging in early trading, all three major indexes suffered steady declines, ending near the lows of the session. Some of the volatility could also be traced to Friday's quadruple witching, with expiration of stocks and index futures, and options on stocks and indexes.
Volume totaled 1.5 billion on the NYSE and to 1.9 billion on the Nasdaq. Decliners were ahead of advancers by a margin of about two to one on both exchanges.
Financial issues were among the hardest hit, dropping an average of 2% on the NYSE and 2.3% on the Nasdaq, despite favorable results at
Lehman Brothers
(LEH)
. The bank posted its highest quarterly revenue ever in the second quarter, boosted by its traditionally strong bond-trading unit. Earnings jumped 48% to $1.67 a share, topping analysts' estimates. Nonetheless, Lehman shares lost $2.97, or 4%, to $71.02.
Another investment bank,
A.G. Edwards
(AGE) - Get AgeX Therapeutics, Inc. Report
, said its fiscal first-quarter profit fell because of thin commissions and asset-management fees. The bank's shares fell 70 cents, or 2.1%, to $33.19.
Also keeping a lid on financials was J.P. Morgan's downgrade of
Morgan Stanley
(MWD)
to underweight from neutral. UBS also lowered its rating to neutral from buy, following the bank's 25% drop in quarterly earnings Wednesday. Morgan Stanley shares fell $3.01, or 6.4%, to $43.88.
In economic news, the Federal Reserve Bank of Philadelphia said its business conditions index moved to 4.0 in June compared with the minus-4.8 reported for May. Economists had expected a reading of 4.1.
"The
Philadelphia number wasn't as good as expected, and it's definitely among the reasons for the selloff," said BB&T's Ryan. "Investors were getting too optimistic in the short term. But in the long term, I expect business to pick up."
Meanwhile, the Conference Board's index of leading indicators had a better-than-expected 1% increase in May. Separately, the government reported that new jobless claims fell to 421,000 in the week ended June 14, from 435,000 the previous week. Economists were expecting a slightly smaller decrease. The figure remains above the 400,000 mark, which indicates a weak job market.
A story in
The Washington Post
Thursday said several
Fed
officials share a view expressed by Alan Greenspan last week that because inflation remains nearly nonexistent, a 50-basis-point economic "insurance policy" is worth risking. The article's author has a long record of prescient Fed calls.
Treasuries were slightly higher, with the yield on the 10-year note at 3.34%.
GE
(GE) - Get General Electric Company (GE) Report
was weighing on the Dow after Merrill Lynch lowered its 2003 and 2004 earnings estimates for the company. GE shares shed 93 cents, or 3%, to $29.80.
Chipmaker
Micron Technology
(MU) - Get Micron Technology, Inc. (MU) Report
widened its fiscal third-quarter loss on weaker sales due to reduced prices. But the company said prices had firmed in early June, which led UBS analysts to upgrade the stock to neutral from reduce. Shares lost 26 cents, or 2%, to $12.82.
Retailer
Bed Bath & Beyond
(BBBY) - Get Bed Bath & Beyond Inc. Report
reported a 24% jump in its first-quarter earnings, ahead of Wall Street estimates. But sales missed analysts' expectations. The company also failed to lift its second-quarter and full-year earnings projections. Shares dropped $1.66, or 4%, to $40.77.
A new chapter on the
PeopleSoft
(PSFT)
saga: The software company announced Thursday it has launched a $1.75 billion exchange offer for
J.D. Edwards
(JDEC)
in a bid to accelerate the deal. The move comes a day after
Oracle
(ORCL) - Get Oracle Corporation Report
raised its hostile bid for PeopleSoft, asking the company to drop its offer for J.D. Edwards. PeopleSoft shares fell 32 cents, or 1.8%, to $17.61, while J.D. shares lost 6 cents, or 0.4%., to $14.04. Oracle shares shed 8 cents, or 0.6%, to $13.34.
Accounting concerns were back after reports that
Freddie Mac
undefined
could restate earnings by up to $3 billion, resulting in a drop in future profit. Shares lost 65 cents, or 1.3%, to $51.35.
Morgan Stanley analysts downgraded
Schering-Plough
(SGP)
to equal weight from overweight on valuation concerns. Shares of the company fell 74 cents, or 3.6%, to $19.73.
Also from the pharmaceutical sector,
Forest Laboratories
(FRX)
shed $7.20, or 11.9%, to $53.41 amid reports that its experimental drug, Memantine, didn't have an effect on patients with mild to moderate Alzheimer's disease.
Overseas markets were mixed, with London's FTSE 100 down 1.8% at 4131 and Germany's Xetra DAX down 2.3% at 3228. In Asia, Japan's Nikkei closed 0.2% higher at 9110, while Hong Kong's Hang Seng gained 0.1% to 9980.
Crude oil prices for future delivery were lower. The dollar was stronger against the yen and euro.
On Wednesday, the Dow finished down 29 points at 9293. The S&P 500 fell 1 point to 1011, while the Nasdaq rose almost 9 points to 1677, a fresh 13-month high.