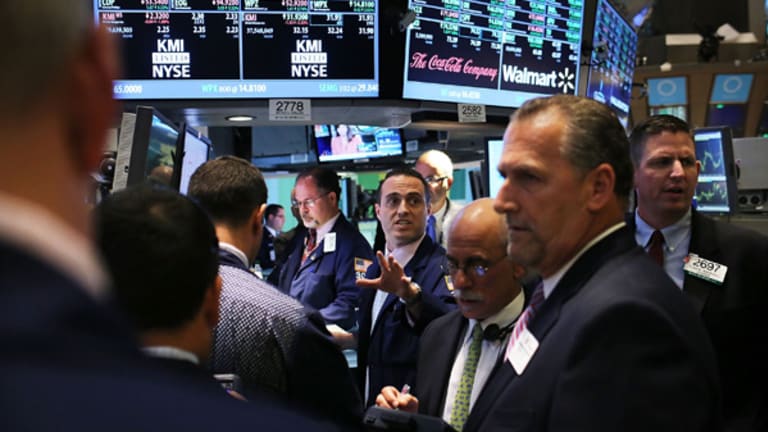 Stocks Ring Out the Year With Losses
The Dow, the Nasdaq and the S&P all lose ground for the year, as they did in 2000.
Updated from 3:04 p.m. EST
The major U.S. stock averages closed lower Monday, and another tough year on Wall Street ended, with the indices finishing 2001 lower than where they started.
The
Dow Jones Industrial Average lost 115.35 points, or 1.1%, to 10,021.64. The
Nasdaq was down 36.35, or 1.8%, at 1950.91, and the
S&P 500 was off 12.87 points, or 1.1%, to 1148.15. The three averages ended lower for the year for the second consecutive year.
Volume was light on both the Nasdaq and the
New York Stock Exchange. Corporate news flowing from the U.S. was light on the last trading day of the year, as it has been throughout the holidays. The big news surrounded
ImClone Systems
(IMCL)
.
After the close Friday, the biotech outfit revealed that the Food and Drug Administration refused to accept an application for approval of cancer drug Erbitux, which the company had filed along with
Bristol-Myers Squibb
(BMY) - Get Report
in October. Shares of ImClone lost 15.9% to $46.48, while Bristol-Myers was off 1.2% at $51.17.
In Argentina, the nation's interim President Adolfo Rodriguez Saa resigned after little more than a week in office. The South American nation has seen rioting and street violence in recent days as the country's economic situation continues to worsen.
The dollar was higher against the yen, but slightly lower versus the euro and the pound. Treasuries were higher, with the 10-year gaining 15/32 to 99 20/32, yielding 5.05%.