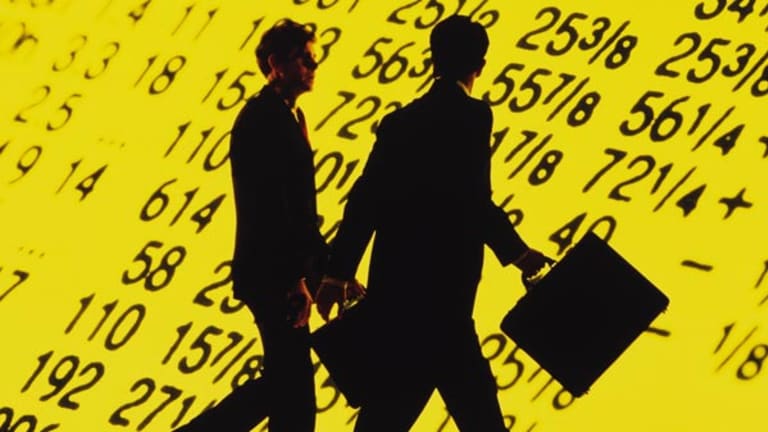 Stocks Return to Range-Bound Ways
Low volume and an upcoming options expiration make for a whipsaw market.
Low volume and an upcoming options expiration make for a whipsaw market.
Updated from 4:05 p.m. EDT
Stocks closed essentially where they began Wednesday after a volatile and indecisive session, as investors took little encouragement from a round of strong economic news amid reports of instability in Iraq.
The
Dow Jones Industrial Average
closed down 0.64 points, or 0.01%, to 10,379.79; the
S&P 500
added 1.58 points, or 0.14%, to 1133.59; and the
Nasdaq
ended up 2.64 points, or 0.13%, to 1998.24.
The 10-year Treasury note, which rallied Tuesday, was recently down 12/32 to yield 4.72%, following somewhat bullish housing industry data. Elsewhere, the dollar was higher against the yen and euro.
In a light session, fewer than 1.2 billion shares traded on the
New York Stock Exchange
, while slightly more than 1.3 billion shares changed hands on the Nasdaq. Advancers held close to a 5-to-4 edge over decliners on both exchanges.
"The only good thing about today's market is that there hasn't been any enthusiasm generated on the downside," said Ken Tower, chief market strategist at CyberTrader. "With all this good economic news, you'd think we'd be able to get some sort of a bounce here.
"Obviously, traders and investors don't care about the economy right now, at least good economic news," he added. "It seems like everyone's running scared on inflation still, so anything that is good economic news feeds those fears."
In Iraq, sabotage attacks on two oil pipelines shut down the country's oil exports. The standstill threatens to remove 1.5 million barrels of oil a day from global markets, for at least the short term. The benchmark U.S. crude rose 23 cents, or 0.6%, to close at $37.65 a barrel, its second consecutive close below the $38 level. Gasoline prices lost about a half-cent to close at $1.146 a gallon.
Larry Wachtel, senior market analyst at Wachovia Securities, said that Wall Street is wary of the precarious position of the U.S.-led occupation of Iraq leading up to the June 30 deadline for the handover of sovereignty to the war-torn nation.
"As we approach the 30th, we're going to see more mischief over there, and as it intrudes onto the oil supply, it gets a little worrisome," said Wachtel. "Alan Greenspan has put the June meeting to rest. We're going to see 25 basis points there, which is no problem. Oil prices have come lower, but the geopolitical scene is always intruding with this situation in Iraq.
"The economic news is good, but it served to back up the 10-year note, so good news is bad news there," he added. "It's a tricky kind of day where you go hour by hour trying to figure out what's going to happen in the next hour, and then the final hour is always the determinant."
On the economic front, housing starts dipped in May but beat expectations, at an annualized rate of 1.967 million units, compared with a revised 1.981 million in April. Consensus estimates called for a larger drop to 1.950 million. Meanwhile, building permits, a barometer of future activity, rose 3.5% to an annualized rate of 2.077 million, beating Wall Street's consensus estimate of 1.970 and April's figure of 2.006 million.
In another report, the
Fed
said that production levels in the nation's industrial sector grew an unexpected 1.1% in May, up from 0.8% in April. Also, factories operated at 77.8% of capacity for the month, up from a revised 77.1%.
Also, the Fed released its so-called beige book report on the U.S. economy, which painted a picture of a healthy, broad economic recovery with strong retail sales, factory production and job growth coupled with tame inflationary pressures.
Stocks spent most of the Tuesday session celebrating a benign government report on inflation, before easing in the last hour on a brief and unfounded terrorism scare.
After Tuesday's close, investors got another solid earnings report from
Oracle
(ORCL) - Get Report
. The database giant said net income in its fiscal fourth quarter rose 15% from last year to $990 million, or 19 cents a share, while revenue rose 8.6% to $3.08 billion. Per-share operating earnings were a penny ahead of analysts' expectations.
For the first quarter, Oracle expects to earn 9 cents a share on sales of $2.15 billion to $2.21 billion. Analysts were forecasting earnings of 9 cents a share on revenue of $2.25 billion.
Investors were unimpressed, however, taking the stock down 37 cents, or 3.2%, to $11.34; it was the most heavily traded stock of the day, hurting the Nasdaq's attempt to move higher.
In major corporate news Wednesday, the boards of
MGM Mirage
(MGG)
and
Mandalay Resort
(MBG)
have approved MGM's
$71-a-share takeover of its rival. The combined company will control more than half of the hotel rooms on Las Vegas' main drag. MGM shares lost 62 cents, or 1.2%, to $48.90, while Mandalay shares closed down 9 cents, or 0.1%, to $67.79.
Shares of
Cyberonics
(CYBX)
soared $15.23, or 77.8%, to $34.81 after an advisory panel to the U.S. Food and Drug Administration recommended the agency approve the company's medical device to treat depression.
In other earnings news,
Best Buy
(BBY) - Get Report
swung to a first-quarter profit on a 17% jump in sales, meeting Wall Street's expectations. The electronics retail chain earned $114 million, or 34 cents a share, compared to a loss of $25 million, or 8 cents a share, in the same quarter last year. Its shares closed down $1.01, or 1.9%, to $52.07.
Bear Stearns
(BSC)
posted a 24% jump in second-quarter earnings, beating estimates, after rising interest rates helped its bond trading business. The brokerage and investment bank earned $347.8 million, or $2.49 a share, up from $280.4 million, or $2.05 a share, in the same quarter last year. It also said the
Securities and Exchange Commission
may bring a civil action against the firm in a probe relating to mutual fund practices. Its shares closed up 65 cents, or 0.8%, to $80.08.
Also,
Goodyear Tire & Rubber
(GT) - Get Report
delayed its quarterly earnings release due Wednesday morning, saying it needed more time to complete its financial statements. The company expects to report a narrower loss and 23% sales growth for the period. Its shares closed down 26 cents, or 2.8%, to $8.96.
Overseas markets closed higher, with London's FTSE 100 trading up 0.7% to 4491 and Germany's Xetra DAX adding 0.4% to 4003. In Asia, Japan's Nikkei rallied 2.2% to 11,642, while Hong Kong's Hang Seng fell 0.9% to 12,162.
Before Thursday's opening bell, earnings releases are scheduled from
CarMax Group
(KMX) - Get Report
, expected to report first-quarter earnings before items of 30 cents a share, down from last year's 34 cents a hare; and
Carnival
(CCL) - Get Report
, expected to report third-quarter earnings of 35 cents a share, up from last year's 19 cents a share.
Thursday's menu also offers a four-course meal of fresh economic data, starting at 8:30 a.m. EDT with the government's long-awaited producer price index report, which was postponed from last week due to technical issues. In May, the index measuring wholesale prices is expected to have increased by 0.6%, slowed from April's 0.7%. Meanwhile, the core index that excludes food and energy prices, is expected to keep an even pace with April's reading, rising by 0.2%.
Also at that time, the Labor Department is expected to report that initial jobless claims hit 340,000 for the week ended June 12, down from 352,000 logged in the previous week.
At 10 a.m. EDT, the Conference Board is scheduled to release its index of leading indicators, expected to jump 0.4% for May, up from 0.1% in April, and the Federal Reserve Bank of Philadelphia will publish the results of its regional manufacturing index for June at noon. Wall Street economists predict the index will reach 25.5, up from May's reading of 23.8.