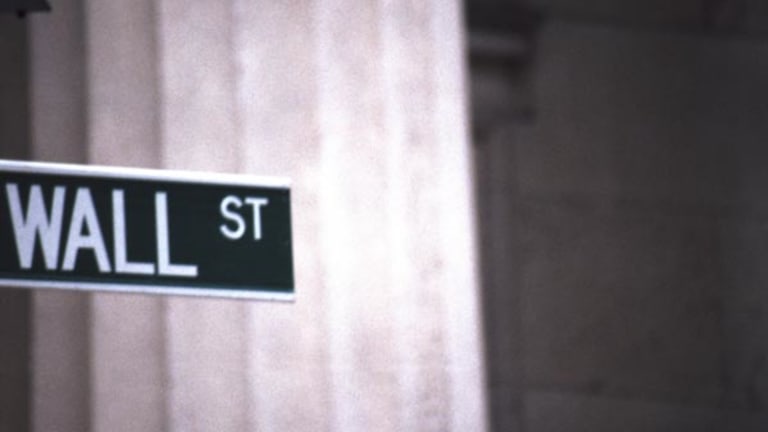 Stocks Return to Losing Ways
The major averages barely avoid their fourth down week of the new year ahead of a big weekend.
Updated from 4:03 p.m. EST
Stocks ended a marginally successful week on a down note Friday, pulling back on negative economic news and jitters ahead of the Iraqi elections.
The
Dow
fell 40.20 points, or 0.38%, to 10,427.20, led by a 10% slide in
Merck
(MRK)
; the
dipped 3.19 points, or 0.27%, to 1171.36; and the
Nasdaq
dropped 11.32 points, or 0.55%, to 2035.83. The 10-year Treasury note was up 19/32 to yield 4.14%, while the dollar was higher against the yen and euro.
Volume on the
New York Stock Exchange
was 1.64 billion shares, with decliners beating advancers by a ratio of 17 to 15. Volume on the Nasdaq was 2.08 billion shares, with decliners outpacing advancers by about 3 to 2.
For the week, both the Dow and the S&P 500 gained 0.3%, while the Nasdaq gained 0.07%. They were the first weekly gains the major indices have managed to post for 2005. Earlier in the session, all three were in danger of closing down for the fourth straight week.
"The bigger picture is that earnings this morning just weren't all that enticing to bring people back," said Robert Pavlik, portfolio manager with Oaktree Asset Management. "It was mostly second-tier companies reporting today, but when more companies miss expectations, it sends a negative feel through the market.
"The Street is viewing this past Tuesday and Wednesday as a bounce in a downward market rather than a turnaround," Pavlik said.
Oil slid as traders were leaning against an OPEC production cut this weekend. The March crude contract finished down $1.66 to $47.18 a barrel on the Nymex, down 3.5% for the week to close at its lowest level since Jan. 12. OPEC's president said the cartel will not change its output quotas, according to
Dow Jones
.
On the economic front, the Commerce Department released its advanced report on GDP in the fourth quarter, which showed that the economy expanded at a disappointing rate of 3.1%, the slowest in seven quarters and down from the third quarter's 4% pace. Economists had expected a 3.6% increase. For all of 2004, the U.S. economy grew by 4.4%, the highest since 1999.
Friday's big story was the $57 billion all-stock takeover of
Gillette
(G)
by
Procter & Gamble
(PG)
. Gillette's shares were up almost 13% after P&G pledged to exchange stock worth about $53.94 a share under a definitive agreement. Gillette shares rose $5.92 to $51.60, while P&G fell $1.17, or 2.1%, to $54.15.
"It's a push-me, pull-you between the Procter & Gamble takeover of Gillette and the economic numbers today," said Paul Nolte, director of investments at Hinsdale Associates. "The economic numbers were not terrific, speaking to the trade deficit problem. The early indications are that maybe the
Fed
can actually keep or slow down rates. Also, the Iraqi election will be a big deal and, looking ahead, it'll have some implications for Monday's trading."
Worries about violence around the Iraqi election this Sunday are a major concern. Investors are also anxious about the Federal Reserve's interest rate meeting early next week; minutes of the FOMC's last meeting suggested that members of the panel appeared more concerned about a pickup in inflation than they were in previous months and would thus take a more aggressive approach in raising rates.
Shares of
Merck
(MRK)
plummeted Friday after the company said the
Securities and Exchange Commission
had opened a formal investigation into the withdrawal of its painkiller Vioxx and a negative patent ruling on its top-selling osteoporosis drug Fosamax. Merck dropped $3.16, or 10.1%, to $28.02.
In other earnings news,
Microsoft
(MSFT)
shares were up after the company said that second-quarter profit more than doubled to $3.46 billion, or 32 cents a share, on a 6.5% jump in revenue to $10.82 billion. Excluding stock-based compensation, the software company earned 35 cents a share, 2 cents ahead of estimates.
Microsoft expects to earn 27 cents to 28 cents a share, including stock compensation, on revenue of $9.7 billion to $9.8 billion in the third quarter. Analysts were predicting earnings of 28 cents a share including stock charges and 32 cents a share excluding stock-based compensation on $9.66 billion in revenue. Shares gained 7 cents, or 0.3%, to $26.18.
Shares of
Overstock.com
(OSTK)
skidded despite the company posting a better-than-expected fourth-quarter profit of $2.48 million, or 12 cents a share, on an 80% jump in revenue to $221.3 million. Investors were concerned over company comments indicating Overstock planned to exploit its expanding margins by lowering prices rather than enhancing profitability. Shares tumbled $13.07, or 19.8%, to $52.87.
Honeywell
(HON)
reported fourth-quarter net earnings of $419 million, or 49 cents a share, a 4% increase year over year and in line with the Thomson First Call forecast. Revenue increased by 7% to $6.6 billion from last year. The company also increased its earnings outlook for 2005 to a range of $1.95 to $2.05 a share, vs. Thomson First Call projections of $1.98. Honeywell shares fell 34 cents, or 0.9%, to $35.69.
Shares of
Halliburton
(HAL)
were lower after the company reported a fourth-quarter loss of $201 million, or 45 cents a share, compared with a loss of $947 million, or $2.17 a share, last year. Excluding items, earnings were 41 cents a share, compared with 34 cents last year. Halliburton lost $2.67, or 6.1%, to $40.84.
McDonald's
(MCD)
said fourth-quarter earnings were $397.9 million, or 31 cents a share, higher than last year's $125.7 million, or 10 cents a share. Results included a charge of 8 cents a share related to a review of McDonald's lease accounting, as well as an impairment charge of 8 cents a share. Sales rose to $5.01 billion from $4.56 billion last year. The Thomson First Call estimate called for earnings of 46 cents a share on sales of $4.88 billion. Shares dipped 12 cents, or 0.4%, to $32.00.
Shares of
Maytag
(MYG)
were lower after the home appliance company reported a fourth-quarter loss of 18 cents a share on revenue that fell 8.4% year-over-year to $1.1 billion. Maytag's loss included 26 cents of charges. The Thomson First Call consensus of a gain of 17 cents a share. Shares dropped $1.79, or 10.5%, to $15.26.
T. Rowe Price
(TROW)
reported fourth-quarter net income of $97 million, or 71 cents a share, a 41% increase from a year ago. Revenue increased to $345 million from $281 million. The Thomson First Call estimate called for earnings of 66 cents a share on revenue of $338 million. Shares dipped 12 cents, or 0.2%, to $58.76.
In broker calls, Bear Stearns upgraded
IBM
(IBM)
to outperform from peer perform, citing valuations. IBM added 91 cents, or 1%, to $92.89.
In other economic news, the Labor Department said Friday that U.S. employment costs increased 0.7% in the fourth quarter, down from a 0.9% increase in the previous quarter. Economists had expected an increase of 0.9% for the quarter.
Overseas markets were mostly lower, with London's FTSE 100 ending down 0.4% to 4832 and Germany's Xetra DAX losing 0.3% at 4201. In Asia, Japan's Nikkei fell 0.2% to 11,321, while Hong Kong's Hang Seng rose 0.1% to 13,650.