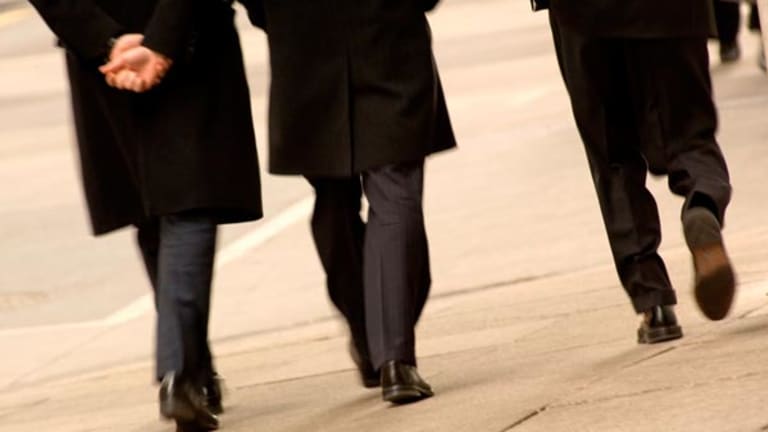 Stocks Return to Losing Ways
Warnings in the chip sector make Monday's gains short-lived, but Intel beats EPS expectations.
Updated from 4:02 p.m. EST
Stocks posted another losing session Tuesday as warnings in the chip sector weighed on sentiment while investors awaited
Intel's
(INTC)
earnings report after the closing bell.
The
Dow Jones Industrial Average
fell 64.81 points, or 0.6%, to 10,556.22; the
lost 7.26 points, or 0.6%, to 1182.99; and the
Nasdaq Composite
was off 17.42 points, or 0.8%, to 2079.62, a seven-week low, after posting its first gain of the new year Monday.
Volume on the
NYSE
was 1.49 billion shares, with decliners beating advancers by a ratio of 7 to 4. About 2.21 billion shares changed hands on the Nasdaq, with decliners outpacing advancers by a ratio of 7 to 3.
Intel reported solid fourth-quarter results. The company earned 33 cents a share, vs. analysts' expectations of 31 cents a share, according to Thomson First Call. Revenue hit $9.6 billion, vs. the consensus forecast of $9.4 billion. For the first quarter, Intel forecast revenue of $8.8 billion to $9.4 billion, which approaches the consensus. Intel was up 54 cents, or 2.4%, to $23.08 in after-hours trading.
In other markets, the 10-year Treasury note was up 8/32 in price with the yield at 4.24%. Oil prices closed up 35 cents at $45.68. The dollar was trading lower against the Japanese yen and was also down against the euro after a six-day rally.
"Today's earlier earnings and preannouncements were very negative for the market," said Brian Williamson, equity trader with Boston Company Asset Management. "Yet again we find ourselves with actionable, negative news stories and the sellers are taking it to the buyers. The news is critical in tech because of the awful numbers so far."
The chip sector remains a major focus.
Advanced Micro Devices
(AMD)
late Monday said fourth-quarter revenue would fall short of consensus expectations because of what the company called a challenging environment. Shares dropped $5.27, or 26.2%, to $14.86, pulling the Philadelphia Stock Exchange Semiconductor Index down 2.5%.
European chipmaker
STMicro
(STM)
fell 80 cents, or 4.3%, to $17.76 Tuesday after saying gross margins were being pressured by the weak dollar.
CEO Steve Jobs kicked off
Apple's
(AAPL)
annual MacWorld conference Tuesday by unveiling a smaller version of the company's Macintosh computer as well as a new iPod. The Mac Mini will start at $499 in price without a monitor, keyboard, or mouse in order to spur PC users to switch to Apple computers. The iPod shuffle, a slimmed-down model of Apple's popular digital music player, uses flash memory and is priced cheaper than current iPods. Apple shares closed down $4.40, or 6.4%, to $64.56.
Nortel
(NT)
filed its 2003 financial statement, along with restated numbers for 2002 and 2001. In 2003, Nortel earned $434 million, or 10 cents a share, on sales of $10.1 billion. That compares with a restated 2002 net loss of $3 billion, or 78 cents a share, on $11 billion in revenue. Twelve of the company's executives returned bonuses, totaling $8.6 million, and several board members were ousted. The company plans to file audited 2003 financial statements shortly, as well as statements for the first and second quarters of 2004 by the end of January. Nortel rose 14 cents, or 4.2%, to $3.48.
Unisys
(UIS)
lowered its fourth-quarter outlook, saying it now expects to post a loss of 7 cents to 10 cents a share after previously forecasting a profit of 27 cents to 31 cents a share. The company said the loss was the result of a decision to determine revenue on a month-to-month basis as opposed to the entire fourth quarter. Unisys lost 56 cents, or 6%, to $8.75.
Hewlett-Packard
(HPQ)
weighed on the Dow after Morgan Stanley downgraded the company to underweight, pointing to increased competition from
Dell
(DELL)
, and supply-chain inefficiencies. Shares fell 76 cents, or 3.7%, to $20.05.
Taser
undefined
said Tuesday that some orders may be delayed during the first half of 2005 as further product-testing is needed for evaluation. The company said it was confident in the safety tests already performed. Taser plummeted $5.95, or 29.7%, to $14.10.
After the bell Monday,
Alcoa
(AA)
reported fourth-quarter net income of $345 million, or 39 cents a share, compared with year-ago income of $342 million, or 39 cents a share. The Thomson First Call consensus was 41 cents a share, excluding items. Sales were $6.04 billion, rising from $5.42 billion in the same period a year ago. Shares lost 82 cents, or 2.7%, to $29.65.
Genentech
(DNA)
also reported fourth-quarter earnings late Monday. The biotech firm said profit rose 63% to $206.6 million, or 19 cents a share, from $126.7 million, or 12 cents a share, for the year-ago quarter. Genentech had revenue of $1.3 billion, compared with $933.9 million a year ago, but sales of its cancer drug Avastin disappointed. The company was downgraded by First Albany Capital to neutral based on the report. Shares ended down $3.73, or 6.8%, to $50.70.
CVS
(CVS)
said same-store sales in December grew 4.6% and total sales were $3.66 billion, an increase of almost 9%. For the fourth quarter, same-store sales increased 4.4%. CVS gained $1.10, or 2.4%, to $47.11.
The Nasdaq Composite on Monday turned in its first winning session of the year, gaining more than 8 points to 2097. The Dow rose 17 points to 10,621.03, while the S&P 500 added 4 points to 1190.25.
Overseas markets closed mostly lower. In Europe, London's FTSE 100 finished down 0.4% at 4812 while Germany's Xetra DAX lost 1.1% at 4258. Japan's Nikkei gained 0.9% to 11.540 overnight, while Hong Kong's Hang Seng shed 0.2% to 13,509.