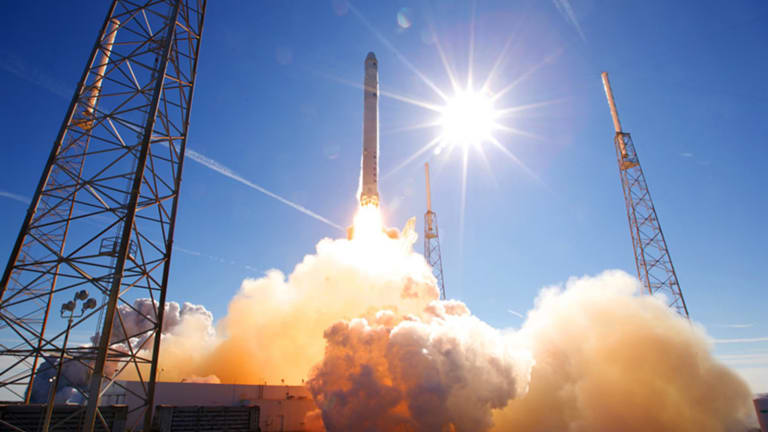 Stocks Return From Holiday Weekend With a Bang
Wall Street returns from the long Labor Day weekend with a bang as stocks surge more than 2%.
Wall Street returns from the long Labor Day weekend with a bang as stocks surge more than 2%.
NEW YORK (TheStreet) -- Wall Street came back from the Labor Day weekend with a bang as stocks surged more than 2% and the benchmark indexes reversed Friday's losses.
The S&P 500 gained 2.5% and the Dow Jones Industrial Average added 2.4%, or 388 points. The Nasdaq added 2.7% and returned to positive territory for the year led by Avago (AVGO) - Get Report and Analog Devices (ADI) - Get Report .
Following last week's U.S. jobs report, the focus on Tuesday returned to global events. China's Shanghai Composite closed 2.9% higher on hopes of further monetary stimulus after fresh trade data triggered more worries over the world's second-largest economy. China's exports fell in 5.5%, their second straight month of declines after a 8.3% decline in July. Imports fell 13.8%.
"The bearish case is that slowing growth in China could trigger a global economic downturn at the same time the Federal Reserve may be making a mistake by lifting rates, all set against a backdrop of expensive equity markets. We think this is overly pessimistic," said Robert Doll, chief equity strategist at Nuveen Asset Management.
However, he also noted that "ongoing worries about Chinese growth and Fed policy are likely to keep markets volatile for the near-term."
U.S. markets have endured a wild ride over the past few weeks as investors fretted over the state of the global economy even as the U.S. economy continued to show signs of a robust rebound. Adding to the worry, a September rate hike from the Fed remained in play after a solid jobs report for August on Friday. The S&P 500 and Dow ended last week down 2.6%.
The Fed will meet on Sept. 16-17 to determine whether the U.S. economy is strong enough to withstand a move off of crises-level interest rates.
IBM (IBM) - Get Report shares held onto gains of more than 2% after billionaire investor Warren Buffett told CNBC he purchased more shares over the third quarter.
Twitter (TWTR) - Get Report tumbled more than 3% on news of the latest shakeup to its C-suite of executives. Mike Gupta, senior vice president and former chief financial officer, will act as CFO at tech startup Docker. The search for a permanent CEO is now three months old after Dick Costolo resigned in June.
General Electric (GE) - Get Report maintained gains of 4% after the European Union approved its $17 billion acquisition of Alstom's power business. The approval will allow GE to go ahead with the its biggest ever deal.
In other deals news, Media General (MEG) agreed to acquire magazine publisher Meredith (MDP) - Get Report for $2.4 billion in a cash-and-stock deal. The combination will create the third-largest local TV station owner in the U.S.
Strategic Hotels (BEE) jumped nearly 4% after agreeing to be acquired by Blackstone Group (BX) - Get Report in a deal worth around $6 billion. Blackstone will pay $14.25 a share, a 13% premium on the intraday price in July when reports of a deal first broke.
Chinese e-retailer JD.com  (JD) - Get Report  jumped 5% after announcing a share repurchase program of up to $1 billion over the next 24 months. Repurchases will be funded through the company's cash reserves.