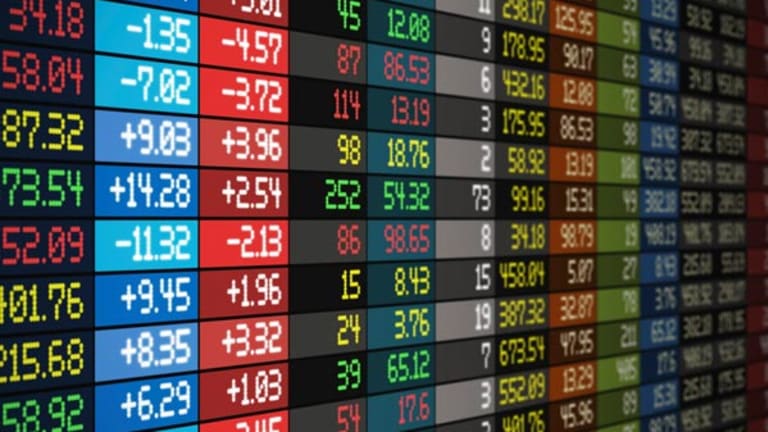 Stocks Trade Mixed as Crude Settles Under $43
Stocks fluctuate Tuesday as crude closes under $43 a barrel for the first time since April.
Stocks fluctuated Tuesday as crude closed under $43 a barrel for the first time since April.
The S&P 500 was down 0.08%, the Dow Jones Industrial Average slid 0.3%, and the Nasdaq added 0.2%. Benchmark indexes have bounced from positive to negative for much of the day. 
Crude oil extended losses Tuesday after settling at a three-month low a day earlier. Prices were under pressure on an expected decline in U.S. refinery activity. Morgan Stanley cut its global refinery demand forecast for crude to 625,000 barrels a day, down from 800,000. U.S. crude inventory data will be released after the bell. 
West Texas Intermediate crude oil fell 0.5% to $42.92 a barrel on Tuesday, halving losses of more than 1% seen earlier in the day.
A mix of earnings reports lead to choppy trading on Wall Street. Nearly one-third of S&P 500 companies have reported earnings so far this second-quarter reporting season. Of those that have reported, 69% have exceeded profit estimates, above the average 63% beat rate in a typical quarter. The blended estimate is for earnings to decline 3.5%, or 0.5% excluding energy, according to Thomson Reuters. While earnings will likely decline for another quarter, many economists believe this three-month period will act as a bottom for a rebound. 
McDonald's (MCD) - Get Report was a major drag on the Dow, falling 4.3% after same-store sales missed estimates in the second quarter. The world's largest fast food chain reported quarterly same-store sales growth of 3.1%, lower than an expected 3.6%. Second-quarter earnings of $1.25 a share fell 1% from a year earlier and missed consensus of $1.39.
Verizon (VZ) - Get Report reported a drop in profit in its recent quarter as an April-May worker strike hit its bottom line. The telecom earned 17 cents a share, sharply lower than $1.04 a year earlier. Adjusted earnings of 94 cents a share came in 2 cents above estimates. Around 36,000 workers were on strike for seven weeks earlier in the year. The stock fell 2%.
Caterpillar (CAT) - Get Report detailed more job cuts and a reduced second-half outlook as demand from the oil industry continues to wither. The machinery maker now expects to earn $3.55 a share, excluding restructuring costs, down from an already-reduced previous forecast of $3.70. "We're not expecting an upturn in important industries like mining, oil and gas and rail to happen this year," CEO Doug Oberhelman said in a statement.
BP (BP) - Get Report fell 0.8% after second-quarter underlying replacement cost profit of $720 million came in well below analysts' predictions of about $840 million. An improvement in oil prices failed to compensate for weaker earnings from its refining business. Oil and gas production returned to profit, though only a slight one, after a $747 million loss in the first quarter.
Gilead Sciences (GILD) - Get Report bested profit estimates in its second quarter, while reporting in-line revenue. The biotech developer earned an adjusted $3.08 a share, 6 cents above forecasts. Sales slid 5.6% from a year earlier to $7.78 billion. Gilead also cut its full-year net product sales outlook to between $29.5 billion and $30.5 billion.
Texas Instruments (TXN) - Get Report reached a 16-year high on Tuesday after Bank of America issued an upgrade following positive earnings. The chipmaker also offered strong guidance for its current quarter thanks to demand in the automotive and communications industries. Texas Instruments expects current-quarter earnings between 81 cents and 91 cents a share, above consensus of 81 cents. 
Anheuser-Busch InBev (BUD) - Get Report raised its offer for SABMiller (SBMRY) after calls for a sweetened offer given the sharp decline in the pound. The pound has declined by more than 10% since the June 23 U.K. Brexit referendum. AB InBev lifted its offer by 1 pound to 45 pounds a share ($59), valuing the total deal at around 79 billion pounds ($104 billion).
Mobileye (MBLY) sank 9% on Tuesday after announcing the end to its partnership with Tesla (TSLA) - Get Report . The company had lent its driver-assistance technology to Tesla's autopilot feature. Mobileye topped earnings and sales estimates earlier in the session.
New home sales increased 3.5% to a seasonally adjusted pace of 592,000 in June, according to the Commerce Department. Sales were at their highest since February 2008 and surpassed consensus of 560,000. The median price of new homes climbed 6% to $306,700. Over the second quarter, sales of new homes rose 10%.
Home prices in 20 major U.S. cities advanced 1.2% in May, according to the Case-Shiller 20-city composite index. Prices have now risen 5% over the past 12 months. Portland enjoyed its fastest 12-month growth, rising at 12.5%, while New York endured its weakest. Growing prices and constrained inventory have driven the housing sector's growth in recent months.
Consumer confidence remained strong in July, supported by an uptick in positive attitudes over the labor market and general business conditions. The Conference Board's index fell only slightly to 97.3 in July from 97.4.
"Overall, the upbeat tone of these reports will offer further encouragement to the [Federal Reserve] as they meet this week to discuss the outlook for the U.S. economy," Millan Mulraine, deputy chief U.S. macro strategist at TD Securities, wrote in a note. "The resiliency in household sentiment will be a critical piece of evidence underscoring only a modest hit to consumer confidence."
Members of the Federal Open Market Committee will group on Tuesday for a two-day meeting, followed by an announcement on Wednesday afternoon. A press conference won't be held afterward.
The likelihood of a move in July is low, though the Fed statement will be closely analyzed for hints as to when the central bank might adjust its monetary policy after initial liftoff last December. A rate hike in July currently has a 2.4% probability, according to CME Group Fed funds futures. A December rate hike is the most likely with a 40% chance.
"We expect the tone of the communique to be more upbeat, reflecting the better-than-expected economic data over the past six weeks as well as much more stimulative financial market conditions," Deutsche Bank analysts wrote in a note. "However, the Fed will not go as far as it did last October, when it strongly hinted at a rate hike at the ensuing meeting in December. This time, the Fed will be more careful to leave its options open, preferring to see how the data evolve between now and ... September."