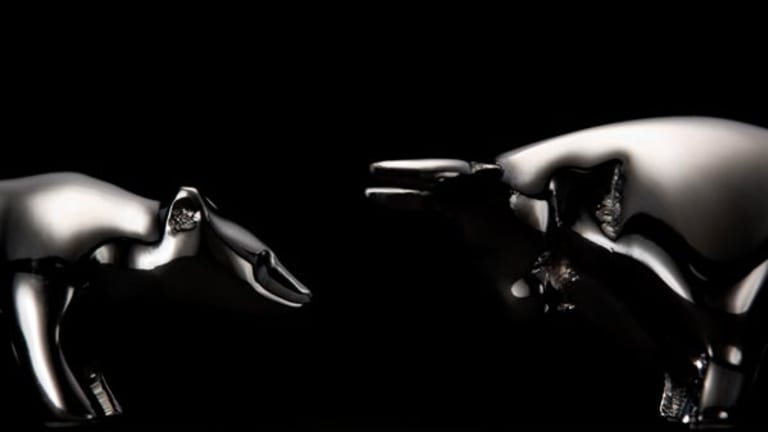 Stocks Retreat Before 'Test'
The Dow falls 102 points and the Nasdaq drops 43 points as the market awaits the official release of the bank stress test results Thursday evening.
Updated from 4:31 p.m. EDT
The major stock averages in New York closed 1% to 2% lower Thursday before the release of the much-ballyhooed bank stress test results, which called for banks to raise capital levels by a combined $75 billion.
The
Dow Jones Industrial Average
lost 102.43 points, or 1.2%, to 8409.85, while the
S&P 500
gave up 12.17 points, or 1.3%, to 907.36. The
Nasdaq
was off by 42.86, or 2.4%, at 1716.24.
After the close, the
Federal Reserve
released
of the stress tests, saying that after taking account of losses, revenue and reserve requirements, the banks needed to increase capital levels by $75 billion. The vastmajority of that needs to be in the form of Tier 1 common capital.
The four banks in need of the biggest buffer building were
Bank of America
(BAC) - Get Bank of America Corp Report
with $33.9 billion,
Wells Fargo
(WFC) - Get Wells Fargo & Company Report
with $13.7 billion,
GMAC
with $11.5 billion, and
Citigroup
(C) - Get Citigroup Inc. Report
with $5.5 billion.
Nine of the 19 banks needed no capital, however. Among them was
State Street
(STT) - Get State Street Corporation Report
.
"With the stress test completed, we are now in a position to consider repayment of the TARP preferred stock and warrants under the appropriate circumstances," the bank said in a statement.
Most of the banks released their own statements after the government's release.
"We are comfortable with our current capital position in the present economic environment," said Bank of America CEO Ken Lewis."The stress test asks what if the economy does much worse than most experts project. We are working on a plan to submit to the government for such a contingency, which is due by June 8. While it would have a number of components, we will not need any new government money."
As for Wells Fargo, it said in its release that, "The Company's own projection of its downside risk under the stress test scenario indicated sufficient Tier 1 common equity to meet this test, but the Federal Reserve has elected to apply its own more conservative revenue assumptions in the adverse case scenario and has asked Wells Fargo to increase Tier 1 common equity by $13.7 billion by November 9, 2009."
Wells Fargo has already announced it will offer $6 billion in stock, while Morgan Stanley said it plans to sell $2 billion to raise capital.
Alcoa
(AA) - Get Alcoa Corporation Report
and
Caterpillar
(CAT) - Get Caterpillar Inc. Report
were the worst components on the Dow, losing 6.4% and 5.1%.
Big pharma companies
Merck
(MRK) - Get Merck & Co., Inc. Report
,
Johnson & Johnson
,
(JNJ) - Get Johnson & Johnson Report
and
Pfizer
(PFE) - Get Pfizer Inc. Report
all closed higher.
The technology sector continued to weigh on the market, with
Cisco
(CSCO) - Get Cisco Systems, Inc. Report
shares down 3.4% a day after its earnings.
Sirius XM
(SIRI) - Get Sirius XM Holdings, Inc. Report
shares were lower by 18.1%, although that's just 8 cents, after the company
fell short
of expectations with its first-quarter figures. It did, however, raise full-year guidance.
Bank of America tacked on 6.2% ahead of stress tests results. But that wasn't representative of the financial sector as the KBW Bank Index lost 3.5% and the Financial Selects Sector SPDR, which tracks the financial stocks in the S&P 500, lost 2.9% ahead of the release.
Federal Reserve Chairman Ben Bernanke emphasized the importance of supervision of financial institutions at the Federal Reserve Bank of Chicago Conference on Bank Structure and Competition on Thursday.
"The events of the past two years have revealed weaknesses in both private-sector risk management and in the public sector's oversight of the financial system," said Bernanke in his prepared remarks. "The Federal Reserve has engaged in extensive introspection and review of the lessons of the crisis and is working diligently to implement what has been learned."
April retail numbers and more first-quarter earnings did offer some upside early on. Among them,
Wal-Mart
(WMT) - Get Walmart Inc. Report
reported better than expected
for April, and
Target
(TGT) - Get Target Corporation Report
said its first-quarter profit will be "well above" Wall Street's view.
On the downside, though,
Macy's
sales fell more than expected, and
J.C. Penney
(JCP) - Get J. C. Penney Company, Inc. Report
, although it forecast an unexpected first-quarter profit on stronger-than-expected April sales, said its May sales will lag April.
General Motors
(GM) - Get General Motors Company Report
topped Wall Street expectations with its
first-quarter results
but burned through $10.2 billion of cash in the first quarter.
In some of the more encouraging news of the day, the U.S. government reported that initial jobless claims fell to 605,000 last week, vs. expectations for 635,000, which was equal to the upwardly revised number of new claims the week prior.
Stocks advanced on Wednesday as ADP reported a far lower amount of job losses in the private sector in April than expected and as the capital shortfalls circulating in various reports ahead of the stress test results struck investors as low.
Stocks overseas were mixed. In Europe, the FTSE 100 in London was fractionally higher, while the Dax in Frankfurt lost 1.6%. In Asia, Japan's Nikkei and Hong Kong's Hang Seng gained 4.6% and 2.3%, respectively.
Longer-dated Treasuries were falling with the 10-year losing 1-03/32, yielding 3.31%, and the 30-year losing 2-24/32, to yield 4.27%.
The Treasury's $14 billion auction of 30-year bonds had mixed results. The demand was fairly normal, and the positives for the auction were the bid/cover ratio and the percentage of the auction that went to indirect bidders, wrote Tony Crescenzi, chief bond strategist for Miller Tabak and a
RealMoney.com
contributor.
"The big negative was the auction yield, which at 4.288% was 8.8 basis points higher than the yield at the 1 p.m. auction deadline. In other words, the auction 'tailed' by 8.8 basis points, which is well above average," he wrote.
The dollar was recently stronger vs. the yen and pound, but weaker against the euro.
As for commodities, crude oil rose 37 cents to settle at $56.71 a barrel, while gold rose $4.50 to $915 an ounce.