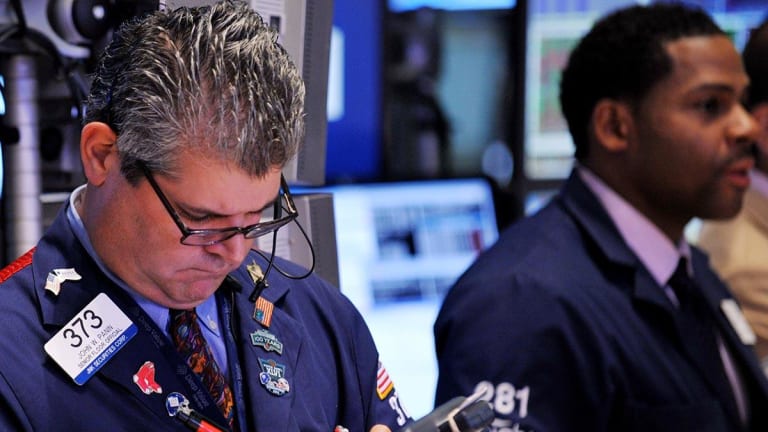 Stocks Retreat as Trump Rounds on China, Europe and the WTO in TV Interview
Global stocks retreated for a second consecutive session Friday as investors reacted to aggressive comments on trade and tariffs from President Donald Trump.
The Friday Market Minute
Global stocks retreat as Trump takes aim at China, Europe, NAFTA and the WTO in Bloomberg TV interview that rattles markets
China shares lead Asia lower amid trade war concerns even as August factory activity shows modest gains as export orders slow.
Europe opens weaker, with autos leading to the downside, after Trump raises the prospect of fresh tariffs and EU Commission President Juncker says the EU will hit back.
WTI holds above the $70 threshold, even as markets soften, as U.S. gas prices hit the highest level in four years heading into the Labor Day weekend.
Wall Street futures drift lower as global markets slide, with the Dow priced to fall 30 points at the opening bell.
Market Snapshot
Global stocks retreated for a second consecutive session Friday as investors reacted to aggressive comments on trade and tariffs from President Donald Trump and remain rattled by the ongoing slump in emerging market currencies as a strong U.S. dollar pressures the billions in debt coming due in the next two years.
In an interview Thursday with Bloomberg Television, Trump reiterated his threat to pull the U.S. out of the World Trade Organization, and said he was ready to slap his administration's planned tariffs on $200 billion worth of China made goods if officials in Beijing don't accelerate concessions in the stalled trade talks. He also dismissed a reported offer from the European Union to cut tariffs on U.S. auto imports to zero, saying the bloc was "almost as bad as China, just smaller."
The comprehensive list of complaints comes just hours ahead of a self-imposed deadline to wrap up three-way trade talks with Canada and Mexico as part of an overhaul of the current NAFTA arrangement that underpins more than $1 trillion worth of transactions between the three countries each year.
"We are a much stronger country," Trump told Bloomberg TV. "Nobody's waiting us out. Our country is stronger than it's ever been financially."
The comments unsettled investors in Asia, where markets were already sensitive to the recent declines in emerging market currencies, including the Argentine peso, which lost nearly a fifth of its value on foreign exchange markets yesterday before the central bank stepped in with a move to lift interest rates to an eye-wattering 60%.
China shares led the declines across Asia, with the CSI 300 and the Shanghai Composite both falling 0.5% at the close of trading despite a stronger-than-expected reading for manufacturing activity over the month of August. Hong Kong's Hang Seng index fell 1.08% to close at 27,858.64 points.
The moves pulled the MSCI Asia ex-Japan index 0.72% into the final hours of trading while Japan's Nikkei 225 closed lower for the first time in nine sessions after the biggest rise in the yen for at least six weeks.
European stocks were also weaker at the start of trading, with basic resource and auto stocks leading the declines amid concerns for the state of global trade and Trump's comments on the auto sector, which were matched by a threat from European Commission President Jean-Claude Juncker, who told Germany's ZDF media outlet that the EU would reciprocate on tariffs if the U.S. broke its July agreement with the bloc.
The Stoxx Europe 600 index was marked 0.6% lower by mid-day in Frankfurt, paced to the downside by a 0.7% fall for the DAX performance index in Germany and a 1.1% decline for the CAC-40 in France. Britain's FTSE 100  was marked 0.36% lower by late morning in London.
Whitbread Plc shares were the standout gainer in Europe, rising 17.5% to the highest level in three years after the hotel and pub chain group agreed to sell its Costa Coffee chain -- the world's second-largest behind Starbucks (SBUX) - Get Report -- to Coca Cola (KO) - Get Report for around $5.1 billion.
Early indications from U.S. equity futures suggest another day in the red for Wall Street, with contracts tied to the Dow Jones Industrial Average I:DJI marked 40 points lower from last night's close and those linked to the S&P 500 I:GSPC suggesting a 5 point pullback for the broader benchmark.
Away from equities, the U.S. dollar index, which tracks the greenback against a basket of six global currencies, was marked 0.07% higher from Thursday's close at 94.80 as investors favored it over the euro after softer-than-expected inflation data out of the Eurozone for the month of August.
Turkey's lira, which has fallen more than 10% so far this week amid increasing concerns that its banking sector is dangerously exposed to dollar-denominated debts that are growing increasingly expensive to service, stablised somewhat in early Friday trading but was still marked at 6.74 against the dollar.
Global oil price were also softer in the first minutes of European trading, as investors appeared more concerned over the state of global demand, and the potential for a damaging trade war, than they were over signs that supply from OPEC members Iran and Venezuela would be disrupted by U.S. sanctions and ongoing political and social turmoil.
Brent crude contracts for November delivery were seen 19 cents lower from their Thursday close in New York and changing hands at $77.56 per barrel in early European trading while WTI contracts for October delivery, which are more tightly linked to U.S. gas prices, were marked 10 cents higher at $70.15 after closing above the $70 barrier for the first time since July.