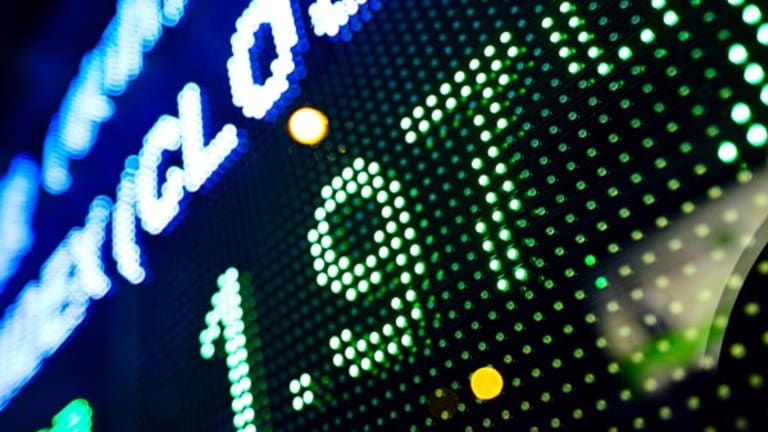 Stocks Retreat Ahead of Bailout Vote
Wall Street racks up heavy losses on dismal unemployment and manufacturing data and as investors wait for the House to vote again on a bill to rescue the financial sector. Frank Curzio discusses the day in The Real Story (above).
Updated from 4:14 p.m. EDT
Stocks in the U.S. finished with steep losses Thursday as weak economic data, new signs of a lending crunch and uncertainty about the upcoming House of Representatives' vote on the
plan for financial firms kept buyers away from the market.
The
Dow Jones Industrial Average
dropped 348.22 points, or 3.2%, to 10,482.85, and the
S&P 500
lost 46.78 points, or 4%, to 1114.28. The
Nasdaq
slipped 92.68 points, or 4.5%, to 1976.72.
After the close of Wednesday's trading, the Senate passed the bailout bill with a 74-25 vote. The House of Representatives had rejected an earlier version of the proposal on Monday, and the
responded with one of its worst performances. Among other revisions, the bill passed by the Senate included $110 billion in tax incentives aimed at fostering economic growth.
The House is expected to vote on the revised package Friday.
"I think, honestly, the Senate was kind of a foregone conclusion," said Michael Church, portfolio manager at Church Capital Management. He said that the real hurdle for the rescue package has been in the House, where local interests are holding lawmakers back from passing the bill.
"You look at some of the stuff that got thrown on that thing, you have to shake your head and say that some of these guys are being bought," he said. Church also said that sentiment is so awful that a short-term surprise rally isn't out of the question.
Chris Johnson, CEO and chief investment officer at Johnson Research, said he's confident the bill will pass. He said it appears House lawmakers revised their opinion of the bill after the stock market dropped on Monday. The bill is also "aimed more at helping the common person, at least from a PR perspective," he said.
In an attempt at offering additional support to the stock market, the
Securities and Exchange Commission
extended through Oct. 17 a ban on short sales of financial stocks. The original ban had been slated to expire today.
Meanwhile, already-tight debt markets were becoming even more restrictive. Three-month Libor, a measure of the interest rates banks charge one another for short-term loans, reached 4.21%, a level not seen since Jan. 11.
The commercial-paper market was also reflecting investor skittishness. The
Federal Reserve
reported that commercial paper outstanding dropped by $94.9 billion in a week to $1.607 trillion, as borrowers had trouble finding buyers for the securities. This week marks the third straight week of declines in commercial paper, a type of short-term debt, and takes the total decrease to $208 billion.
The day's economic data offered further reason for pessimism. The Labor Department said that initial jobless claims for the week ended Sept. 27 rose by 1,000 to 497,000, the highest unemployment rate since 2001.
The Census Bureau reported that factory orders declined 4% in August, a sharp dropoff from a 0.7% increase in July and a weaker performance than the 2.9% decline anticipated by economists.
On the corporate side, Swiss bank
UBS
(UBS) - Get Report
announced it would net a small third-quarter profit. Such an achievement would break a four-quarter losing streak for
. Shares climbed 6.1% to $20.10.
Bank of America
(BAC) - Get Report
, which agreed on Sept. 14 to buy
Merrill Lynch
(MER)
, said Merrill Chairman and CEO
John Thain
will join BofA as president of global banking, securities and wealth management in the combined firm. The current president of global corporate and investment banking, Brian Moynihan, will remain at BofA in a newly created position, the company said.
Bank of America shares lost 4.6% to $36.37, and Merrill gained 2.7% to $27.43.
Insurance companies had a rough time of it after Senate Majority Leader Harry Reid said an insurance firm, which he declined to name, was close to bankruptcy. Shares of
MetLife
(MET) - Get Report
and
Hartford Financial Services
(HIG) - Get Report
sold off sharply following the senator's comments. His remarks were later retracted. Still, MetLife dropped 15% to $40.96, and Hartford shed 32% to $25.91.
Elsewhere, the
Financial Times
reported that private equity firm
Kohlberg Kravis Roberts
, together with French electric company
EDF
, were working on a
for
Constellation Energy
(CEG)
. Constellation gained 15% to $27.23.
A unit of Warren Buffett's
Berkshire Hathaway
agreed to buy Constellation last month for about $4.7 billion.
Industrial conglomerate
General Electric
(GE) - Get Report
was one of the drags on the Dow, falling 9.7% after announcing a $12.2 billion common-stock offering priced at $22.25 a share.
(F) - Get Report
also had a tough day after CEO Alan Mulally said the automaking industry would continue to face a tough global market until 2010. However, he said his company would not be filling for bankruptcy. The stock slipped 4.4% to $4.35.
Several companies reported earnings between Wednesday's and Thursday's sessions. Agricultural products maker
(MOS) - Get Report
said it made a profit that surged to $2.65 a share from 69 cents year over year but nonetheless missed analyst estimates. Mosaic shares plummeted 41% to $39.65.
The wider agriculture space was also hurting following a Merrill Lynch downgrade of fertilizer companies.
Potash
(POT)
slumped 27% to $93.51, and
Agrium
(AGU)
gave back 24% to $41.61.
Back in earnings, hotel operator
Marriott
(MAR) - Get Report
reported declining profits and warned that 2009 would be a tough year, prompting a 5.3% selloff to $23.74.
Beverage concern
Constellation Brands
(STZ) - Get Report
swung to a quarterly loss due to restructuring charges, and shares of the company dropped 8.8% to $19.73.
In commodities, crude oil was down $4.56 to settle at $93.97. Gold lost $43 to finish at $844.30.
Longer-term U.S. Treasury securities were higher in price. The 10-year was up 28/32 to yield 3.63%, and the 30-year was gaining a full point to yield 4.16%. The dollar was stronger against the euro and pound but falling vs. the yen.
Overseas, European exchanges declined, while
. The FTSE in London and the DAX in Frankfurt traded lower. The Hang Seng in Hong Kong finished on the upside, while Japan's Nikkei ended its session with losses.