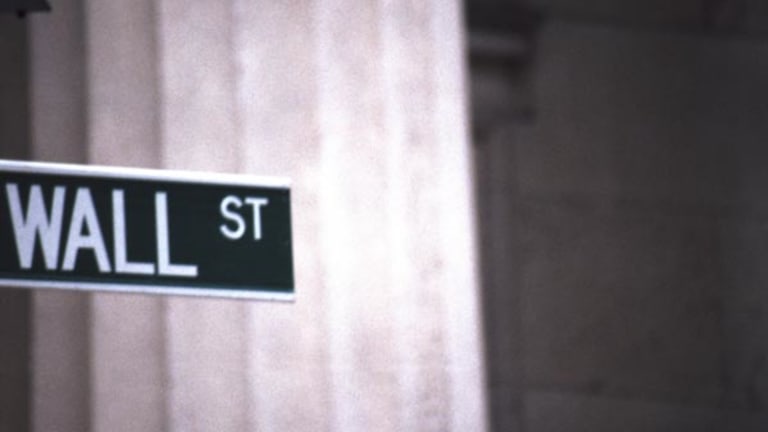 Stocks Rest After Big Rally
Options expirations and more hawkish Fed talk keep bulls from continuing the party.
Updated from 4:08 p.m. EDT
Tech shares were the weakest part of a sluggish market Friday as a powerful two-day rally ran up against continuing hawkish talk from the
Federal Reserve
and the expiration of a range of option contracts.
The
Nasdaq Composite
fell 14.20 points, or 0.66%, to 2129.95, and the
S&P 500
was down 4.62 points, or 0.37%, to 1251.54. The
Dow Jones Industrial Average
slipped 0.64 point, or 0.01%, to 11,014.55.
For the week, the Dow added 122 points, or 1.1%, and the S&P was unchanged. The Nasdaq gave up 5 points, or 0.2%, over the five sessions.
The Nasdaq was pressured by losses of 3.1% or more in
Apple Computer
(AAPL) - Get Apple Inc. Report
,
Dell
(DELL) - Get Dell Technologies Inc. Class C Report
, and
Applied Materials
(AMAT) - Get Applied Materials Inc. Report
.
"Today was a digestion of the last two days' action," said Robert Pavlik, chief investment officer with Oaktree Asset Management. "It was a slow summer Friday, so it's tough to take anything away from today's action. It was a net positive, even though we had a weaker day, because we didn't give much of the gains back. Next week we should get more evidence to give us a near-term direction."
About 2.01 billion shares changed hands on the
New York Stock Exchange
, and volume on the Nasdaq was 2.46 billion shares. Decliners beat advancers 2 to 1.
The 10-year Treasury bond was down 7/32 in price to yield 5.13%, and the dollar drifted against the yen and euro.
Markets rallied Thursday after Fed Chairman Ben Bernanke played down the degree to which energy prices have seeped into the broader economy. Bernanke also said measures of inflation expectations have "fallen back somewhat in the past month," helping to spark a 198-point surge in the Dow, a 26-point rise in the S&P 500 and a 58-point rally in the Nasdaq.
"After a good snapback rally, we're now left with deciding whether a bottom is in or if we'll retest lows again," said Paul Nolte, director of investments with Hinsdale Associates. "There isn't much between now and the Fed meeting at the end of the month. We'll watch for comments leading up to the meeting, but it'll be the implication of the rate hikes that will determine where we'll go."
Check out Jim Cramer's video report on how you can play this market even if you missed Thursday's big rally.
Investors weren't able to revel too long in the recent run-up, as they had to contend with St. Louis Fed President William Poole, an unexpected rise in consumer sentiment and quadruple witching -- the simultaneous expiration of stock index futures, stock index options, stock options and single stock futures.
Poole, a nonvoting member of the Federal Open Market Committee, addressed rising energy prices and inflationary concerns before a South Korean banking conference Friday. He said that the U.S. may "face more inflation pressure than currently shows up in formal data."
"The extremely hawkish comments by many Fed officials over the last two weeks had investors worried about how hard a line Bernanke would draw on inflation," said Marc Pado, U.S. market strategist with Cantor Fitzgerald. "Against that backdrop, Ben came off more like 'Gentle Ben.' His tone was rather conciliatory."
Limited support came from the University of Michigan consumer sentiment index, where the reading rose to 82.4 in June. Economists expected a dip to 79.0 from 79.1 in May.
Also on the economic front, the Commerce Department said the U.S. current account deficit narrowed to $208.67 billion in the first quarter from $223.1 billion in the fourth quarter. Economists had expected the deficit to fall to $221 billion.
Lehman Brothers said it now expects the fed funds rate to hit 5.75% by the Fed's Oct. 24 meeting. Currently, the fed funds rate sits at 5%, though it's widely expected that the Fed will raise the rate to 5.25% at the end of the month. Lehman believes core inflation rates will reach 2.7% by next year, topping the central bank's comfort zone.
The prior session's strength thrust the Dow and S&P 500 back into positive territory for the year. For the Nasdaq, which through Tuesday had fallen in eight consecutive sessions, two days of gains have lifted the index by a combined 3.4%.
"As good as the action has been over the past two days, rallying back up under 11,000 was the easy part," said Pado. "That means we could see more upside, but the going should get a little rougher. Investors might be looking to buy on some weakness."
After the bell Thursday,
Microsoft
(MSFT) - Get Microsoft Corporation Report
disclosed that Bill Gates will leave day-to-day involvement with the company in 2008 and transfer his current role as chief software architect to Ray Ozzie.
Aside from laying out Gates' gradual transition into full-time philanthropy, the announcement was significant in that it left Steve Ballmer's role as CEO intact, something many investors oppose. Still, Microsoft was higher by 3 cents, or 0.1%, to close at $22.10.
Elsewhere,
Oracle
(ORCL) - Get Oracle Corporation Report
said its May quarter is shaping up well. The software company expects to report adjusted earnings of 29 cents a share for the period, above its previous forecast of 26 cents to 28 cents, and said revenue grew by 25% to $4.85 billion, far surpassing its growth target of 13% to 17%. Shares rose 49 cents, or 3.6% to $14.19.
Adobe Systems
(ADBE) - Get Adobe Inc. Report
posted a second-quarter profit of $123.1 million, or 20 cents a share, down 18% from a year ago because of the acquisition of Macromedia. Revenue rose to $635.5 million from $496 million, the company said after the close. The Thomson First Call consensus was for EPS of 30 cents on revenue of $644.9 million. However, shares added 16 cents, or 0.6%, to finish at $29.12.
Crude rose as efforts to reach a diplomatic solution to the impasse around Iran's nuclear research program made halting progress. The U.S. delegate to the International Atomic Energy Agency said late Thursday that Iran would face U.N. sanctions if it didn't stop enriching uranium. July crude finished up 38 cents to $69.88 a barrel.
Gold rose $11.40 to $581.70 an ounce, silver closed up 16 cents to $10.13 an ounce, and copper added 7.7 cents to $3.29 a pound.
Most mining and resource stocks finished the session lower despite rising precious metal prices.
EuroZinc Mining
(EZM) - Get WisdomTree U.S. MidCap Fund Report
fell 3.3%,
Glamis Gold
(GLG) - Get TD Holdings Inc. Report
slid 3.2%,
Freeport McMoRan
(FCX) - Get Freeport-McMoRan Inc. Report
lost 1.5%,
Alcoa
(AA) - Get Alcoa Corporation Report
closed down 0.6%.
Goldcorp
(GG)
, meanwhile, rose 1.4%.
By sector, the Philadelphia Semiconductor Sector index ended down 0.9%, the Philadelphia Housing Sector index was off 0.9%, the Nasdaq Financial index lost 0.8%, and the Amex Oil index fell 0.6%.
Among rating moves, HSBC Securities upgraded
Intel
(INTC) - Get Intel Corporation Report
to overweight from neutral, assigning a $20 stock price target, while UBS upped its rating for
PepsiCo
(PEP) - Get PepsiCo Inc. Report
to buy from neutral.
Intel rose 18 cents, or 1%, to $18.30, and Pepsi gained 62 cents, or 1.1%, to close at $59.70.
Overseas markets were mixed Friday following New York's big session. London's FTSE 100 lost 0.4% to 5597, and Germany's Xetra DAX fell 0.9% to 5376. In Asia, Japan's Nikkei surged 2.8% overnight to 14,879, and Hong Kong's Hang Seng jumped 2.6% to 15,843.