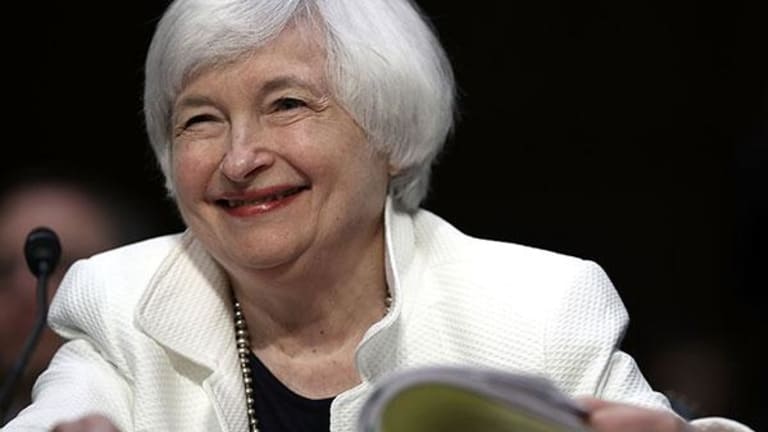 Dow Trades Positive After Fed Trumpets Economic Improvement
The Dow Jones Industrial Average holds slight gains by late afternoon Wednesday after the Federal Reserve trumpets solid U.S. economic improvement.
The Dow Jones Industrial Average held slight gains by late afternoon Wednesday after the Federal Reserve trumpeted solid U.S. economic improvement. 
The S&P 500 remained 0.05% lower, the Dow added 0.15%, and the Nasdaq rose 0.53%.
The Fed opted to leave rates unchanged at its July meeting. The vote to hold rates as is was near-unanimous, save for the sole vote from Kansas City Fed President Esther George who voted to raise rates.
In a statement following the conclusion of its two-day meeting, the Fed touted improvements to the economy, a signal many interpreted as openness to a possible move on rates in September. 
"Near-term risks to the economic outlook have diminished," the central bank said in its statement. 
The likelihood of a move on interest rates in July was low heading into the meeting. A rate hike in July had only a 3% probability, according to CME Group Fed funds futures. "Information received since... June indicates that the labor market strengthened and that economic activity has been expanding at a moderate rate."
Apple (AAPL) - Get Report reported a 15% drop in revenue and 23% decline in per-share earnings in its second quarter as sales of iPhones continued to decline for the second quarter in a row. The number of iPhones sold dropped 15% from the year-ago quarter, but exceeded estimates. The tech giant shocked markets in its previous March-ended quarter after reporting a drop in overall company sales for the first time in 13 years and a fall in iPhone sales for the first time ever.
Apple's services segment, which includes iTunes, Apple Music, Apple Pay, was a bright spot with revenue rising 19% to $6 billion.
"We are encouraged by what has the makings of momentum in high-profit, high-growth and highly predictable recurring revenue streams, most prominently the company's Services business, which includes iCloud, data usage, App Store (and associated licensing/royalties), along with Apple Music, Apple Pay and Apple Care, said Jim Cramer, TheStreet's founder and manager of the Action Alerts PLUS portfolio, and AAPL research director Jack Mohr. The Action Alerts PLUS portfolio owns Apple.
Apple earned $1.42 a share in its third quarter, 4 cents higher than expected, while revenue of $42.4 billion cleared estimates by $310 million. Shipments of iPhone units reached 40.399 million compared to forecasts of 40 million. iPad shipments also came in stronger than expected.
Apple shares added 7.2% on Wednesday.
Coca-Cola (KO) - Get Report slipped 3%, weighing on the S&P 500, as currency fluctuations impacted its top-line over the second quarter. The beverage industry leader reported a 5% decline in sales to $11.54 billion, $100 million short of estimates. Currency exchange reduced sales by 3%. Organic revenue, excluding the impact of forex, rose 3% over the quarter.
Twitter (TWTR) - Get Report sank 14% after reporting disappointing second-quarter sales and a softer third-quarter outlook. The social network reported a nearly 20% increase in revenue to $601.96 million over the quarter, coming in slightly below expectations. The company said it expects third-quarter revenue no more than $610 million, well below expectations of $678 million.
"We believe the company is well on its way to spiraling out of control, and view its inability to engage users, monetize content or suppress executive turnover as reasons to avoid an investment in the name at all costs," said Cramer and Mohr. Twitter shares represent less than 0.5% of the Action Alerts PLUS portfolio.
Crude oil tumbled after an unexpected rise in weekly inventories. The number of barrels of crude in U.S. stocks rose by 1.7 million, according to the Energy Information Administration. A separate read from the American Petroleum Institute overnight had showed a decline of 827,000 barrels.
West Texas Intermediate was down 2.3% to $41.92 a barrel on Wednesday, its lowest settlement since mid-April.
Pending home sales rose in June, another sign the housing sector is in healthy shape, but came in below estimates. Home sales in which a contract has been signed but the deal not yet closed rose to 111 from 110.8 in May, according to the National Association of Realtors. The 0.2% increase was lower than an expected 1.3% jump.
U.S. durable goods orders fell 4% in June, the largest decline in two years. Excluding transportation, orders for long-lasting U.S. goods declined 0.5%. Core durable orders crept 0.2% higher last month.