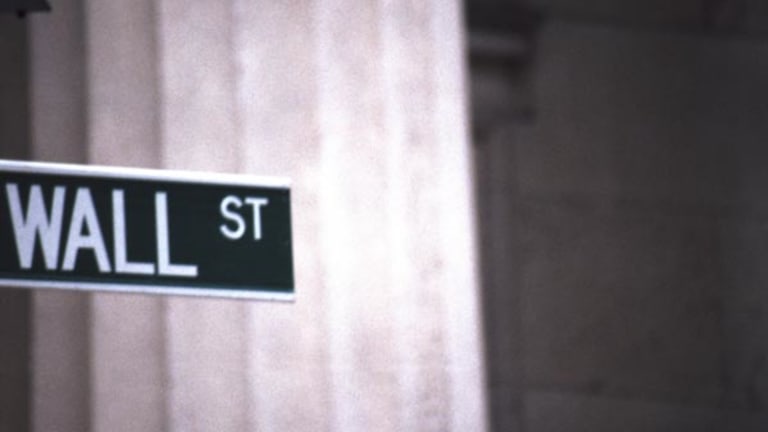 Stocks Recover
Good economic news offsets worries about higher oil prices as investors erase modest losses.
Good economic news offsets worries about higher oil prices as investors erase modest losses.
Updated from 4:06 p.m. EDT
Stocks clawed their way into positive territory in the final hour of trading Tuesday, with support from some positive economic news, after reports of terrorism in the Middle East and soaring oil prices provided a tenuous mood for trading throughout most of the day.
The
Dow Jones Industrial Average
closed with a gain of 14.20, or 0.14%, to 10,202.65; the
S&P 500
added 0.56 points, or 0.05%, to 1121.24; and the
Nasdaq Composite
was up 4.03 points, or 0.2%, to 1990.77. The 10-year Treasury note was down 15/32 in price to yield 4.71%, while the dollar was higher against the yen but lower vs. the euro.
In light trading, volume on the
New York Stock Exchange
was just over 1.2 billion shares with advancers holding a slight majority over decliners. On the Nasdaq, over 1.4 billion shares changed hands, and advancers outnumbered decliners by about 5 to 4.
"We can take heart that this market is handling the sharp jump in oil prices so well," said Peter Cardillo, chief market analyst with S.W. Bach & Co. "This bounce is a sign that the market really wants to move higher here on fundamentals and economics, but the fear factor is really holding us back."
Lending to positive fundamentals, the government reported that construction spending jumped 1.3% in April, compared to an upwardly revised 2.4% spike in March. Economists had expected only a 0.4% increase. Separately, the Institute for Supply Management said its manufacturing index rose unexpectedly in May to 62.8 from 62.4 in April. Wall Street's consensus estimates called for a decline.
Meanwhile, Nymex crude settled up $2.45, or 6.1%, to a new all-time high of $42.33 a barrel. The primary catalyst was concern about the security of Middle East supply lines in the wake of a weekend raid that left 22 people dead in the Saudi oil city of Khobar. Adding to the jitters was a car-bomb explosion that killed more than 10 people in Baghdad Tuesday.
Saudi Arabia's oil minister, Ali Naimi, responded to the attacks by assuring the markets that the kingdom's oil supply was unaffected, He also said OPEC would do "its best" to ensure that crude-oil supplies meet global demand going forward. At a meeting in Beirut on Thursday, OPEC representatives will debate the Saudi proposal to raise its output ceiling of 23.5 million barrels a day by 2 million barrels in an effort to bring down prices.
The Iraqi bombing came as the country's governing council dissolved itself after appointing Ghazi Mashal Ajil al-Yawer, a Sunni Muslim, to be the country's new president. The appointment followed a demurral from former foreign minister Adnan Pachuchi, the candidate backed by Washington. It also breaks a logjam over who would get the mainly ceremonial post about one month ahead of the turnover of power June 30. President Bush praised the decision at a White House press conference.
"Terrorism is the big worry for the market right now," said John Carey, a portfolio manager at Pioneer Investments. "This is the worst kind of uncertainty for the market because there's no way to model it, if you will. It's quite an imponderable. You just don't know when and where it could happen, what the repercussions could be and how to factor it in."
"Otherwise, the economy is doing well and earnings are growing," Carey added. "Growth will slow down later this year, but basically the fundamentals look good, and I think there's been more panic about rising interest rates than is really justified."
Some analysts were encouraged by the resiliency of the market in the wake of such a tumultuous weekend. "I think geopolitical worries, rising oil prices and higher interest rate concerns have gotten priced into the markets to some extent," said Larry Peruzzi, senior equity trader at Boston Company Asset Management. "We've been dealing with all this for close to three months now, and it's reflected in where we are in the market.
"I think people are looking ahead and trying to round out their portfolios before the OPEC meeting this week and the employment data coming out Friday," Peruzzi added.
The government will release its all-important employment report for the month of May on Friday. Confirm payrolls are expected to have grown by 215,000 , down from the 288,000 reported in April. Meanwhile, the unemployment rate is expected to stay flat at 5.6%.
In corporate news,
Viacom
(VIAB) - Get Report
announced that Mel Karmazin has unexpectedly resigned as the media empire's president and chief operating officer. Karmazin ran CBS, which Viacom bought for about $15 billion in 2001. The company said its board named MTV boss Tom Freston and CBS leader Leslie Moonves to share the jobs held by Karmazin, effective immediately. Its shares closed down 40 cents, or 1.1%, to $36.49.
General Electric
(GE) - Get Report
acquired
BHA Group Holdings
(BHAG)
for about $260 million, valuing the shares of the provider of air quality control products and services at $38 each. BHA's shares closed up $5.13, or 15.7%, to $37.72, while GE lost 8 cents, or 0.3%, to $31.04.
Also, Prudential downgraded shares of
Oracle
(ORCL) - Get Report
, citing concerns about the database software giant's revenue potential. Its shares closed down 28 cents, or 2.5%, to $11.12.
Overseas markets were mostly lower, with London's FTSE closing down 0.2% to 4423 and Germany's Xetra DAX losing 1.5% to 3864. In Asia, Japan's Nikkei added 0.5% to 11,297, while Hong Kong's Hang Seng lost 0.8% to 12,106.
The schedule for Wednesday is light, with the Mortgage Bankers Association set to release results from its mortgage applications survey for the week ended May 28, at 7 a.m. EDT. No major earnings announcements or economic releases are expected.