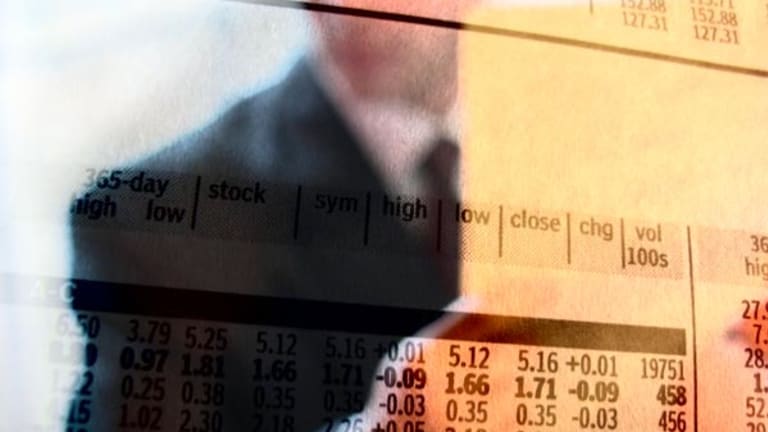 Stocks Rebound to Close Higher
Strength in technology and banking shares lift the averages.
Updated from 4:43 p.m. EST
Stocks closed higher Thursday as technology and banking shares provided the leadership and allowed the major averages to regain some of the ground they lost in the prior session.
The
Dow Jones Industrial Average gained 137.77 points, or 1.4%, to 9850.04, and the
Nasdaq climbed 41.38 points, or 2.1%, to 1985.82. The
S&P 500 added 11.31 points, or 1%, to 1138.88. On Wednesday, the Dow dropped 2.1%, and the Nasdaq fell 2.8%.
Housing starts fell 3.4% to a seasonally adjusted annual rate of 1.570 million in December, slightly weaker than the consensus estimate of 1.610 million. Building permits rose 3.6% to 1.653 million, above the 1.560 million forecast. Separately, the Labor Department said
initial jobless claims fell in the week ended Jan. 12 to 384,000 from 394,000 the previous week.
Yahoo!
(YHOO)
reported earnings before items of 3 cents a share in the fourth quarter, topping Wall Street's estimates by 2 cents, but down from its year-ago profit of 13 cents. Revenue came in at $189 million, beating the $171 million analysts were expecting. Shares of the Internet portal rose $2.25, or 12.6%, to $20.12.
General Electric
(GE) - Get General Electric Company Report
met fourth-quarter earnings expectations with a profit of 39 cents a share. The company said it remains well-positioned to meet its forecast of 17% to 18% growth in 2002. GE shares added $1.08, or 2.9%, to $38.75.
Citigroup
(C) - Get Citigroup Inc. Report
said earnings for the fourth quarter, excluding one-time charges, came in at 74 cents a share, exceeding analysts' forecasts by a penny. Shares of the financial services giant gained $1.04, or 2.1%, to $49.90.
According to televised reports,
Kmart's
(KM)
management and its board are divided on the issue of whether the discount retailer should file for bankruptcy protection under Chapter 11.
Ford
(F) - Get Ford Motor Company Report
lost $5.1 billion in the fourth quarter on a huge charge to restructure its auto operations. Excluding the charge, the world's second-largest automaker reported a fourth-quarter loss of 48 cents a share, matching estimates. The stock shed 25 cents, or 1.7%, to $14.70.
Symantec
(SYMC) - Get Symantec Corporation Report
beat consensus earnings estimates on record shipments to customers, posting a third-quarter profit of $59.4 million, or 78 cents a share, up from $40.4 million, or 52 cents a share, a year ago. Shares of the computer security software maker jumped $8.40, or 12.6%, to $75.35.
After the close Wednesday,
Apple
(AAPL) - Get Apple Inc. Report
posted first-quarter earnings of 11 cents a share, beating analysts' forecasts by a penny. But the computer maker managed to take in only $1.38 billion in revenue, compared with the consensus estimates of $1.43 billion in revenue. The company said it expects $1.5 billion in second-quarter revenue. Apple's shares traded up $1.70, or 8.2%, to $22.48.
Redback Networks
(RBAK)
dropped almost 20% to $4.72 a day after the company posted a fourth-quarter loss, citing weak demand for telecommunications networking equipment. The company said it had an operating loss of $29.8 million, or 20 cents a share, for the quarter, compared with profits of $7.84 million, or 5 cents a share, in the year-ago period.
Advanced Micro Devices
(AMD) - Get Advanced Micro Devices, Inc. Report
posted a fourth-quarter loss of 5 cents a share, narrower than the consensus 18-cent loss estimate. Revenue dropped 19% to $951.9 million but came in ahead of the $860.2 million analysts had forecast. The company also said it will record revenue of about $900 million in the first quarter, which would beat the current forecast of $834 million. AMD's shares were off 63 cents to $17.28.
Gap
said Wednesday it will separate its international and domestic operations at its flagship retail outfit in an attempt to cope with slumping sales. The retailer's shares tacked on 4 cents to $14.35.
Elsewhere,
Cubist Pharmaceuticals
(CBST)
saw its shares plunge after announcing that its Cidecin drug failed to prove effective in a key Phase III clinical trial. The company warned that the setback could suspend its planned marketing application for the drug. The stock fell 47% to $16.85.
Foreign markets were mostly higher with London's FTSE 100 gained 0.2% to 5138 and Germany's Xetra Dax up 3% to 5133. In Asia, Japan's Nikkei closed down 0.5% to 10,128, while Hong Kong's Hang Seng rose 0.5% to 11,014.
Treasuries were lower. Around 4 p.m. EST, the 10-year Treasury note was down 24/32 to 100 15/32, yielding 4.94%.