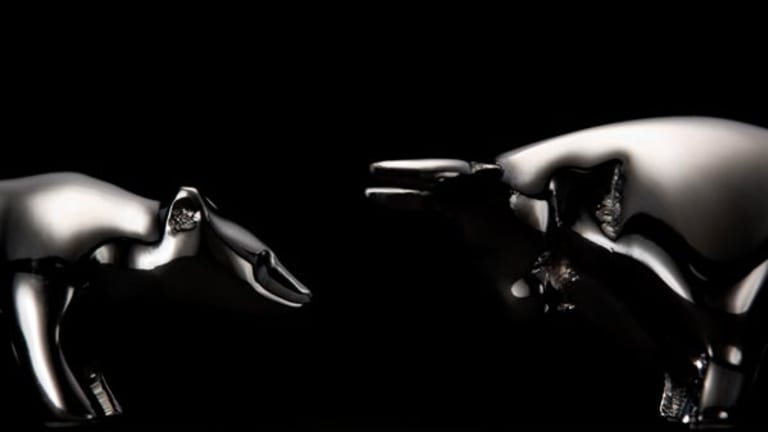 Stocks Rebound as Greece Fears Ebb
Stocks turned positive Thursday after President Obama pushed for financial reform in a speech in New York.
NEW YORK (
) -- Stocks rebounded late Thursday and finished in positive territory after persistent fears over Greek debt levels waned in the afternoon. Investors focused on a stream of underlying fundamentals showing lower jobless claims, more strong earnings reports and better existing-home sales.
President Obama delivered a speech in New York calling for financial reform.
The
Dow Jones Industrial Average
closed 9 points higher, or 0.1%, to 11,134. The
S&P 500
improved 3 points, or 0.2%, to 1209, while the
Nasdaq
traded higher by 15 points, or 0.6%, at 2519.
Concerns about Greece's high debt levels pressured global markets in the morning as Moody's docked the country's debt rating down by one notch to A3 and indicated that more downgrades could be on the way. But one analyst says recent upbeat earnings and economic news have helped keep the session's morning weakness from taking hold.
"We trade off in the morning on Armageddon. Then, of course, as the day goes on,
Starbucks'
(SBUX) - Get Starbucks Corporation Report
strong earnings is still in the back of people's minds. People realize that banks are still making money hand over foot. There's just too much good information out there keeping the Armageddon scenario from taking hold," said Jim Paulsen, chief investment strategist at Wells Capital Management. "The fundamentals are winning out. They're running over our worst fears."
Also in the afternoon,
President Obama pushed for stricter financial regulations
aimed at limiting the size and risky activities of banks, increasing transparency, improving consumer protection and giving a stronger voice to shareholders.
Speaking at Cooper Union, a couple miles north of New York's Financial District, the president emphasized that "there is no dividing line between Main Street and Wall Street." Obama said a free market system only works "when there are basic safeguards that prevent abuse, that check excess, that ensure that it is more profitable to play by the rules than to game the system. And that is what there reforms are designed to achieve."
The speech comes on the heels of a Senate panel's move to make
derivatives trading more transparent and less risky by establishing minimum levels of capital to protect against market swings and by requiring that derivatives be traded over exchanges and that they be settled in a centralized system.
President Barack Obama speaks about financial reform at Cooper Union in New York, April 22, 2010.
Overseas, Hong Kong's Hang Seng fell 0.3% while Japan's Nikkei lost 1.3%. The FTSE in London shed 1%, as did the DAX in Frankfurt.
>>The Economy
>>Company News
>>Commodities and the Dollar
>>Treasuries
The Economy
Initial weekly
jobless claims fell to 456,000 from 480,000 the previous week. Economists had been expecting 450,000 claims.
March's producer price index grew by 0.7%, which slightly exceeded economists' expectations for growth of 0.5%. Excluding volatile food and energy prices, core producer prices rose 0.1%, as expected.
The National Association of Realtors said
existing-home sales jumped 6.8% in March to 5.35 million, from 5.01 million in February. Economists had been expecting existing-home sales of 5.28 million last month.
The Energy Information Administration reported a lower-than-expected injection to natural gas storage in the week ended April 16. The Energy Department said storage levels rose by 73 billion cubic feet, which was lighter than the increase of 76 billion to 80 billion cubic feet that analysts polled by Platts had been expecting.
>>Overview
>>Company News
>>Commodities and the Dollar
>>Treasuries
Company News
After the closing bell,
Amazon.com
(AMZN) - Get Amazon.com, Inc. Report
beat first-quarter forecasts as sales rose 46%. Still, shares lost ground in extended hours trading after improving 2.8% during the regular session.
Joining the Kindle manufacturer in reporting late, fellow Nasdaq bellwether
Microsoft
(MSFT) - Get Microsoft Corporation Report
said it bested Wall Street earnings forecasts by 3 cents at 45 cents a share, as the company said its record third-quarter revenue was helped by a 28% rise in Windows sales since the year-earlier period.
Also, surging first-quarter cardmember spending helped power profit for Dow component
American Express
(AXP) - Get American Express Company Report
, which earned 73 cents a share vs. a consensus estimate calling for 64 cents a share, according to Briefing.com. Shares, which closed 1.7% higher at $46.77 in the afternoon, were improving another 1.5% in after hours trading.
Late afternoon earnings news from
Capital One Financial
(COF) - Get Capital One Financial Corporation Report
sent shares surging over 8% after the close, following the company's news that loan losses declined abruptly in the
most recently completed quarter.
Shares for Starbucks advanced 7.3% today after the coffee retailer bested second-quarter earnings forecasts late Wednesday on an escalating customer base yearning for its caffeinated brews.
Credit Suisse
(CS) - Get Credit Suisse Group AG Report
roughly met Wall Street's expectations with a first-quarter profit of 2.1 billion Swiss francs ($1.97 billion). It traded 4.1% lower.
Verizon
(VZ) - Get Verizon Communications Inc. Report
met analysts' projections for a first-quarter profit of 56 cents a share, but shares weakened by 1%, to $29.28.
PepsiCo
(PEP) - Get PepsiCo, Inc. Report
surpassed Wall Street's profit expectations although first-quarter sales of $9.37 billion fell short of the $9.57 billion that analysts had been expecting. Its stock shed 1.9%.
Shares of
eBay
lost 5.7% a day after it issued second-quarter earnings guidance that missed analysts' projections.
Earnings season is well under way on Wall Street.
BB&T
(BBT) - Get BB&T Corporation Report
,
AmerisourceBergen
(ABC) - Get AmerisourceBergen Corporation Report
and
Raytheon
(RTN) - Get Raytheon Company Report
were among companies posting better-than-expected results while
Continental Air
(CAL) - Get Caleres, Inc. Report
,
Kimberly-Clark
(KMB) - Get Kimberly-Clark Corporation Report
and
Philip Morris International
(PM) - Get Philip Morris International Inc. Report
were among companies reporting results that missed estimates.
Markets also reacted to news of several deals.
CenturyTel
(CTL) - Get CenturyLink, Inc. Report
agreed to buy
Qwest Communications
(Q)
. Qwest shares shot up nearly 2.5% while CenturyTel's stock slipped 3.3%.
European private-equity firm AXA snapped up a $1.9 billion portfolio of limited partnership interests in private-equity funds from
Bank of America
(BAC) - Get Bank of America Corp Report
.
US Airways
(LCC)
said negotiations over a merger with
United Airlines
( UAUA)
came to a halt.
Acura Pharmaceuticals
(ACUR)
brings its abuse-resistant painkiller Acurox in front of an advisory committee of the U.S. Food and Drug Administration today.(See Adam Feuerstein's
)
>>Overview
>>The Economy
>>Commodities and the Dollar
>>Treasuries
Commodities and the Dollar
Following the EIA natural gas storage report, the May natural gas contract added 17 cents to settle at $4.13 per million British thermal units, while the June delivery crude oil contract traded 2 cents higher to settle at $83.70 a barrel.
Elsewhere in commodity markets, the June
gold contract shed $5.90 to finish at $1,142.90 an ounce.
The dollar was trading higher against a basket of currencies with the
dollar index up by 0.5%.
>>Overview
>>The Economy
>>Company News
>>Treasuries
Treasuries
The benchmark 10-year Treasury weakened 8/32, lifting the yield to 3.774%.
The two-year note slipped 2/32, raising the yield to 1.029%. The 30-year bond fell 9/32, pushing the yield to 4.638%.
--Written by Melinda Peer and Sung Moss in New York
.
>>Overview
>>The Economy
>>Company News
>>Commodities and the Dollar