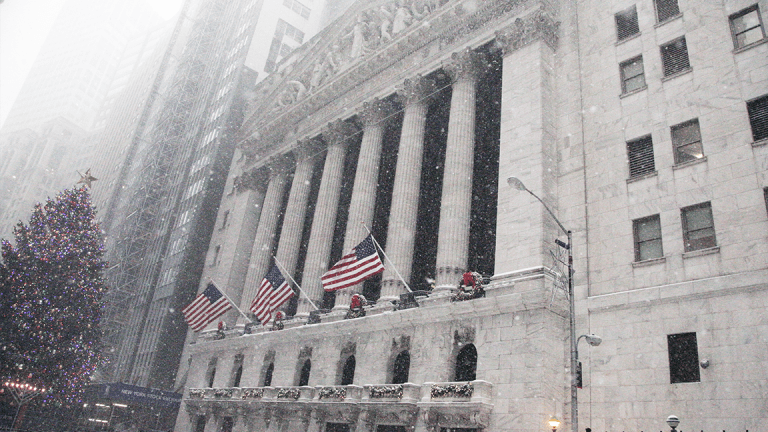 Stocks Rebound Despite Financial Sector Weakness
Stocks on Wall Street rebound Wednesday despite weakness in the financial sector.
Stocks on Wall Street rebounded Wednesday, Jan. 17, despite weakness in the financial sector.
The Dow Jones Industrial Average rose 131 points, or 0.51%, to 25,924, the S&P 500 gained 0.3% and the Nasdaq rose 0.34%. Pacing the Dow were International Business Machines Corp. (IBM) - Get Report and UnitedHealth Group Inc. (UNH) - Get Report .
The Dow broke through 26,000 for the first time on Tuesday, Jan. 16, but ended the day with a small loss.
Bank of America Corp. (BAC) - Get Report , the second-biggest U.S. bank, said fourth-quarter profit tumbled 48% amid a slump in bond trading and as the new U.S. tax law triggered a slew of multibillion-dollar write-downs. 
Net income fell to $2.37 billion. Earnings per share were 20 cents a share, including a charge of 27 cents a share related to the tax act. The adjusted figure of 47 cents a share compares with analysts' estimates of 45 cents.
The stock fell 1.7%.
Goldman Sachs Group Inc. (GS) - Get Report , the Wall Street bank mired in a slump amid sluggish bond markets, posted a fourth-quarter loss of $1.93 billion, capping a dismal year for CEO Lloyd Blankfein that has led some analysts to call for his ouster. 
The loss included a $4.4 billion expense for taxes on foreign earnings and other costs triggered by the new U.S. tax law passed in December. The bank posted a quarterly loss of $5.51. Excluding the tax charges, earnings per share were $5.68, exceeding analysts' estimates of $4.92.
In bond trading, historically one of the bank's biggest moneymakers, revenue tumbled 50% to $1 billion, the company said.
Goldman shares declined 2.7%.
The Financial Select Sector SPDR ETF (XLF) - Get Report fell modestly.
Shares of Juno Therapeutics Inc. (JUNO)  jumped 47.6% on Wednesday following a report in The Wall Street Journal that said Celgene Corp. (CELG) - Get Report  was in discussions to acquire the biotech company. 
Ford Motor Co. (F) - Get Report  fell 5.6% Wednesday after the automaker said it expects lower operating profit in 2018, reflecting higher commodity costs and adverse exchange rates which offset cost-cutting actions the company is taking. 
For 2018, Ford guided to adjusted earnings of $1.45 to $1.70 a share.
CSX Corp. (CSX) - Get Report  shares declined 1.3% after the railroad company reported better-than-expected earnings for the fourth quarter but didn't meet revenue expectations.
In U.S. economic news, industrial production in December rose 0.9%, the fourth straight monthly increase, the Federal Reserve said.
In Europe, the Stoxx 600 index slipped 0.26% while Asian stocks ended the session mixed.
ASML NV (ASML) - Get Report , a Dutch supplier of tools and equipment for the semiconductor industry, hit a record high after stronger-than-expected fourth-quarter earnings revived prospects to a renewed 'supercycle' in global chip demand.
Global oil prices were modestly softer Wednesday ahead of private sector data on U.S. crude stocks, as investors used the trading lull to book profits in a market that has seen prices rally around 13% from early December levels.
West Texas Intermediate crude oil, the U.S. benchmark, fell 0.14% to $63.64.
More of What's Trending on TheStreet: