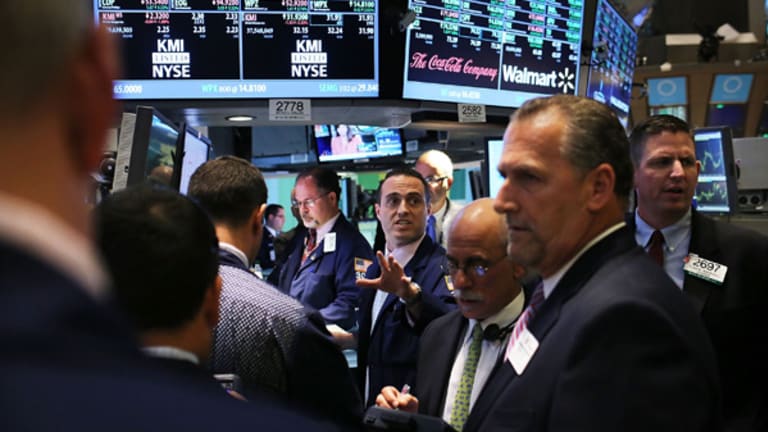 Stocks Surge on Strong Earnings, Rising Oil Prices
Stocks rise Tuesday on the back of strong earnings and a jump in oil prices.
Stocks rose Tuesday as a series of earnings reports from Sprint (S) to 3M (MMM)  to Coach (COH) lifted equities. 
The S&P 500 was up 1.4%, the Dow Jones Industrial Average added 1.8%, or 288 points, and the Nasdaq gained 1.14%%.
Sprint boosted the S&P 500, jumping 17.3% after reporting a narrower-than-expected third-quarter loss and raising its full-year guidance. The company said revenue has stabilized and that postpaid phone net additions were the highest in three years. The stock was active on Monday on reports of widespread job cuts at the company.
3M added nearly 5% after a mixed quarter. The adhesives company earned $1.80 a share in its fourth quarter, above analysts' estimates of $1.63 , while revenue of $7.3 billion topped forecasts for $7.2 billion.
Coach climbed nearly 10% after beating quarterly estimates on its bottom-line. The luxury accessories retailer earned 68 cents a share in its second quarter, 2 cents above forecasts, though revenue of $1.27 billion fell short of expectations. The company said it expects full-year sales up in the low-single percentage digits, excluding currency effects.
Procter & Gamble (PG) added 2.8% after increased pricing in its consumer-products division fueled constant-currency sales growth. The consumer goods giant reported a 2% rise in organic sales with higher prices offsetting a 2% decline in volume. Overall revenue fell 8.5% as a stronger U.S. dollar diminished overseas sales.
Just 15% of S&P 500 companies have reported earnings so far with heavy-hitters such as Apple (AAPL) and Microsoft (MSFT) still to report this week. Of the companies that have reported, 70% have exceeded analysts' earnings estimates. 
Consumer confidence rose in January even as equity markets cratered. Sentiment rose to 98.1 from 96.3 in December, above estimates and its best reading since October, according to the Conference Board. A strong labor market and low gasoline prices appeared to have boosted confidence to start the new year. 
West Texas Intermediate crude oil on Tuesday gained 2.6% to $31.12 a barrel. Prices have been under pressure on signs major oil producers such as Saudi Arabia will ramp up production despite massive global oversupply.
Chinese markets kept any gains on Wall Street in check after slumping more than 6% to 14-month lows on Tuesday. The Shanghai Composite tumbled on the latest decline in crude oil prices which triggered fears over global growth. Chinese shares have tanked around 22% since the beginning of the year.
Federal Reserve members will convene on Tuesday morning for a two-day Federal Open Market Committee meeting. While no change in policy is expected at this meeting, a statement to be released on Wednesday afternoon will be closely analyzed for clues as to the pace of future rate hikes.
"With global equity markets down substantially over the last several weeks, the U.S. dollar reaching new cyclical highs, and a clouded inflation outlook, the FOMC statement should strike a more cautious tone," Deutsche Bank analysts wrote in a note.
AIG (AIG) shares rose 1.5% after the financials company said it would sell its broker-dealer network and partially spin off its mortgage-insurance business. Activist investor Carl Icahn has been pressuring the insurance company recently to break up, arguing its size makes it more vulnerable to regulatory scrutiny and costs.
Johnson & Johnson (JNJ) reported disappointing revenue growth in its recent quarter, hit by currency headwinds that overshadowed favorable growth in U.S. pharmaceutical sales. The company said sales in its December quarter fell 2.4% to $17.81 billion, below analysts' estimates. Currency exchange reduced revenues by 6.8%. The stock rose 3.2%.
Hess (HES)  jumped 4% after slashing its 2016 exploration and production capital budget to $2.4 billion, down 40% from a year earlier and 20% lower than its October guidance. The oil company also maintained its forecast for production of between 330,000 and 350,000 barrels of oil per day this year.
DuPont (DD) swung to a fourth-quarter loss of $253 million, or 29 cents a share, but adjusted earnings of 27 cents a share topped analysts' forecasts. The chemical company posted revenue of $5.3 billion in the period, which was below Wall Street estimates. DuPont said it expects full-year earnings in the range of $2.95 to $3.10 a share. Shares rose 1.5%.
Twitter (TWTR) added American Express executive Leslie Berland as its chief marketing officer after a series of C-level executive departures over the weekend. CEO Jack Dorsey announced the appointment on Twitter Tuesday morning. Berland is currently executive vice president of global advertising, marketing and digital partnerships at AmEx. The stock fell slightly in trading on Tuesday.
Twitter is a holding in Jim Cramer's Action Alerts PLUScharitable trust portfolio.
You see Jim Cramer on TV. Now, see where he invests his money and why Twitter is a core holding of his multi-million dollar portfolio.
Want to be alerted before Jim Cramer buys or sells TWTR? Learn more now.
Lockheed Martin (LMT) fell more than 1% after agreeing to a $5 billion deal to merge its IT business with Leidos Holdings (LDOS) . Lockheed will receive $1.8 billion upfront, while its shareholders will receive 50.5% equity in Leidos. The deal is still subject to regulatory approval.
Lockheed Martin is a holding in Jim Cramer's Action Alerts PLUScharitable trust portfolio.
You see Jim Cramer on TV. Now, see where he invests his money and why Lockheed Martin is a core holding of his multi-million dollar portfolio.
Want to be alerted before Jim Cramer buys or sells LMT? Learn more now.