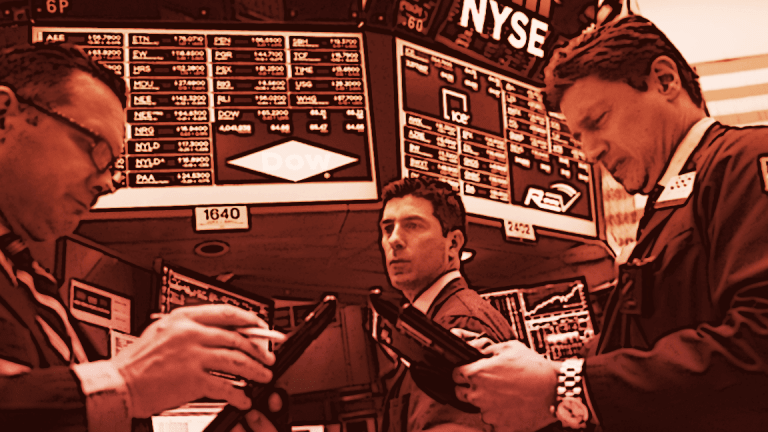 Stocks Rebound as China Stimulus, US Earnings Entice Bulls; Bond Markets Wobble
Global stocks booked solid early gains Tuesday, thanks in part to fresh fiscal stimulus from China and a robust U.S. corporate earnings season.
The Tuesday Market Minute
Global stocks rebound as China stimulus boosts Asia, earnings lift Europe and Wall Street.
Bond market impact of BoJ pullback continues, with U.S. Treasury curve steepening ahead of Q2 GDP report.
U.S. dollar steadies, rate hike bets resume as Trump comments on currency fail to dent sentiment.
U.S. equity futures point to solid open on Wall Street, with Alphabet rising to fresh record high after impressive second quarter earnings beat.
Active earnings slate topped by Q2 numbers from Verizon, AT&T, Harley Davidson and Eli Lilly. 
Market Snapshot
Global stocks rebounded Tuesday, with plans for enhanced government spending in China supporting stocks in Asia and solid corporate earnings boosting markets in Europe and on Wall Street even as bond markets wobble amid increased U.S. debt sales and a pullback in stimulus from the Bank of Japan.
Officials in China indicated Tuesday that the government will step-up efforts to stimulate growth in the world's second-largest economy with a "more active" fiscal policy that includes tax cuts and spending increases aimed at ensuring the country meets its 6.7% annual growth target. The decision, which comes amid concern that China's economy will slow in the wake of its ongoing trade dispute with the United States, boosted stocks in Shanghai and Hong Kong and sent the yuan to a fresh 13-month low against the U.S. dollar.
The move also helped settle some market nerves related to yesterday's speculation that the Bank of Japan is looking at ways in which it can gently reverse from of its extraordinary monetary policy, particularly in the form of stock and bond purchases. That report sent Japanese government bond yields higher, a move that rippled across bond markets in other parts of the world and helped lift benchmark 10-year U.S. Treasury yields to a five week high of 2.96% in late Monday trading. 
Investors, who only last week were consumed with talk that U.S. bond yields were signalling a near-term slowdown in the U.S. economy, are now focused on this week's initial estimate second quarter GDP growth, which could rise past 4.1% and trigger faster-than-expected rate hikes from the Federal Reserve. 
The economic strength is also underscored by the robust earnings generated in the current reporting season, with estimates suggesting U.S. companies will grow their collective bottom lines by 22% from the same period last year, a figure that would represent one of the strongest quarters in a decade and the first-ever back-to-back run of 20%-plus increases.
The healthy outlook has U.S. equity futures on the march this morning, with contracts tied to the Dow Jones Industrial Average undefined  indicating an 130 point opening bell gain for the 30 stock average while those linked to the S&P 500 undefined suggest a 15 point advance for the broader benchmark.
A much stronger-than-expected second quarter earnings report from Alphabet Inc. (GOOGL) , will help lift the Nasdaq Composite undefined by around 75 points at the start of trading, futures imply, with shares in the Google parent expected to open at a record high of $1,260 with a market value of $872 billion.
Several U.S. bluechips will post second quarter earnings today amid the busiest week of the season, which will see 160 companies report three month figures and near-term outlooks. Today's earnings include numbers from 3m (MMM) , Harley Davidson (HOG) , Verizon (VZ) , AT&T (T) , Kimberly-Clark (KMB) , Lockheed Martin (LMT) and United Technologies (UTX) .
Harley Davidson (HOG) posted stronger-than-expected second quarter earnings, and confirmed its full-year shipping guidance, as the iconic American motorcycle maker grapples with fresh European Union tariffs and a war of words with the White House.
Verizon shares jumped nearly 3% higher in pre-market trading Tuesday after the group posted stronger-than-expected second quarter earnings and issued a solid full-year outlook thanks to the addition of nearly 400,000 monthly-pay subscribers. 
Harley Davidson said earnings for the three months ending in June came in at $1.45 share, well ahead of the consensus forecast of $1.34 but down from the $1.48 recorded in the same period last year. Group revenues from motorcycle products fell 3.3% to $1.53 billion, the company said, as worldwide retail sales fell 3.6%. However, Harley said it will maintain its full-year shipments forecast of between 231,000 and 236,000 motorcycles for the full 2018 fiscal year.
European stocks also opened higher, with the Stoxx 600 benchmark gaining 0.94% by mid-afternoon in Frankfurt, led by a 1.27% advance for the DAX index in Germany, powered by solid manufacturing PMI data, and a 0.84% gain for the FTSE 100 in London.
PSA Groupe SA (PUGOY) was an early standout, with shares in the French carmaker surging 10.6% to a ten-year high in Paris after it reported much stronger-than-expected second quarter net income of €1.48 billion thanks in part to a return to profit for Opel-Vauxhall, the former money losing division of General Motors  (GM) that was bought by PSA last year for just €22. billion.
In Asia, Japan's Nikkei 225 rebounded from yesterday's slide with a 0.51% gain even as data showed factory activity in the world's third-largest economy grind to an 18-month low. The region-wide MSCI Asia ex-Japan index headed to the close of the session with a 0.6% gain while China's Shanghai Composite and the Hang Seng benchmark in Hong Kong each gained 1.6%. 
Away from equities, the U.S. dollar index, which benchmarks the greenback against a basket of six global currencies, was little-changed from Monday at 94.68, but has weakened some 1% from its one-year high last week following comments from President Donald Trump that its strength is putting the U.S. economy at a disadvantage in export markets.
The recent moves in U.S. Treasury bond yields, however, which has allowed the so-called yield curve to "steepen", another way to say that the gap between 2-year and 10-year yields has increased, suggests the President's remarks have had little impact on market expectations of Fed rate hikes. 
Global oil prices were modestly stronger in early New York trading, although both the Brent and WTI benchmarks were little-changed from their Monday closing levels as investors calibrated the impact of a strikes in the North Sea by 40 workers on a platform operated by France's Total SA TOT and the simmering war-of-words between Washington and Tehran as the former attempts to limit Iran's ability to export crude in the face of U.S. sanctions. 
Brent futures contracts for September delivery were marked 23 cents higher from their Monday close and changing hands at $73.29 per barrel in early European trading while WTI contracts for the same month were seen 56 cents lower at $68.45 per barrel.