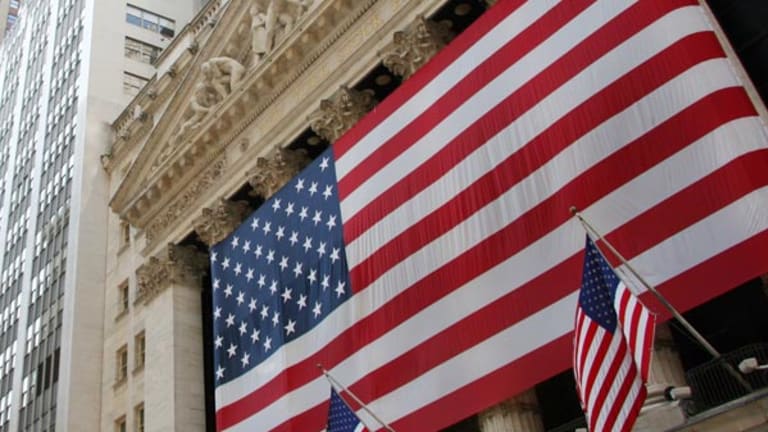 Stocks Rally Late for Modest Gains
The market regains part of an earlier push higher in a light-volume session.
Updated from 4:06 p.m. EDT
Stocks salvaged respectable gains Friday amid lower oil prices, upbeat earnings and a positive report from the semiconductor equipment, but blue-chip buyers lost their nerve in another late-session retreat from the day's highs.
The
Nasdaq Composite
finished up 15.50 points, or 0.82%, at 1912.09. However, closing below 10,000 in five straight sessions for the first time since December, the
Dow Jones Industrial Average
ended with a gain of 29.10 points, or 0.29%, at 9966.74 after being up almost 1% earlier. The
S&P 500
added 4.40 points, or 0.40%, to 1093.59.Volume was light, with fewer than 1.3 billion shares trading on the
New York Stock Exchange
. On the Nasdaq, fewer than 1.4 billion shares changed hands; advancers doubled decliners on both exchanges.
In other markets, the 10-year Treasury note was trading down 15/32 to yield 4.76%, while the dollar was weaker against the yen and euro.
"We don't think this correction process is over," said Trip Jones, managing director at SunGard Institutional Brokerage. "But we will see these intermittent rallies."
The market started with a bang after the open, with all the major indices above or approaching 1% gains, but in keeping with the theme of the week, buyers backed away in the afternoon.
Barry Hyman, equity market strategist with Ehrenkrantz King Nussbaum, said he saw many things to be happy with in the market, but he felt Wall Street's mindset was not accommodative to bullish instincts.
"It just seems as if the market wants to react more to negative news than it does to positive, and that's my concern at this point," said Hyman. "We'll go into this weekend with nervousness. What weekend haven't we had nervousness with this geopolitical situation? I still believe the market has the opportunity to prove itself on the back of quality earnings."
On a weekly basis, the Dow extended its losing streak to five a row, down almost 0.5% from the last Friday's close. The S&P was also negative for the fourth week in a row, down 0.2%, but the Nasdaq ended its losing streak, gaining 0.4 on the week%.
"Institutional investors have taken a step back with so many uncertainties weighing on the equities market," said Mark Arbeter, chief technical analyst with Standard & Poor's. "While it's possible the market is trying to carve out an intermediate-term bottom, it is best to wait for price and volume action to confirm that a new up-leg has commenced."
The price of oil sank back below $40 in New York, with Nymex crude down 87 cents to $39.93. In Amsterdam, the oil minister of the United Arab Emirates told
Reuters
that the recent spike crude's price is not the fault of OPEC, and downplayed the prospect of a quick solution to world supply problems. "I don't think that control is in OPEC's hands," said UAE Oil Minister Obaid bin Saif al-Nasseri.
Overseas, London's FTSE closed up 0.1% to 4431 and Germany's Xetra DAX dipped 0.2% to 3832. In Asia, Japan's Nikkei rose 1.2% to 11,070, while Hong Kong's Hang Seng added 2.1% to 11,576.
In Iraq, U.S. forces pounded insurgent positions near two shrines in the center of the holy city of Karbala, according to the
Associated Press
. In Baghdad, an Iraqi security official said Iraqi police have arrested four people in the killing of American Nicholas Berg.
Back on Wall Street, stocks were getting a boost after the Semiconductor Equipment and Materials International trade group said its industry book-to-bill ratio came in at 1.14 in April, with total bookings rising 16% from March to $1.59 billion.
"The strength in bookings for new semiconductor manufacturing equipment in early 2004 is consistent with both announced capital spending plans and high capacity utilization levels reported by semiconductor manufacturers," the group said in a release. "The capacity utilization trends are supported both by strong semiconductor unit growth and silicon wafer shipments in the first quarter."
In corporate news,
Gap Stores
reported record-high first-quarter profits after Thursday's close. The clothing chain said earnings jumped 54% to a $312 million, or 32 cents a share, up from $202 million in the same quarter last year. Sales grew by 9%. Its shares closed up 7 cents, or 0.3%, to $22.58.
Also,
Nordstrom
(JWN) - Get Nordstrom, Inc. Report
posted a huge jump in first-quarter earnings, blowing away analysts' estimates, as the demand for luxury items increased substantially since last year. The upscale retailer said profit rose to $68.7 million, or 48 cents a share, from $27.2 million, or 20 cents a share, a year earlier. It also said second-quarter and full-year results would beat analysts' estimates. Its shares closed up $2.67, or 7.2%, to $39.90.
On Friday morning, Morgan Stanley downgraded shares of
Nokia
to underweight and predicted the cell-phone giant's market share will further deteriorate over the next four years. The brokerage predicted Nokia's profits are on a downtrend and said the stock is no longer compelling from a valuation standpoint. The shares closed down 5 cents, or 0.4%, to $13.10.
Marvell Technology
(MRVL) - Get Marvell Technology, Inc. Report
added $4.25, or 10.7%, to $44.08 after saying first-quarter earnings jumped to $14.5 million, or 10 cents a share, from $4.4 million, or 3 cents a share, last year. The company said second-quarter earnings should rise 10% from a year ago, well ahead of previous forecasts for a 5% increase.
Strong employment reports for March and April, coupled with signs of inflationary pressure in the economy, have led to heightened expectations that the
Fed
will raise its fed funds rate, currently set at a 45-year low of 1%, sometime in the coming months. Fed Chairman Alan Greenspan reinforced this view when he warned after a May 4 Fed meeting that "policy accommodation can be removed at a pace that is likely to be measured."
On Thursday, Fed Governor Ben Bernanke said the central bank should be able to tighten interest rates at a gradual pace, but the speed of expected rate hikes will be dictated by economic events.
"Economic developments over the next year are reasonably likely to be consistent with a gradual adjustment of policy," he said in remarks prepared for a luncheon in Seattle.
Next week will kick off with earnings results due Monday from
Campbell Soup
(CPB) - Get Campbell Soup Company Report
, expected to report third-quarter earnings before items of 32 cents a share, up from last year's 31 cents a share; and
Medtronics
(MDT) - Get Medtronic Plc Report
, expected to report fourth-quarter earnings before items of 46 cents a share, up from last year's 40 cents a share.
No economic releases are due Monday. Investors will be anticipating the Thursday's release of the government's preliminary measure of first-quarter GDP growth, expected to hit 4.5%, up from the previous quarter's annualized rate of 4.2%.