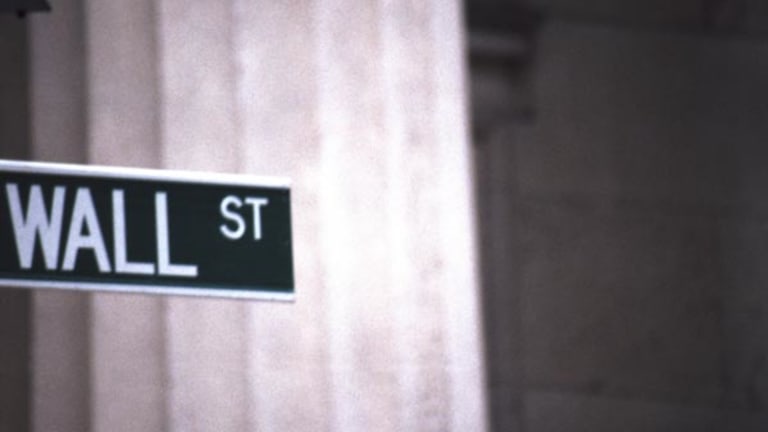 Stocks Rally Late
Investors shake off earnings warnings and high oil prices as the Nasdaq nears 2000.
Investors shake off earnings warnings and high oil prices as the Nasdaq nears 2000.
Updated from 4:01 p.m. EDT
Stocks closed solidly higher Wednesday, with the market's recent momentum resurfacing in the last hour despite another surge in oil prices.
The
Nasdaq
gained 15.53 points, or 0.79%, to 1971.03, its highest close since July 2 and the seventh consecutive winning session. The
Dow
rose 62.20 points, or 0.61%, to 10,239.90, while the
S&P 500
added 7.56 points, or 0.67%, to 1142.03, leaving it 16 points below its 2004 high. The 10-year Treasury bond was down 12/32, yielding 4.22%, while the dollar was higher against the euro and lower against the yen.
Volume was moderate at the
New York Stock Exchange
, where 1.4 billion shares traded, with advancers ahead of decliners 7 to 3. On the Nasdaq, 1.9 billion shares changed hands, and advancers beat decliners 3 to 2.
"People are focused right now on Friday's unemployment data," said Robert Pavlik, portfolio manager at Oaktree Asset Management. The market is optimistic that Friday's employment data will be positive, he added, fueling gains "even though the price of oil has gotten to level that it has."
Jay Suskind, head of institutional equity trading at Ryan Beck & Co., expects little in the way of big moves before Friday's jobs report from the government.
"This is a market of stocks now, and not a stock market," said Suskind, adding that profit warnings have hurt individual stocks, though saying they do not appear to be affecting the market in an aggregate sense. "Overall, the market has, over the last week or so, liked the aggregate economic news and the direction of the economy, and that's why Friday's job number is so important."
The always-influential jobs report is expected to play a greater role than usual, since it is the last one before November's presidential election. It comes at a time when economists are raising their forecasts for third-quarter economic growth. The consensus view of economists is that the economy created 140,000 jobs, a slight decrease from August.
Oil's upward march continued. Crude for November delivery closed 93 cents higher at $52.02, its second straight record high. Weekly inventory data from the Department of Energy showed an increase in crude oil and gasoline stockpiles, but a decline in disillates, which include such products as home heating oil.
Merck's
(MRK) - Get Report
shares were under pressure as a
Wall Street Journal
report said an unreleased Food and Drug Administration study concludes that the company's recently recalled arthritis drug Vioxx may have been responsible for more than 27,000 heart attacks or cardiac events between 1999 and 2003. Shares fell $1.76, or 5.3%, to $31.67.
A handful of companies issued earnings warnings, including
Adtran
(ADTN) - Get Report
, which said soft sales of telecommunications gear would leave third-quarter profits at 23 cents or 24 cents a share and revenue at $115 million. Analysts were expecting earnings of 27 cents a share on revenue of $123.3 million. Adtran stock fell $2.70, or 11.5%, to $20.79.
The fallout from
Chiron's
( CHIR) manufacturing problems continued Wednesday, with drug distributor
Henry Schein
(HSIC) - Get Report
lowering earnings estimates due to the shortage of flu vaccine. The company sees earnings of 69 cents to 71 cents a share in the third quarter, about 30 cents below the Thomson First Call consensus.
Chiron shares fell 16% Tuesday after British authorities suspended its manufacturing license, saying that problems at a British production facility hadn't been resolved. The company supplies about half the vaccine used in the U.S., leading health officials to outline rationing plans for the flu season, which begins this month. Wednesday, shares fell 34 cents, or 0.9%, to $38.32.
Nasdaq market-maker
Knight Trading
(NITE)
lowered its third-quarter estimate to a loss of 1 cent to 4 cents a share, citing weak trading volume. Analysts had been expecting earnings of 4 cents a share. Shares closed 2.1% lower at $9.39.
Wolverine
(WWW) - Get Report
announced a third-quarter profit well ahead of analysts' estimates. The maker of Hush Puppies and Merrell shoes said sales jumped more than 13%, and the company produced earnings of $21.9 million, or 55 cents a share. Analysts surveyed by Thomson First call expected EPS of 47 cents. Wolverine's shares gained $2.53, or 9.6%, to $28.90.
Agricultural chemical company
Monsanto
(MON)
reported a fourth-quarter loss, citing weak sales. The company lost $42 million, or 16 cents a share. Analysts expected earnings of 2 cents a share.
Elsewhere, CIBC World Markets upgraded
Dollar Tree
(DLTR) - Get Report
, from sector underperform to sector perform, while at the same time downgrading its competitor
Family Dollar
(FDO)
to sector underperform from sector perform.
Shares of Dollar Tree fell 69 cents, or 2.5% to $26.44, while Family Dollar dropped 53 cents, or 2% to $25.90.
Computer Associates
(CA) - Get Report
rose after announcing the acquisition of security software company
Netegrity
(NETE) - Get Report
and saying third-quarter earnings would match or beat existing estimates. The Islandia, N.Y., company will pay $10.75 cash for each Netegrity share, a premium that sent shares of the acquiree up more than 35%. It's Computer Associates first major acquisition since an investigation began into its accounting two years ago. The company is operating under federal oversight and recently agreed to return $225 million to shareholders as part of a government settlement.
Overseas markets were mixed, with London's FTSE 100 finished flat at 4706.30 and Germany's Xetra DAX also ended flatly at 4049.66. In Asia, Japan's Nikkei rose 0.9% overnight to 11,385, while Hong Kong's Hang Seng fell 0.5% to 13,272.