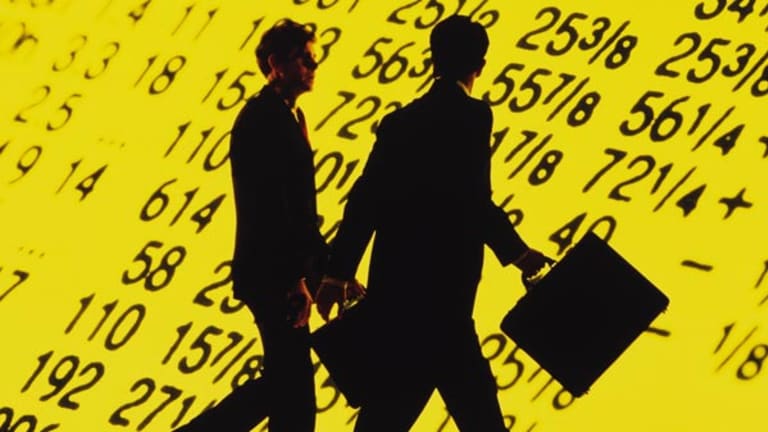 Stocks Rally for Third Day
Blowout jobs data leave the S&P 500 at a 2004 high.
Updated from 4:05 p.m. EST
Blowout payroll numbers triggered fresh gains for stocks Friday, extending the postelection rally to a third day, and helping the the major indices close higher for the second week in a row.
The
Dow Jones Industrial Average
added 73 points, or 0.7%, to 10,387, after posting its biggest single-day point gain in a year Thursday. The
S&P 500
rose more than 4 points, or 0.4%, to 1166, a new 2004 peak as well as a 32-month high. The
Nasdaq
was up 16 points, or 0.8%, to 2039, a new peak for 2004 as well as a new 32-month high.
In other markets, the 10-year Treasury note plunged in price after the report's release, losing 26/32 in price with the yield jumping to 4.17%. The dollar remained near a nine-month low against the euro and a six-month low against the yen.
Volume was strong on the
New York Stock Exchange
, where 1.7 billion shares changed hands with advancers and decliners even on the day. At the Nasdaq, 1.9 billion shares traded and advancers beat decliners 3 to 2.
For the week, the Dow gained 360 points, or 3.6%, the S&P 500 rose 36 points, or 3.2%, while the Nasdaq rose 63 points, or 3.2%. The latter stretched its winning streak to three consecutive weeks. For the year, the Dow is still down about 0.6%, while both the S&P 500 and the Nasdaq are now marginally up, with less than two months to go.
The government said nonfarm payrolls grew by 337,000 in October, the most in six months and well above the consensus forecast of about 175,000. Payroll growth in previous months also was revised higher by about 113,000.The unemployment rate edged up to 5.5%. It was expected to stay at 5.4%. Average hourly wages rose by 5 cents.
"The nonfarm payroll number set the growth for today," said Scott Wren, senior equity strategist at A.G. Edwards. "This is a good environment for stocks, and we've been expecting the market to trade higher through the year and, for the most part, 2005." He added, "Those less cyclical sectors like consumer staples, like health care, the steady, dependable growers are where we expect money to flow throughout 2005."
"Basically, the fundamentals are beginning to improve at an even faster pace," said Peter Cardillo, chief market analyst at S.W. Bach & Co., "which looks, to me, like we're in the initial stage of a bull run that could take us right up to the end of the year." He added that "seasonal factors are also to be considered. This is the time of the year that the market does well, providing you have a positive economic environment, and today we have that."
Larry Wachtel, senior market analyst at Wachovia Securities, tempered the optimism. "We're seeing real conviction in the markets, but I just don't see the kind of profit gains or economic gains that you see at a real bottom." He added, "There's a euphoria here, but it isn't sustainable.
"Don't get me wrong, the overall trend is friendly," said Wachtel.
Wren said solid job growth is inevitable. "These companies have squeezed everything they can out of existing employees, to the point that, in order to grow, they've got to hire people," explained Wren. "Given the level of demand in the world, these business have got to spend money, they have got to hire people to grow their business."
Optimism about the economy and stocks was offset somewhat by higher oil prices -- which ended at a six-week low Thursday on a brightening supply picture. The December crude contract, which had given up 11% since touching a record high, closed 79 cents higher at $49.61 a barrel.
Looking to next week, the
Fed
meets, with most analysts expecting it to raise interest rates for the fourth time since June. "So I think the rate-sensitive stocks head down, while the cyclical stocks move higher," said Wachtel.
Sears
(S) - Get SentinelOne, Inc. Class A Report
saw its best one-day gain in two decades, rising $8.70, or 23.4%, to $45.88 after real estate investment trust
Vornado
(VNO) - Get Vornado Realty Trust Report
disclosed a 4.3% stake in the retailer. Investors were hoping Vornado's interest could kick-start real estate divestitures at Sears, a strategy that helped
Kmart
(KMRT)
shares more than triple this year.
Among other stocks,
Nvidia
(NVDA) - Get NVIDIA Corporation Report
rallied 9% after hours on third-quarter earnings that beat estimates by 6 cents a share. The graphics chipmaker reported net income of $25.9 million, or 15 cents a share, up from last year's $6.4 million, or 4 cents a share. Revenue rose 6% from a year ago to $515.6 million. Nvidia shares popped $2.23, or 14.5%, to $17.64.
Beazer Homes
(BZH) - Get Beazer Homes USA, Inc. Report
said fourth-quarter earnings surged 40% from a year ago, wiping out estimates on a 16.5% jump in revenue to $1.21 billion. The company earned $80.1 million, or $5.82 a share, compared with $57.2 million, or $4.18 a share, the prior year. The consensus earnings estimate for the most recent quarter was $5.49 a share. The stock rose 82 cents to $115.01.
It was a tough day for investors who have ridden
Google
(GOOG) - Get Alphabet Inc. Class C Report
up from its $85-a-share IPO to near $200 in the latest week. UBS initiated the shares with a reduce rating and set a $160 price target. The stock plummeted $15.35, or 8.3%, to $169.35.
The same brokerage also began
Yahoo!
(YHOO)
at neutral and set a $37 price target. The shares fell $1.31 to $36.35.
Elsewhere, shares of
Univision
(UVN)
were down after the company announced strong third-quarter earnings but guided full-year estimates downward. The Spanish broadcast network said earnings were $73 million, or 21 cents a share, up 74% year over year and ahead of analysts' estimates of 20 cents a share.
Before the bell Friday, CIBC World Markets downgraded Univision to a sector perform rating from sector outperform. The stock finished down $4.01, or 12.2%, to $28.79.
Shares of
Goodyear Tire
(GT) - Get Goodyear Tire & Rubber Company Report
jumped Friday after the company said higher unit volume and a better pricing structure helped boost revenue and reverse a loss in the third quarter of the prior year. The company preannounced earnings of 19 cents to 21 cents a share, vs. a loss of 68 cents a share in the prior year. Shares of Goodyear rose $1.57, or 15.4%, to $11.80.
Verizon Wireless, a joint venture of
Verizon
(VZ) - Get Verizon Communications Inc. Report
and
Vodafone
(VOD) - Get Vodafone Group Plc Report
, announced Friday that it had reached an agreement with
NextWave
to purchase $3 billion in radio wave licenses. The company will finance the deal from inside, saying it did not anticipate additional financing. Shares of Verizon fell 7 cents to $41.01, while shares of Vodafone lost 3 cents to $26.46.
Overseas markets closed broadly higher, reflecting a two-day rally in New York. In Europe, London's FTSE 100 ended up 0.2% to 4739.80, while Germany's Xetra DAX added 0.6% to 4063.58. In Asia, Japan's Nikkei added 1.1% overnight to 11,062, while Hong Kong's Hang Seng rose 0.9% to 13,495.