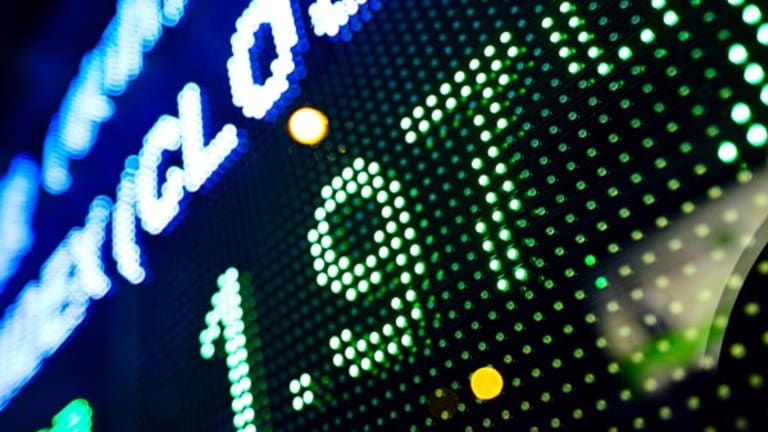 Stocks Grind Even Higher as Microsoft, Visa Lead Dow
Better-than-expected earnings reports, a U.S. economy slowly chugging along and surprise stimulus from the Bank of Japan help to boost markets.
Good news from all corners culminated on Friday to send Wall Street sharply higher. Better-than-expected earnings reports, a U.S. economy slowly chugging along and surprise stimulus from the Bank of Japan helped to boost markets. 
The S&P 500 added 1.8%, the Dow Jones Industrial Average climbed 1.8%, and the Nasdaq moved 1.6% higher.
Solid quarters from industry giants Microsoft (MSFT) and Visa (V) boosted the Dow. Microsoft jumped 5.6% after breezing past analysts' estimates in its recent quarter. Sales growth was driven by a 5% increase in cloud-services revenue.
Visa rose 5.3% after surpassing estimates in its first quarter thanks to growth in payments volume. The credit-card company reported adjusted earnings 10% higher than a year earlier. However, Visa did warn that full-year results would likely get hit by "subdued domestic activity."
The U.S. economy grew 0.7% in the fourth quarter, down from 2% in the third quarter, according to the first estimate of fourth-quarter GDP. Growth slowed as warmer weather hit the retail sector and businesses worked through excess inventory. Economists expected the economy to have expanded 0.8% over the quarter, though some feared the U.S. could have fallen into contraction.
Fed funds futures are now predicting no rate hikes from the Federal Reserve this year due to slowing economic growth and turmoil on international markets. The Fed kept a March rate hike in play at its January meeting.
Consumer sentiment fell slightly in January as a stock market slump worried the average American. Sentiment fell to 92 from 92.6, according to the University of Michigan's final reading for the month. Economists had expected sentiment to increase to 92.8.
Business activity improved in the Chicago region in January, according to the latest PMI numbers. Economic activity increased to 55.6, pushing it above the 50-level that separates contraction from expansion. Chicago fell into contraction in the fourth quarter, marking its worst level since 2009.
The Bank of Japan adopted negative interest rates for the first time in history in order to jumpstart its flagging economy. A negative rate of 0.1% will apply to excess reserves at its central bank in order to encourage commercial banks to lend more. The stimulus will be in place for "as long as it is necessary." Japan is the world's third-largest economy.
Global markets rallied on the surprise move. Japan's Nikkei jumped 2.8%, Hong Kong's Hang Seng rose 2.7%, the CAC 40 in France added 0.6%, and the FTSE 100 in London climbed 1.2%.
Honeywell (HON) rose 4% on higher quarterly profit driven by cost cuts. The manufacturing company earned an adjusted $1.58 a share, up from $1.43 a year earlier.
Amazon (AMZN) was 8.2% lower after its quarterly results fell far below estimates. The e-commerce giant earned $1 a share over the quarter, widely missing forecasts of $1.55. Amazon said operating costs jumped 20%, partly from expanding its Fulfillment by Amazon service for third-party sellers during the busy holiday season.
Electronic Arts (EA) slid 8.5% on weaker revenue in its third quarter. Sales fell 5% to $1.07 billion despite strong results for its Star Wars Battlefront game. The video-game developer also issued weaker fourth quarter guidance with forecasts for earnings of 40 cents a share coming in a dime below consensus. 
Xerox (XRX) increased 6% following confirmation the company plans to separate its document technology and services businesses into two entities. The company said the decision had little to do with activist investor Carl Icahn as previous reports had suggested, though Icahn will get three seats on the services company's board, according to The Wall Street Journal. Icahn holds a stake of more than 8% in the printer company.