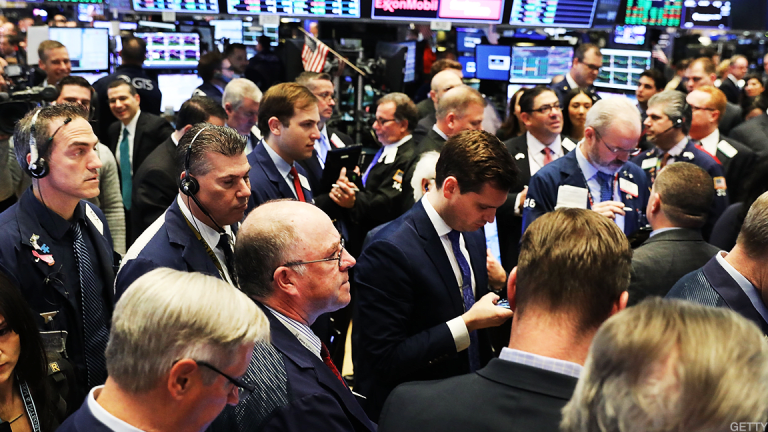 Stocks Decline as JPMorgan Leads Big U.S. Banks Lower
Stocks finish lower even after earnings beats from JPMorgan Chase and Citigroup.
4 Hot Things to Know About Stocks Right Now
The Dow Jones Industrial Average, S&P 500 and Nasdaq all finished lower Friday.
But for the week the Dow rose 1.79%, the S&P 500 jumped 1.99% and the Nasdaq increased 2.77%
JPMorgan Chase & Co. (JPM) - Get Free Report , a component of the Dow, posted an increase of 35% in first-quarter profit. The stock, however, fell 2.6%.
TheStreet slammed Tesla Inc.  (TSLA) - Get Free Report CEO Elon Musk for his latest outrageous tweet. Watch here. But Tesla stock jumped 2.1% on Friday.
Wall Street Overview
Stocks finished lower on Friday, April 13, amid uncertainty over tensions in the Middle East and after earnings beats from JPMorgan Chase & Co. (JPM) - Get Free Report and Citigroup Inc. (C) - Get Free Report   . 
The Dow Jones Industrial Average undefined fell 122 points, or 0.50%. The S&P 500 undefined   declined 0.29% and the Nasdaq undefined    fell 0.47%.
Leading the Dow lower were JPMorgan Chase, Boeing Co. (BA) - Get Free Report and Goldman Sachs Group Inc. (GS) - Get Free Report .
Sentiment on Friday was dented somewhat by a decline in the consumer sentiment index for April, which slipped to 97.8 from 101.4 in March as respondents said they were concerned about the impact of Donald Trump's trade policies on the economy.
Stocks rose Thursday, April 12, after sentiment improved following a tweet from Trump that said a missile strike in Syria wasn't imminent. The Dow rose 293 points, or 1.2%, to 24,483, the S&P 500 gained 0.83% and the Nasdaq rose 1.01%.
Stocks in Asia, meanwhile, finished Friday mostly higher after Trump said in a tweet he had told officials to look at rejoining the Trans-Pacific Partnership free-trade deal, a deal he scrapped soon after taking office.
JPMorgan Chase, the largest U.S. bank, said first-quarter profit surged 35% as taxes decreased following Donald Trump's cuts in the corporate tax rate, while bigger price swings in U.S. markets led to higher trading revenue.
Net income rose to $8.71 billion from $6.45 billion a year earlier, while adjusted earnings per share climbed to $2.37, beating estimates of $2.27. The stock fell 2.6%.
Shares of Citigroup fell 1.5% after the bank posted earnings in the first quarter of $1.68 cents a share, topping estimates by 7 cents. 
Wells Fargo & Co.'s  (WFC) - Get Free Report   first-quarter profit was $1.12 a share, 6 cents ahead of analysts' forecasts. Shares fell 3.1% after the bank disclosed it faces additional penalties of as much as $1 billion to resolve allegations over matters including auto insurance and mortgage-sales practices. 
Citigroup and JPMorgan Chase are holdings in Jim Cramer's Action Alerts PLUS Charitable Trust Portfolio. Want to be alerted before Cramer buys or sells the stocks? Learn more now.
Donald Trump issued an executive order to set up a task force to study the United States Postal Service, after he accused Amazon.com Inc.
(AMZN) - Get Free Report
of taking advantage of the organization.
Trump issued the order just before 9 p.m. ET on Thursday. He created a task force to examine the service's "unsustainable financial path" and directed the new panel to "conduct a thorough evaluation of the operations and finances of the U.S.P.S," The New York Times reported.
Amazon wasn't directly mentioned in the order. But Trump has criticized the online retailer's deal with USPS, saying in a series of tweets that the company doesn't pay its share of postage and that the postal service loses money in the arrangement.
Amazon shares fell 1.2%.
Amazon is a holding in Jim Cramer's Action Alerts PLUS Charitable Trust Portfolio. Want to be alerted before Jim Cramer buys or sells AMZN? Learn more now.
Retirement is coming. It's never too early -- or too late -- to plan, save and invest for the retirement you want and deserve. Let TheStreet's new premium subscription newsletter, Retirement Daily, give you the insider's edge on how to maximize and protect your most important investment, your retirement savings. Learn more about Retirement Daily and get a free trial subscription.
Broadcom Inc. (AVGO) - Get Free Report , an  Action Alerts PLUS holding, announced Thursday a $12 billion share repurchase program that will run until Nov. 3, 2019. The stock rose 3%. 
Tesla Inc. (TSLA) - Get Free Report was kicked off the group investigating a fatal crash in California that involved an SUV operating with the company's Autopilot system.
The National Transportation Safety Board said Thursday it removed the electric vehicle maker from the investigation after the company prematurely made information public.
Meanwhile, CEO Elon Musk on Thursday evening trashed The Economist on Twitter, saying: "The Economist used to be boring, but smart with a wicked dry wit. Now it's just boring (sigh). Tesla will be profitable & cash flow+ in Q3 &Q4, so obv. no need to raise." Tesla shares rose 2.1% on Friday following Musk's reiteration the company won't need to raise cash in 2018.
Watch all of Jim Cramer's full NYSE live shows right here: