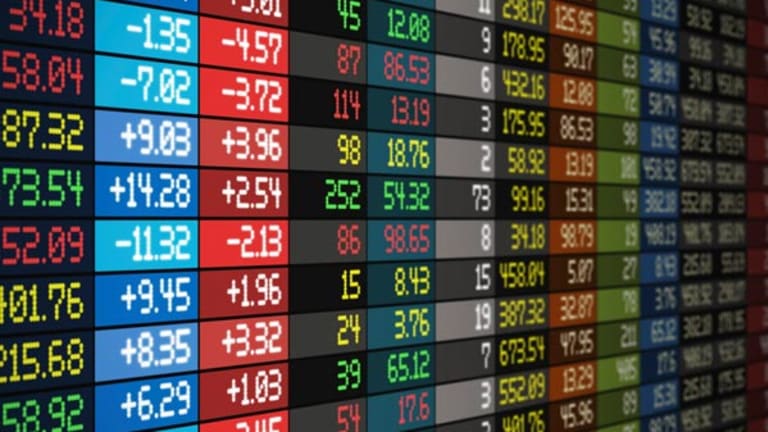 Stocks Rally as Banks Pay
The Dow ends 2% higher amid a backdrop of Wall Street contrition.
Updated from 4:06 p.m. EDT
Stocks rose sharply Monday, thanks to solid earning reports from blue-chip names. The gains came against a backdrop of Wall Street contrition, as the major brokerages agreed to a $1.4 billion settlement with regulators.
All three indices ended with big gains, with the
Dow Jones Industrial Average
rising 165 points, or 2%, to 8471, while the
Nasdaq
added 27 points, or 1.9%, to 1462. The
S&P 500
gained 16 points, or 1.8%, to 918.
With the market rallying, some traders had their eyes on technical levels. Currently, all three indices are well above where experts have seen resistance in recent weeks, with the Dow above 8370, the Nasdaq topping 1450 and the S&P above 903.
Meanwhile, regulators formally unveiled their so-called global settlement of allegations of wrongdoing related to various excesses that began in the late Nineties. All told, 10 brokerages, including
Merrill Lynch
(MER)
,
Citibank
(C) - Get Citigroup Inc. Report
unit Salomon Smith Barney and
Credit Suisse First Boston
, were charged with defrauding millions of investors by issuing overly rosy stock picks for companies from whom they sought investment-banking business.
"I am profoundly saddened -- and angry -- about the conduct that's alleged in our complaints," said SEC Chairman William Donaldson. "There is absolutely no place for it in our markets, and it cannot be tolerated."
In addition to making some structural changes concerning the wall between banking and research, the SEC laid harsh penalties on two of the era's most notorious figures, former Merrill Lynch Internet analyst Henry Blodget and former Solomon Smith Barney telecom analyst Jack Grubman. Both will pay steep fines and be barred from the securities industry for life for conflicted stock picking.
On the economic front, March personal income and spending both rose 0.4%. The figures matched the consensus estimate for personal income growth, but missed the expected 0.6% jump in spending. The savings rate fell to 3.6%.
Meanwhile, the last major week of first-quarter earnings season was under way.
Procter & Gamble
(PG) - Get Procter & Gamble Company Report
said earnings jumped 23% in the third quarter on a 7% jump in unit volume, reflecting strength in personal healthcare products and good results in Asia and Eastern Europe. P&G shares rose 1.7% to $90.69.
McDonald's
(MCD) - Get McDonald's Corporation Report
said that before a 3-cent accounting charge, it earned 29 cents a share in the first quarter, beating estimates by 1 cent. The blue-chip fast foodie gained 7.1% to $16.93.
Wal-Mart
(WMT) - Get Walmart Inc. Report
said unusually cold weather caused its April same-store sales to trend toward the low end of guidance. Shares rose 2% to $56.09.
Goodrich
(GR)
fell 5.1% to $13.97, after the company reported first-quarter earnings of 25 cents a share including charges. The company warned that 2003 revenue would come in at $4.3 billion, below current estimates.
Boeing
(BA) - Get Boeing Company Report
gained 0.7% to $27.38 despite the fact J.P. Morgan lowered its investment rating to underweight on concerns related to SARS and the company's pension deficit.
Shire Pharmaceuticals
(SHPGY)
and
Noven Pharmaceuticals
(NOVN) - Get Novan, Inc. Report
were hit hard after the Food and Drug Administration sent the companies a "not approvable" letter on their patch for treating attention deficit disorder. Shire fell 5.6% to $19.06, while Noven shed 37.9% to $8.97.
Matritech
(NMPS)
shares jumped 17.5% to $2.22 after the company said it had won FDA approval for its NMP22 BladderChek test.
Allergan
(AGN) - Get Allergan plc Report
announced first-quarter earnings of 54 cents a share, which topped Wall Street estimates. The company warned that second-quarter earnings would miss estimates but that revenue would beat expectations. Shares fell 2.2% to $71.03.
Tyson Foods
(TSN) - Get Tyson Foods, Inc. Class A Report
released second-quarter earnings of 3 cents a share, excluding a one-time charge due to antitrust litigation. Shares added 2.2% to $9.58.
The airline industry was rallying after
AMR
(AMR)
unit American Airlines averted bankruptcy for now and got an upgrade from Credit Suisse First Boston. The brokerage upgraded a pair of smaller carriers,
Atlantic Coast Air
(ACAI)
and
SkyWest
(SKYW) - Get SkyWest, Inc Report
, to neutral from underperform. Altantic Coast rose 4.2% to $7.28, while SkyWest added 3.9% to $12.47. AMR rose 3.9% to $4.57, helping push the Amex airlines to a gain of 3.7%.
Specialty chemicals maker
Rohm & Hass
(ROH)
announced first-quarter earnings of 37 cents a share, topping analysts' expectations by 2 cents on $1.61 billion in revenue, up nearly 17% from year-ago levels. Shares gained 4.6% to $32.91.
Insurer
Safeco
(SAFC)
rose 4% to $37.82 after the company reported first-quarter earnings of 65 cents a share, topping estimates by 4 cents, on a 3% annual revenue increase.
Humana
(HUM) - Get Humana Inc. Report
, a healthcare provider, reported first-quarter earnings of 31 cents a share, matching estimates, but said that business will be weaker going forward. Shares fell 2.9% to $10.20.
Autonation
(AN) - Get AutoNation, Inc. Report
rose 4.8% to $14.10 after the company reported first-quarter earnings that beat estimates by 2 cents a share. Revenue was off 6.1%, and the company said second-quarter earnings would miss estimates.
Oracle
(ORCL) - Get Oracle Corporation Report
was cut to market perform from outperform at Friedman Billings Ramsey, based on valuation concerns. Oracle rose 1.5% to $11.97.
Applied Materials
(AMAT) - Get Applied Materials, Inc. Report
was dropped to underperform from neutral at First Boston. Shares in Applied Materials rose 1.9% to $14.46.
European stocks were higher, with the FTSE 100 closing up 1.8% at 3940 and the Xetra DAX ending up 4.1% at 2954. In Asia, Japan's Nikkei lost 1.2% to 7608, hitting a new two-decade low, while Hong Kong's Hang Seng added 0.3% to 8435.
Treasury bonds were higher, with the 10-year note's yield down 3 basis points to 3.88%. Gold was slightly higher and crude oil was lower, inching toward a four-month low.