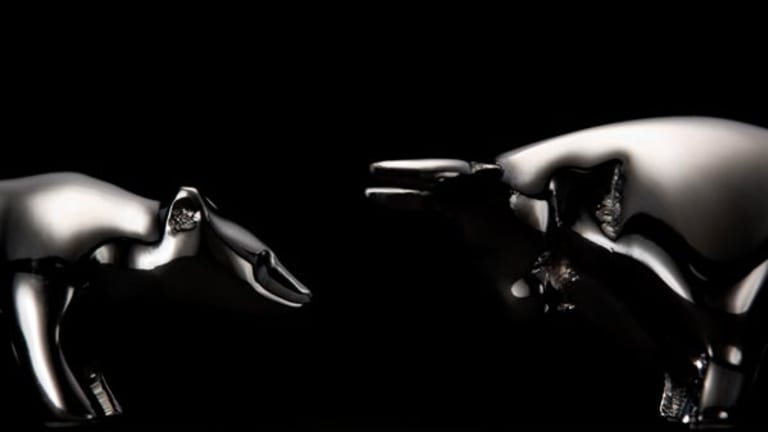 Stocks Queasy After Data
Stocks close with losses for the week after disappointing durable goods data and new-home sales, but also an improved reading on consumer confidence.
Stocks close with losses for the week after disappointing durable goods data and new-home sales, but also an improved reading on consumer confidence.
(Updated with stock prices.)
NEW YORK (
) -- Stocks finished the week with losses after economic data "took a pause" as one observer put it. Durable goods data and new-home sales disappointed, but consumer sentiment improved.
The
Dow Jones Industrial Average
fell 42.25, or 0.4%, to 9665.19, while the
S&P 500
fell 6.4 points, or 0.6%, to 1044.38. The
Nasdaq Composite
edged down 16.69 points, or 0.8%, to 2090.92.
Among the day's movers,
Research In Motion
( RIMM) weighed on the Nasdaq, tumbling 17.04% to $68.91 after it missed on sales with its
and offered a dimmer-than-expected outlook late Thursday.
For the week, the Dow fell 1.6%, the S&P gave up 2.2%, and the Nasdaq lost 2% as disappointing data and a midweek slide in commodities overshadowed the statement from the
Federal Reserve's
policy-making meeting.
The day brought a new slate of data, some sunny, some not. On the brighter side, the University of Michigan reported a higher than expected revised
index for September. The index rose to 73.5, up from 70.2 and vs. expectations for 70.3.
While sentiment may be improving, orders for
fell 2.4% in August, after a 4.9% increase in July and well short of expectations for an 0.4% increase. Factoring out autos, orders were flat vs. an 0.9% increase the month prior and expectations for about as much.
"I think we're seeing a situation where some of the economic numbers that were very strong a month or two ago are taking a pause here," says Michael Strauss, chief economist for Commonfund. "It's sort like three steps forward, one step back, two steps forward, one step back, and durables would be a prime example of that."
But, says Strauss, over the last two or even five months, it's still a solid pattern after what had been a multimonth period of declines. Click below to hear more from Strauss on economic data and market trends.
Also, the Department of Commerce said Thursday that
rose by 3,000 to 429,000 in August, about 11,000 short of expectations.
But, the underlying story, says Strauss, is that inventories of unsold homes fell for the 28th consecutive month, by 3% to 262,000, the fewest in 17 years.
In other housing news,
KB Home
(KBH) - Get Report
shares fell 8.5% to $16.96 after it reported a wider than expected quarterly loss and cautioned that a weak economy will delay a meaningful recovery in the residential housing market.
Among other stocks, shares of online gaming giant
Shanda Games
(GAME)
were 14% lower, at $10.75, after it launched the year's largest IPO, a $1.04 billion offering priced at $12.50 a share. The lukewarm reception came after
A123 Systems'
( AONE)
just a day earlier.
On the other hand,
Sara Lee
( SLE) gained 6.4% to $11.21 after saying
part of its global body care and household products business to
Unilever
for 1.28 billion euros (or $1.88 billion) in cash.
In other news, President Barack Obama and the leaders of Britain and France publicly demanded at the open of today's session of the G-20 summit that Iran open up a secret nuclear fuel facility to international inspectors.
The G-20 leaders met for a second day to discuss issues including banking rules and bonus practices. U.S. officials said the leaders are supporting a plan that would require banks to tie compensation more closely to risk and tighten capital requirements,
Bloomberg
reports.
Crude oil advanced 13 cents, to $66.02 a barrel, while gold fell $7.30, to $991.60 an ounce.
Stocks overseas were mixed. In Europe, London's FTSE 100 rose 0.6% while the DAX in Frankfurt gave up 0.4%. In Asia, the Nikkei in Japan fell 2.6%, and the Hang Seng in Hong Kong slipped 0.1%.
-- Written by Elizabeth Trotta in New York.